Clearly, it took me a long, long time to watch Killers. Like three years is forever in movie years.
But why? Well, the trailers made it look super un-interesting. So that is a downer. Second, it stars That guy who I only liked in One Movie. (But to be fair, I tend to dislike most of the cast of That '70s Show in movies)
And it came out around the same time as Knight and Day, a "similar themed movie" which I loved. A lot. But I bought Killers anyways, knowing one day I would just have to suck it up and watch the dang movie.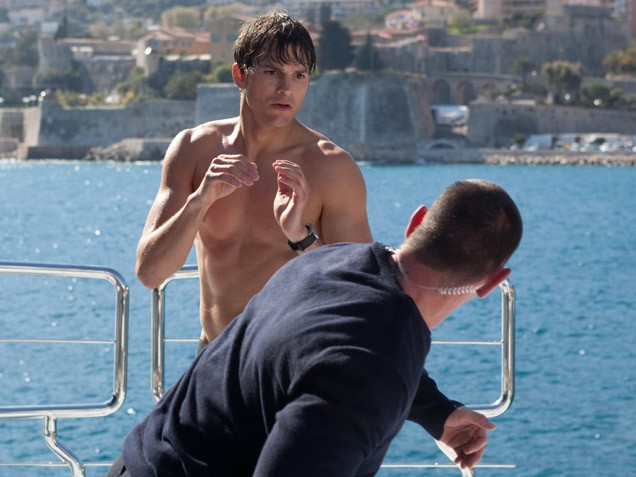 There is nothing you can really do to make me look at him and think Action Star.
Spencer Aimes (Ashton Kutcher) is not your ordinary dream boat, apparently. No, he is some sort of spy/assassin, but he wants to get out of the game. Good timing really, because he is in Nice, France at the same time that Jen Kornfeldt (Katherine Heigl) is, along with her parents (Tom Selleck, Catherine O'Hara).
But he wants to give it up, and now seems like a good time. He also runs into Jen and they start to hit it off quickly, while both hiding some secrets. Oh well.
Good news, they hit it off, and three years later, they are living together and everything is fantastic! Except, maybe Spencer's boss never really accepted his resignation? Maybe he still expects him to help out? For whatever reason, the boss contacts him in this trying moments, where Jen thinks he is getting bored with their relationship and cheating on him. Next thing you know, one of Spencer's friends is trying to kill him.
What?? For some reason, a $20 million bounty has been placed on his head. Shit. Now all these assholes are coming around trying to get their kill money on, which means he for sure has to tell Jen about his past.
The rest of the cast is full of cameos, of their friends, and coworkers, some of which might be other assassins sent to kill Spencer, some of which might be just actual friends. Who knows?! They include Rob Riggle, Usher, Katheryn Winnick, Casey Wilson, Lisa Ann Walter and Kevin Sussman.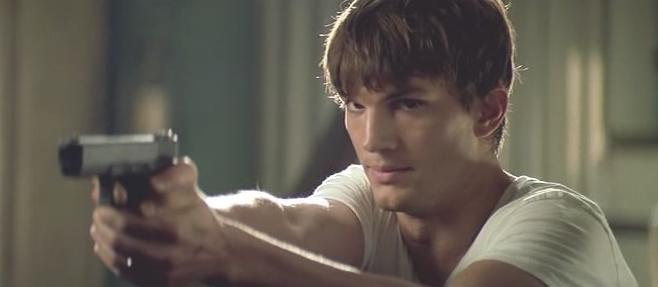 Nope. Gun doesn't help either.
Good news, the plot wasn't what ruined the movie!
No, the plot ended up being okay. Not knowing who from your friends and family might be assassins sent to collect on a bounty? Leaves for a lot of potential action and comedy, not to mention improvised weapons.
Katherine Heigl wasn't bad in this movie either. She played her role well. I couldn't believe Kutcher at all, but I made that obvious. Selleck was nice too.
What kind of killed it for me is how long it took to get to the assassins, friend or foe, oh god danger, part. I think it was about 45/50 minutes into the movie. That is far too long! What was going on before that? A bunch of gossip, some love stuff, typical romcom secretive bull crap. Yawn yawn.
Because the second half was actually a bit entertaining, minus the extreme miscast of Kutcher. Maybe he could have been in the first half, and then they could have secretly replaced him with Gerard Butler for the second half. A man who is getting put into romcoms, despite only being great at action and musicals.
Oh well. I think I only spent a few bucks on this movie anyways.
2 out of 4.