May 24, 2018
Fahrenheit 451
Without a doubt, Fahrenheit 451 is one of those revered classic novels. It is one of the first dystopian future novels that are now clogging our bookstores, trying to maintain relevancy, and it warned of a specific type of future.
Literary teachers of course loved it, because it talks about a world that is anti-books and free thought, and they want their students to read books! I know I enjoyed it in middle school, and I was able to see parts of the (even old by that time) Fahrenheit 451 movie from the 1960´s.
And it makes sense as a movie. It makes sense for their to be a modern update. So I was excited to find out HBO was giving us a new adaptation. And again, it seems appropriate given the current political landscape.
I couldn´t find a natural way to fit this in, but here is Fuck Me, Ray Bradbury, by Rachel Bloom, before she got TV show famous.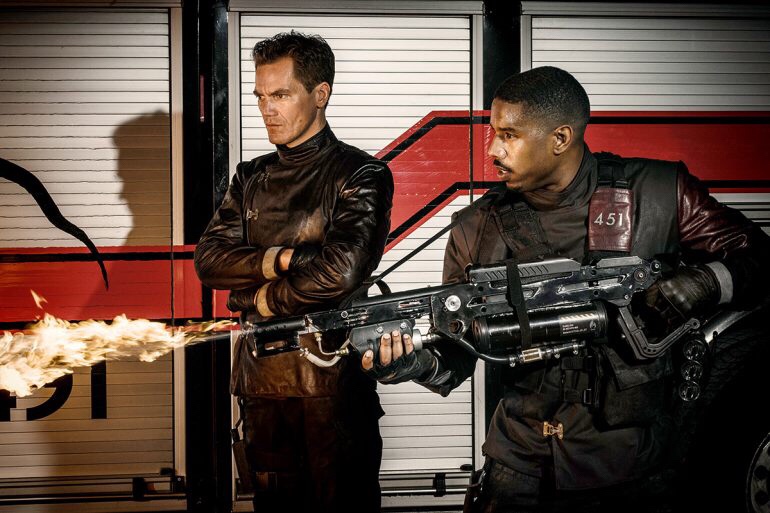 That song and this movie are HOT!
In the near future, books are OUTLAWED. Why? They are confusing in nature. One person´s text can contradict another. Who knows what to think? It causes confusion, dissent, anger, and separates the population. Instead, the government should let everyone know what they need to know.
This film takes place in Columbus. The firemen of this day and age don´t put out fires, they start them. They are basically celebrities, destroying dissent and burning books if they find a stash, but at this point seeing a real novel is very rare. The world is very digitized. Not only do they have TV´s that are entire walls, they have the news feed on the side of buildings. Everyone is connected to the grid, to the system, and they have three books full of emojis available only.
Guy Montag (Michael B. Jordan) is an up and coming fireman, pretty famous in his community. The crowds love him! He is probably going to be the new fire chief someday, replacing his mentor, Captain Beatty (Michael Shannon).
But when they come across an extremely large stash of books with a stubborn woman, the likes that has never been seen in years. And when she sacrifices her life in the fire in front of the whole world, reciting a strange word, it puts together events that will change the life of…well, at least a few people.
Also starring Sofia Boutella, Saad Siddiqui, Dylan Taylor, and the voice of Cindy Katz.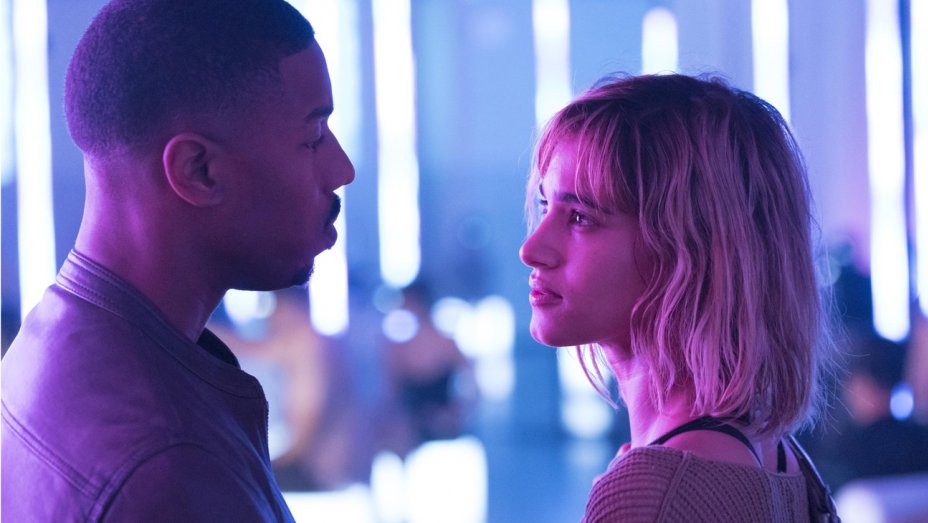 Flashy techno lights, to make you know its the future.
As a movie reviewer, I try of course to keep the review to just the film if it is based on a book. I try to not read the book before hand. Unfortunately, I have read Fahrenheit 451. Fortunately, I also read it like 15-20 years ago and that was the last time so my memory of the film is very faint and superficial.
I have no idea how much of this film is based on the novel, how much is new due to coming out 60 years later to reach the modern audience or what. I do, however, still have some tastes available to me. And I recognize a bad movie when I see it.
The acting from the two Michael´s isn´t bad, it is just the whole story feels bad. It feels unbelievable and I am never drawn into it. It feels like a movie and not a tragic direction our country is heading towards. A very simplistic and basic retelling of an actual frightening future.
The story could still work, but it needs to be more fleshed out. These feels like a spark notes version of a story and never goes in depth. It needs more fine tuning. It probably should go further from the source material to make it believable.
Either way, I am trying to forget seeing this adaptation as I type, I should be done soon.
3 out of 4.