May 6, 2015
Black Or White
The middle day of Blackweek and also the last expected review for this theme. I had said three movies came out in January with Black in the title, and you probably could figure them out. Day 4 and 5 are a mystery though!
Black or White is the first (and only? We will seeee) of the movies in this theme to actually have anything to do with race. Who the fuck even know what Blackhat was about, title wise. Some hacking shit.
This movie however does not feature the Michael Jackson song of the same name, nor a Macaulay Culkin cameo. Such a shame.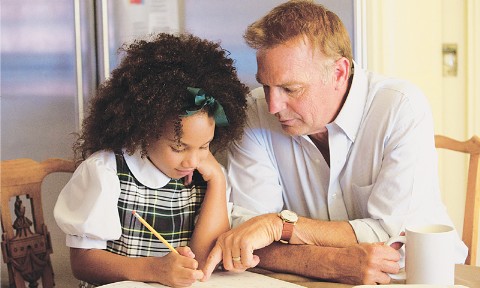 "If you're thinking about my baby it don't matter if it is while watching Black Or White!"
This movie isn't about your ordinary child custody case. This one involves mostly grandparents. Elliot (Kevin Costner) and his wife Carol (Jennifer Ehle) have been looking after their granddaughter, Eloise (Jillian Estell). Her mom, their daughter, died during child birth due to complications. Complications that could have been stopped if hey were there, but she gave birth in secret hiding it from them, because the parents wouldn't have approved of her relationship. Not just because it was interracial, but because of age differences and more.
Well, now Carol is dead too. So Elliot is over his head. He is also an alcoholic. Either way, he does the best he can, gets a tutor (Mpho Koaho), and takes time off work. But it might not be good enough. So, Eloise's other grandmother, Rowena (Octavia Spencer) wants to sue for custody. She has a big support network, has culture and experience and believes has the better interest for the girl. Heck, she eventually even has the father (André Holland), out of prison and off drugs now, ready to be a daddy (maybe).
So let the digging up of dirt and lawyer shenanigans begin!
And maybe. Just maybe. Some life lessons along the way to learn to be good to people and not be racist. Or something.
Also with Bill Burr, Anthony Mackie, Gillian Jacobs, and Paula Newsome.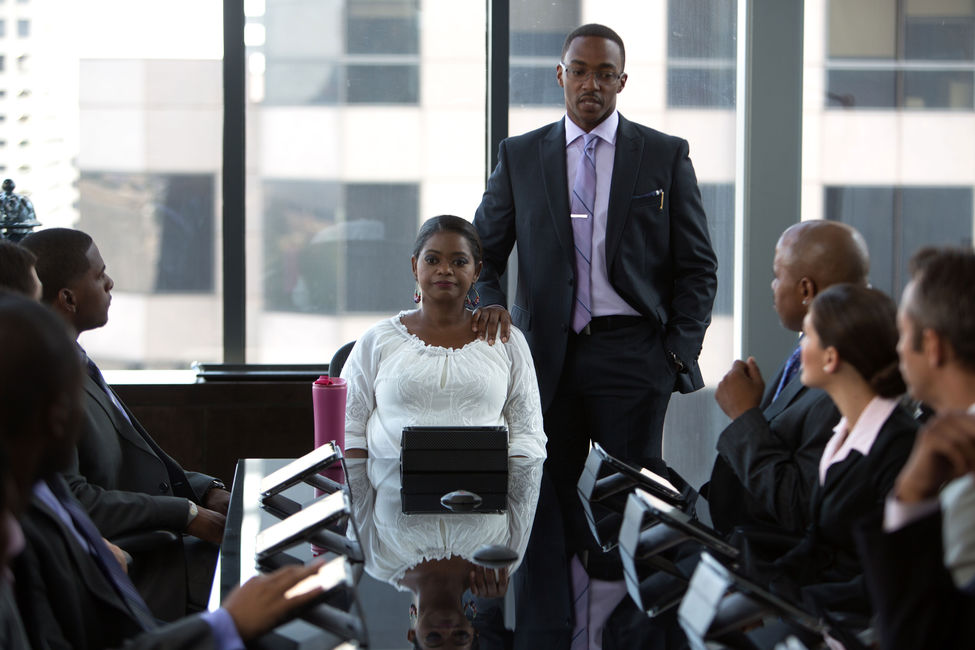 I am half tempted to give a tag to "sweet ass lawyer table."
I will just go out and say it, Black or White was better than I gave it credit for. On the outside, it looks like a cliche family movie treading very lightly on the subject of race relations. I figured it would end with everyone hugging saying "Give Peace A Chance!" and warm happy rainbows. And hey it doesn't have a 100% happy ending. It is more complicated. People get dragged through the mud and not everyone is a great person. Fantastic.
My other concern was Kostner. Last year at the beginning of the year he had Jack Ryan: Shadow Recruit, 3 Days To Kill, and Draft Day, all of various meh to lame movies. So when I saw he had multiple movies within a month or so of each other, I figured we were in for a repeat.
I am not saying his performance was fantastic by any means. It was okay. But the characters and the story made this a worth while movie, not Costner getting old.
3 out of 4.