Who the fuck is Wilson? Is this a movie about a volleyball?
Those were the only thoughts I had going into this movie. And when I saw one poster, that it would be able a creepy dude. Not just any creepy dude. A creepy older dude, with glasses, and a beard.
I also quickly learned that the movie would be a weird movie, because it was directed by Craig Johnson, who directed The Skeleton Twins. I didn't love that one, but man, it was weird.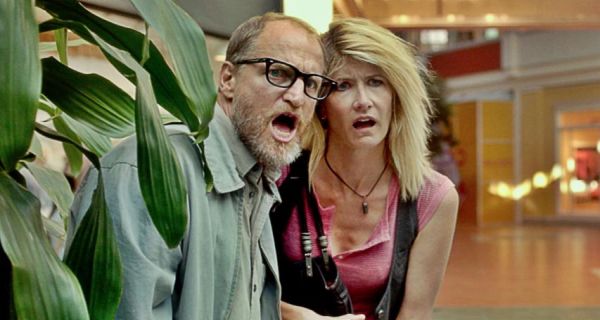 How shocking, that it is about a real person, not a volleyball.
Wilson (Woody Harrelson) isn't actually creepy, really. He is a bit weird. He is weird because he hates the way the world is changing. He hates that everyone is so anti-social nowadays. He wants to communicate with people, even if they are strangers. He wants to just say what is on his mind and let other people say what is on their minds. He isn't going to be trapped on his phone, or sleeping on the train, he just wants to experience the world. If he doesn't slow down once in awhile, he might miss it, after all.
And then his best friend moves away, without any warning. Now Wilson is all alone. He has no purpose. Just his dog. No family, nothing. Well, he does have an ex-wife. Pippi (Laura Dern) was with Wilson for a few years, a real piece of work. Then one day she up and left him. Got an abortion and moved far, far away. But it turns out she is in the area again! So maybe he can try and see how she is and get to know her again. Maybe start a relationship so that the hole in his life can be filled.
Speaking of filling holes, turns out she didn't get an abortion. She put the kid up for adoption and the girl is like, 17 now, living in the same city this whole time and he had no idea! Now Wilson has a family. He has a purpose. He just has to bring it all together.
Starring Isabella Amara as the daughter, along with Brett Gelman, Mary Lynn Rajskub, Judy Greer, Margo Martindale, Cheryl Hines, and Bill McCallum.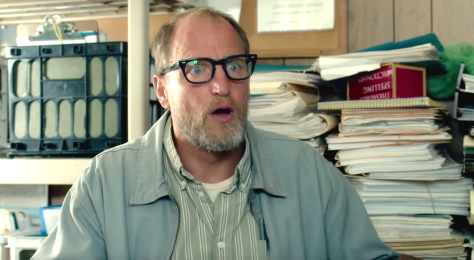 Apparently this is also the most shocking movie ever, from his point of view.
Wilson was a surprise hit, and surprisingly hysterical at points. The man was just so absurd and so socially weird it was constantly surprising. The main poster shows him standing next to another person at a urinal, with a ton of open urinals. The biggest social faux pas you can do in a restroom, outside of also hold a conversation with them, which he does. And it is a nice scene about families and how to raise your kids. And it ends with one of the funniest, unexpected yet completely expected lines ever. I was laughing way too long at it.
Wilson was great. As a person and a character study. A movie I could watch over and over again and still crack up. An instant classic on just its humor.
But its story could use some work, a lot of work. It feels so long but the movie is only about an hour and a half. It takes awhile to get to the point, and then it goes in several weird directions. Including jail, which lasts a long time for that late in the film. And we even have a post jail tiny plot to take care about. It is a bit disjointed in these regards.
Harrelson does a great performance though and always seems to find new ways to entertain me.
3 out of 4.