What if I told you that sometimes movies are called different things in different countries. That wouldn't surprise you in the slightest. You knew that.
After all, it is Gojira in Japan, and Godzilla in America. "Hey that doesn't count, that is just another different language!"
Alright fucker. How about Frozen? We got the clever/unique title, while countries in Europe got stuck with the generic The Snow Queen, which the movie is "based upon" (aka, both have a woman with ice powers and…?). "Well, that one changed its name to appeal to different cultures where The Snow Queen story originated, to get more money!" Okay. Well, I don't blame them for that I guess. I do blame them for saying it has anything to do with The Snow Queen, but I digress.
That leaves us with the movie for the day, What If. No question mark. It's original title in Ireland/Canada was The F Word, and for whatever reason that title was found to be too risque or something for American audiences, so we get a much more romantic comedy-esque name to maybe get the ladies in? I don't know. It is fucking stupid. If I hear it was the MPAA's fault for alluding to maybe the word Fuck, I will be angry though.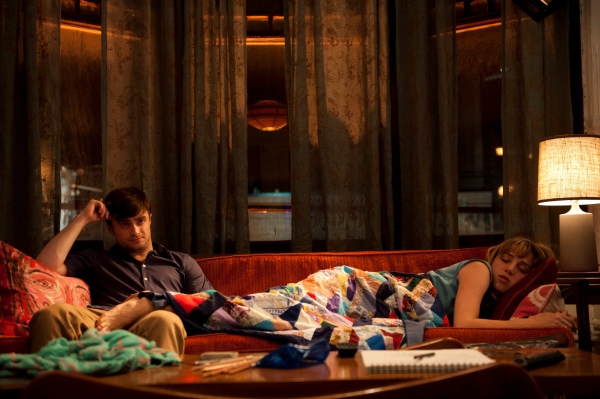 See, there isn't even any fucking in this scene. That would be impossible for them in their positions.
Relationships are hard. Just ask Wallace (Daniel Radcliff), who is finally getting over his ex girlfriend Megan after like, 3 years. So he is going to Allan's (Adam Driver) party, his best friend. That is where he meets Chantry (Zoe Kazan), Allan's cousin. They have some intense conversations, both of them a bit awkward, but it is nice.
Also, Chantry has a long term boyfriend of course, Ben (Rafe Spall), which throws Wallace off guard. Normally that information is given earlier in a conversation. But he is fine with being friends. She believes a man and a woman can be friends with no hidden motives. And you know what? Wallace is fine with that too. Fuck it.
Basically, this is a retelling of The Wedding Singer. Chantry even has a sister (Megan Park) interested in Wallace. Wallace is heartbroken after a long relationship ended. Chantry things she is in a relationship forever, but one that might start having issues. And there is at least one wedding occurring, when Allan hits it off hard with Chelsea (Mackenzie Davis).
It just has a lot less music and singing and no Broadway musical adaption yet. I say yet, because we all know Mr. Radcliffe loves Broadway.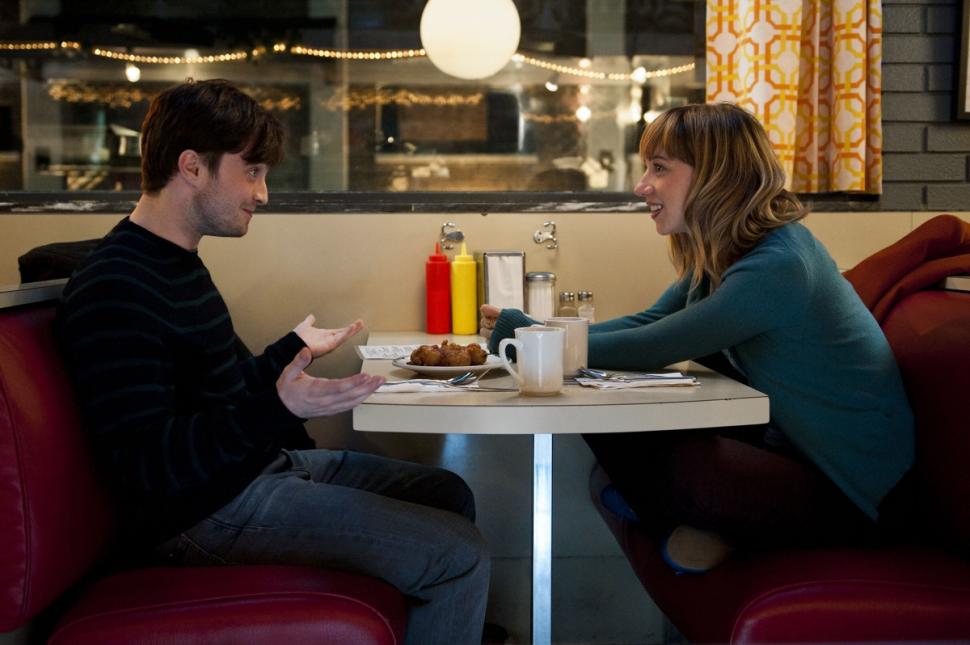 He also loves diners, if you look at every poster for this movie.
This isn't your grandmothers romantic comedy. This is a a romantic comedy for a more realistic newly mature movie watching crowd. Wait. It is only PG-13? Hmm. I figured it was R, but now looking back, I guess no real cursing or other adult stuff happened.
I say realistic, but in the end, this is similar to a lot of other romantic comedies, just with slightly different approaches. After all, the F word in questions ends up either being "Friendship" or "Friendzone" depending on how you look at the movie. Friendzone is a rather ugly word now, because it is pretty sexist in most cases, and used by people who think that being nice to the sex they are attracted to should eventually lead to a relationship and of course sex. Because not every relationship starts with friendship, a lot start romantically first. Unless its the movies.
So should I punish the movie for going the technically same cliche route of friendship with the intention of friendship leading to something more? Or should I ignore it and enjoy the acting, the chemistry, the comedy, and the ridiculousness of it all?
I like the ridiculousness route. Woo romcoms! Woo What If! A bit of it seemed forced, but I loved how uncomfortable everyone acted when they were forced into slightly romantic situations. I literally live off of awkwardness, and this movie may have extended my life at least 4 days.
3 out of 4.