When I first heard about the Uglydolls movie, it was…when I got an invite to see the movie. I honestly had no idea this movie was coming out. I try to keep my finger on the pulse of the coming soon community, especially animated films, because I am looking always for the next big thing that will dethrone a Disney or a Pixar. And yeah, this one I knew nothing about.
Sure, it is based on a line of toy dolls I have seen mostly in comic book shops for a decade or so. The actual theme of them is "reject" dolls that would normally be trashed and sold anyways, despite obviously being made that way. Like a fake level of being unique. Okay, that leads to a pretty easy plot to anticipate and follow.
And I also figured out it had to be a musical of some sort, because over half of the main voice cast appears to be a singer. Even some I have never heard of before in my life, but singers nonetheless. A lot more B-talent in terms of voice acting singers, people you don't see in the biggest movies, so maybe it is their chance to shine?
Really, what I figured from all these glances is that Uglydolls wants to be the next Trolls. Toy line, weird looks, bright colors, and of course, songs to entertain. But honey, this ain't up to the Trolls level, and Trolls was only average.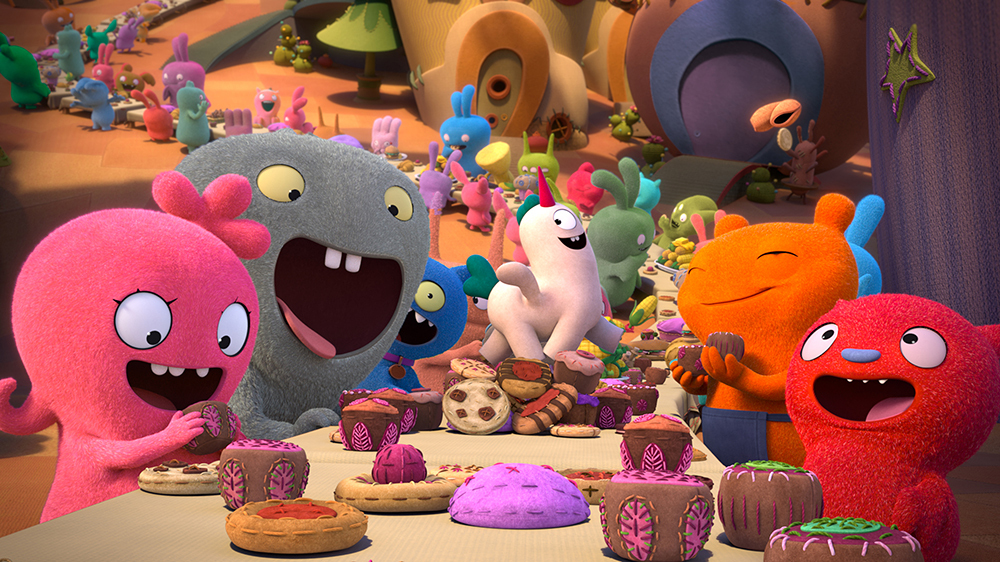 Hello group of Not Trolls, whats up? Eating? Cool!
Deep in a toy factory, many dolls are created and sent off to be loved by kids everywhere. Except, sometimes a doll is not molded correctly, for one reason or another. There is a mistake! And that doll is sent away down a series of tunnels to Uglyville. A happy small place with strange looking homes, citizens, and a party every night. Mayor Ox (
Blake Shelton
) makes sure everyone is having a swell time and living it up.
Now Moxy (Kelly Clarkson)? She is an extreme optimist. She believes that one day, every doll is sent into the big world to be with a "child" when the moment is perfect and right. Destiny will find them together. And every new day is the day where she will be picked!
Everyone else knows it is nonsense, until she finally goes exploring with her band of friends. And sure enough, she finds a bigger area, with a lot of dolls that look like people. They have to go through training before they can hit the real world. They need to be perfect. They need training before they can hit that child's arms. And hey, are these the dolls to do it?
Also starring the voices of Nick Jonas, Janelle Monáe, Leehom Wang, Jane Lynch, Emma Roberts, Gabriel Iglesias, Wanda Sykes, Ice-T, Pitbull, Charli XCX, Bebe Rexha, and Lizzo. The last few I have confirmed are real people.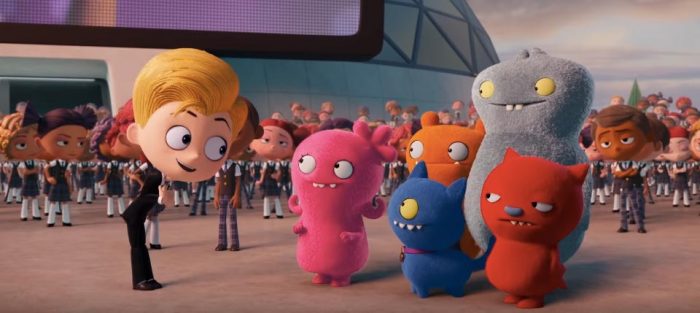 Totally getting judged right now.
Judging really early on in the movie, it was already starting off on the wrong foot. The animation style was a bit safe, nothing to top of the line. It started basically with a song, that also needed to get some exposition and character introduction in, and seemed to go on just a bit too long.
Overall, none of the songs really stood out to me as being great. I didn't want to go find the soundtrack afterward to hear something again, and that is a real shame. They are all mostly generic.
The plot is really easy to guess/understand for the most part. It is something that a kid will probably follow along and enjoy, but the older folks will be quite bored. It also moves along too quickly. We aren't able to dwell on anything for too long before it is quickly resolved and moving on to the next moment. One scene similar to the ending of Toy Story 3 was fixed almost instantly and allowed no time for potential sadness to creep in.
Also, let's be clear. There are dumb components. In the intro, we see all these animals being made for dolls, and then obvious messed up versions being sent away. And so we'd expect diversity when they climb up the tunnels. And instead we get only people looking dolls, perfect and the same, with just different skin tones and hair. How do these dolls accidentally create any of the Uglydolls? They weren't even trying to make sense.
Uglydolls is a forgettable film, that is safe, and full of generic pop. The message is simple. Ugliness is on the inside. Next.
1 out of 4.