Chaos Walking is obviously not the only movie to be delayed recently, but it is notable that it was delayed before the Pandemic! It finished shooting in late 2017, but they announced it needed reshoots in mid 2018 due to people hating it, and they had to wait a whole year to do reshoots, thanks to the leads being in major franchises and having full schedules.
Then it was delayed March 2020, and you know the rest there.
It turns out this is based on a book, The Knife of Never Letting Go, in the Chaos Walking trilogy. I really like that title though. It reminds me of Never Let Me Go. And it puts the future of this trilogy into question. Too many YA novels have an issue where the trilogy name is used for the first book, meaning future books/films have awkward naming conventions. And for this, they used the trilogy name instead of the book name.
Huh. Interesting. Okay. Well, future movie's will worry about that issue then, if they get any.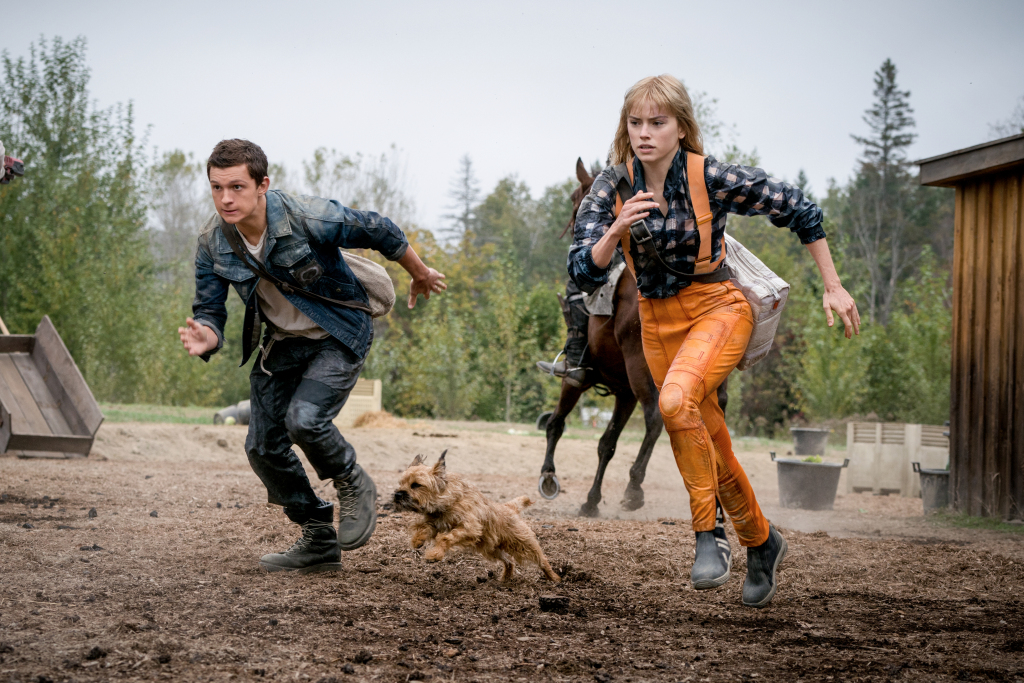 Okay, this is Chaos Running actually.
Todd (Tom Holland) is just a kid living a world that has gotten pretty fucked over. First of all, no women! Boooo. Second of all, only men! Boooo!
Now this world isn't our world, it is New World. And at some point a virus came and killed everyone on it called The Noise. The Noise was fatal to women, and for men it just made it so their inner thoughts were all audible to those around them, and creating a visible cloud around their head. Also there is some alien stuff.
Todd is set to being a new warrior or scout or whatever, as he gets older and learns to better control his thoughts. But then he discovers a crash landing on his planet and finds, a girl?! Viola (Daisy Ridley) and a crew crashed down, not good, but she is the only survivor, and they have no clue about this Noise stuff.
And a few plot shenanigans later, Todd and Viola are on the run from his city, who want to capture the girl, and look up settlements that are rumored to exist, even though Todd thought he was in the only real community left in the world.
Also starring Demián Bichir, David Oyelowo, Kurt Sutter, Cynthia Erivo, Mads Mikkelsen, Nick Jonas, and Bethany Anne Lind.
No, he is not thinking of the movie The Color Purple. 
Jeez, I wonder what they changes with this version versus their initial version? I hope it wasn't adding in MORE ACTION because honestly, that was one of their weaker points. The action, and fighting, especially near the end. I was a much bigger fan of the drama and suspense before that. You can have a big fight between communities without needing to bog us down in the fighting.
I am not anti violence, it just felt like a lot more at the end versus any point earlier, even if the threat was already there. I was more curious about the mystery, and the aliens, and the virus, all of that, and it just never delved enough for me.
The acting is fine, but for a movie with stars like that, this is not good enough.  I do think Bachir probably did the best of the bunch, but he was also limited in his role.
This is supposed to be a fantastic book and trilogy, and honestly at this point, I can't see how the book would be good for me. I feel like the movie not really being great, while also telling me about the secrets (unless they are different) would ruin the appeal of the book and I have no reason at all to seek it out. I certainly don't read everything, and I try not to read things before movie adaptations, but I do get quite annoyed when a movie takes away my desire to ever read the story.
A potentially riveting plot line that is ruined with mediocrity and forgettableness.
1 out of 4.