This is one of the many reviews that have come out of WorldFest in Houston. Check the WorldFest tag to see them all!
Time Trap is one of the few science fiction movies to come out of the festival, at least full length ones. The shorts usually have a good number of them, but it is harder to get it to the full film length, usually for budget reasons.
Sci-Fi as a genre doesn´t have to be more expensive than other genres, it just can be if they go heavy on the effects and future technology. Also, last year I watched a Sci-Fi movie there and it made my worst of the year list. That one was Rogue Warrior: Robot Fighter, which the title practically promised would be terrible.
But Time Trap looked like it would keep itself small scale, maybe go for a good story over dazzling CGI, and it the description made it seem like a man and his harem going out to find a missing person.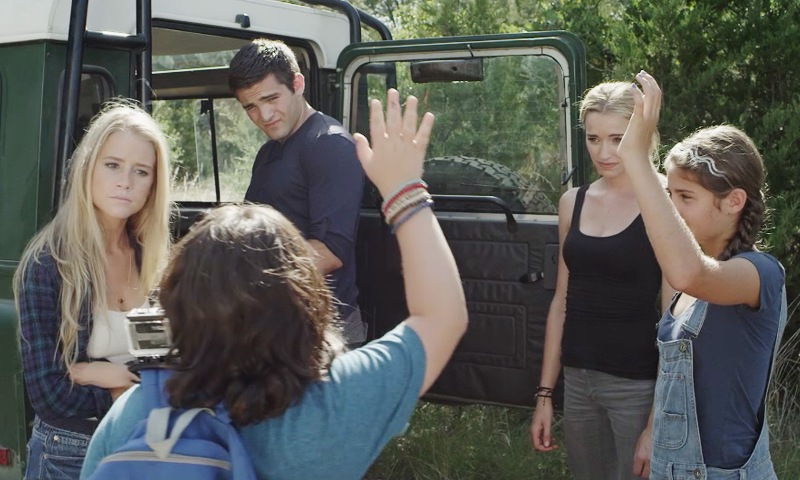 Almost a harem, turns out the Furby character was a boy.
Set in the modern day, we start with Professor Hopper (Andrew Wilson, of the Wilson family) scaling the caves with his dog, looking through a weird book, and finding strange sights in the cave. You know, like people being in them and not moving. Natural stuff. Originally he was out there looking for a van of lost hippies from decades before, but due to these strange occurrences, he is going to check them out alone and not bring his two graduate students Taylor (Reiley McClendon) and Jackie (Brianne Howey).
Welp, two days later, the professor is still gone. No one has heard from him, he isn´t answering his phone, and time to panic. Taylor and Jackie know where he went roughly, and have decided to look for him. They bring along Cara (Cassidy Gifford), who likes Taylor, because she has access to her dad´s nice truck. Cara has to bring her younger sister Veeves (Olivia Draguicevich), and they also bring along Veeves´ friend, Furby (Max Wright), for some reason or another.
Needless to say, when they get to the caves, they start to explore, start to spelunker, and shit gets weird really quick. Like they are trapped. In time.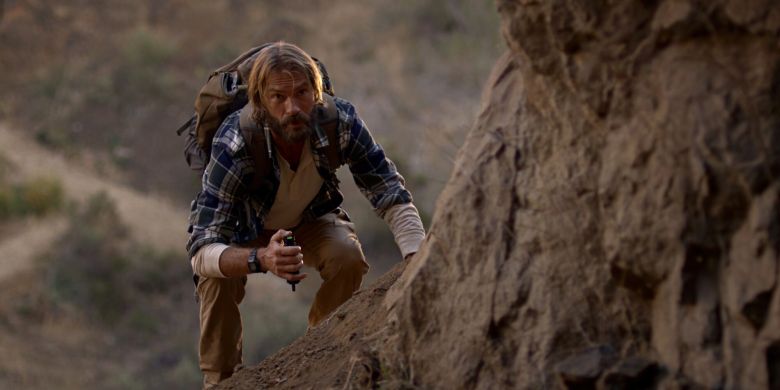 Everyone looks like a really realistic statue in pictures. Or like they are trapped. In time.
I went in expecting the worst, and left pleasantly surprised. As the movie unfolded, I started to write down potential plot holes that might occur, or questions that were maybe going to be left unexplained, but the movie handled them all. I also am generally worried about anything in a movie that deals with time (especially time travel (and no, this movie isnt really time travel)), but it still handled it very well. It was consistent, it was cool, it was fun, and it was a bit scary.
The good news about casting young people in a movie is that they often will act like young people in scary situations. The cast did a fine job of reacting to their surroundings and showing appropriate emotion. None of them really stood out as rising about the rest, but I will point out that it was a great idea to make the cast relatively intelligent. They weren´t constantly tripping over themselves to run away while scared. They knew science things, questioned the weird, knew technology, and trusted each other.
The story is also relatively entertaining. The hole they are digging in that cave just keeps getting deeper and deeper and it seems like there will never be a way out. It is very hard to predict where they are going with the story and it does reach a satisfying conclusion.
Time Trap is a simple story with big ideas and expanse. It is a really great idea for science fiction problem, while relating it to mythology of the past at the same time. Definitely worth a watch in the future.
3 out of 4.