June 20, 2013
This Is The End
It is hard to pull off a movie like This Is The End. The actors end up playing fictional versions of themselves, setting the film in "the real world" where the stars are stars and the random people in the background are real random people. I should also mention this film is part of my Apocalypse Week.
In fact, I'd say some of the funniest cameos in history have been actors playing fictional versions of themselves, such as Neil Patrick Harris in the Harold and Kumar trilogy. So here we have a movie using only that joke and setting it during the Apocalypse? I smell comedy gold.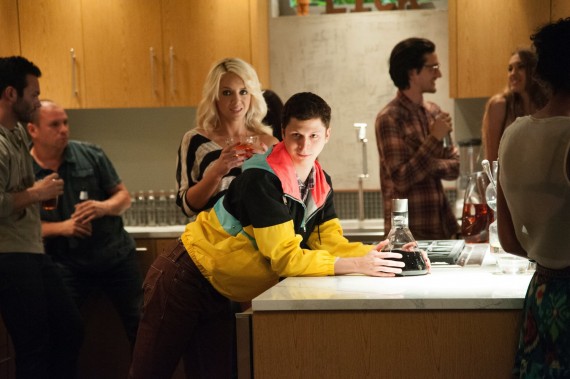 Michael Cera smells pussy.
Jay Baruchel (
Jay Baruchel
) is headed back to LA to visit his friend Seth Rogen (
Seth Rogen
). They used to be great friends, both being Canadian and growing up together, but now Seth is a lot bigger in Hollywood than Jay! So Seth he has new friends and seems to have moved on. Thus, Jay hates LA and all of Seth's new friends.
But after getting high and chilling, Seth really wants to go to James Franco's (James Franco) house for a killer party. He has a new place, it is supposed to be off the hook, and he promises to not leave Jay alone. They meet some of Seth's new friends, like the ultra way too nice Jonah Hill (Jonah Hill), and the charismatic Craig Robinson (Craig Robinson). This might sound like a love story between Seth and Jay and in a way, it is.
Unfortunately during the party the apocalypse happens! Blue beams come out of the sky and take away the good members of society (meaning the actors are all left behind of course), leaving only the sinners and scum of the Earth left to wallow. We also get fires, sinkholes, darkness, ash, and maybe even the spawns of Satan roaming the streets, killin' everybody in sight. Yay!
Too bad they also have Danny McBride (Danny McBride) stuck in their house, being the general unpleasant sourpuss that he is. For those curious, yes, he is identical to his Kenny Powers self.
We also a huge load of celebrity cameos, including Michael Cera, Emma Watson, Rihanna, Kevin Hart, Aziz Ansari, Mindy Kaling, Christopher Mintz-Plasse and more.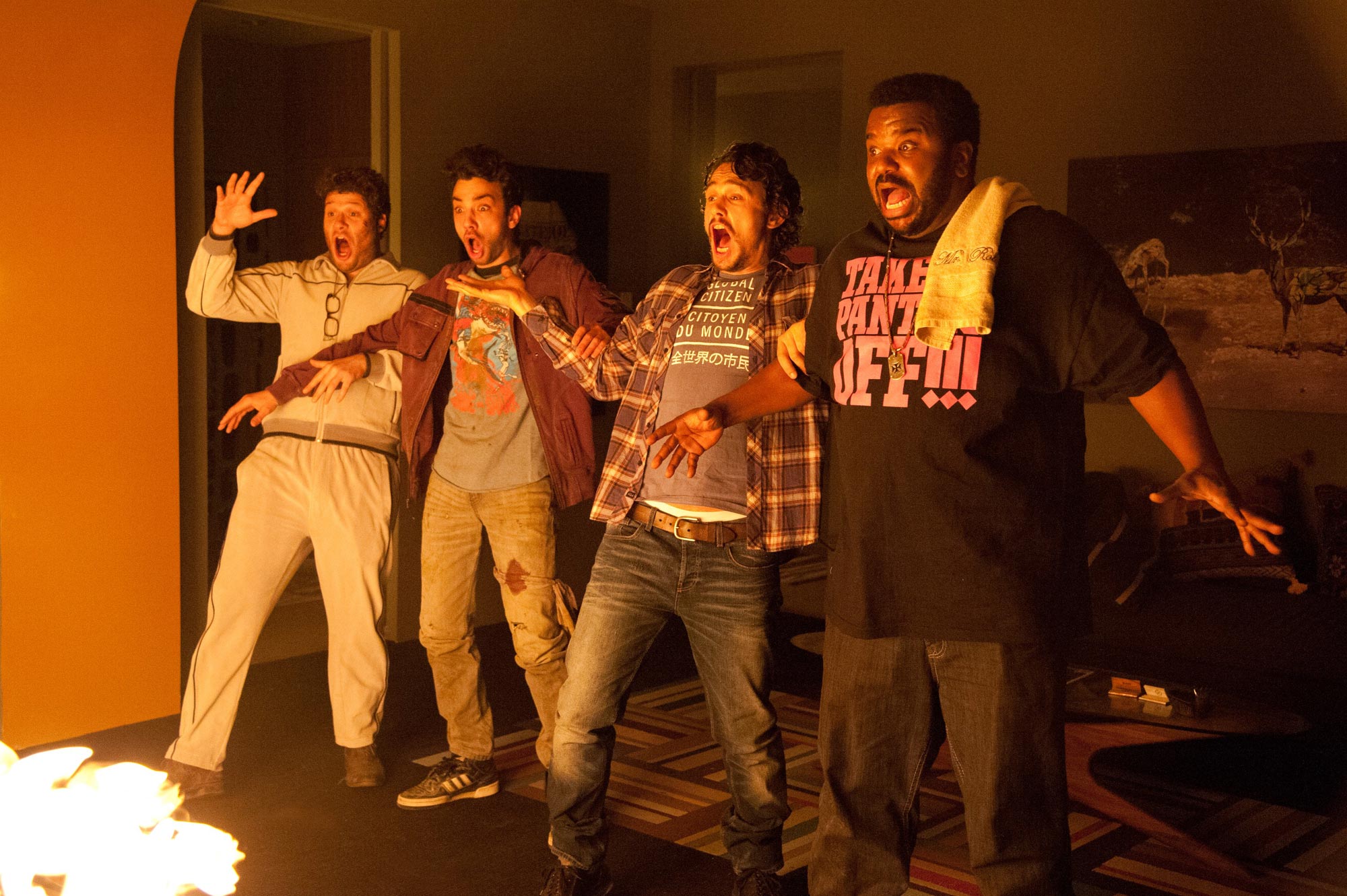 This movie was very aware, very funny, and very awesome. It had thrills, chills, laughs and gas. It wasn't a straight up "stoner comedy" either, which was a big fear of mine. Was there drug usage? Yes. But it wasn't the main plot point. After all, supplies run low really quickly during an apocalypse.
The last "meta"-esque movie that I enjoyed this much was Tropic Thunder. Although it wasn't the actors playing themselves, it was at least actors playing other actors and extreme versions of actor cliches. However, I expect this movie won't lead to anyone getting a nomination for Best Supporting Actor.
Long story short, I laughed constantly throughout this movie. I am sure over half of it is ad-libbed too, and yet I was still surprised at times at how far they went. I am excited to buy this on Blu-Ray to see all the outtakes. In fact, I bet even the commentary will be pretty dang awesome. It should also be noted that Michael Cera was even better in his small cameo than the trailer let on. If I had to change one thing, I would have added a lot more Danny McBride, who was by and large the funniest part of the film.
This Is The End isn't for everyone, but it was almost perfect for me.
4 out of 4.