January 20, 2015
The Wedding Ringer
The Wedding Ringer seems to fail at the most basic level, having an interesting title. A lot of movies begin with "The Wedding" and end with some noun. Ringer is really only associated with The Ringer and that is a weird movie to be kind of associated with. Or it might make it sound like a shitty horror, if you think about it hard enough.
Oh well. I will note that Sony Pictures really wanted people to see this film a head of time. I think I could have first gone to a screening in October or so. And then roughly 2 a week until it finally came out (exaggeration, but barely). I am normally a bit more weary about films that show too many screenings, because I think they don't think they will be successful without a lot of positive word of mouth. Like, a lot a lot. And that means it is probably shit.
Not that I am judging it or anything. But Kevin Hart has been on a downward spiral in terms of film quality, with me hating the last few of his movies outside of About Last Night. But hey, despite all these negatives maybe I will be surprised.

This movie probably will taste better with copious amounts of alcohol.
Doug Harris (Josh Gad) is super rich. Like, parents died, took over their business, gained a lot of wealth, and makes a lot of income. He is also kind of fat and awkward and has no friends. But when the daughter of one of his clients suddenly gets interested in him and finds him interesting, he runs with it. Now he is marrying Gretchen (Kaley Cuoco-Sweeting) and it is expensive. She wants everything and he agrees, this includes a big bridal party. Now ten days away, all she knows about the bridal party is their names, weird things about them, but no pictures and none of them around. Shit.
So Doug finds out about Jimmy (Kevin Hart), who runs a Best Man for hire business. With the time line and the number of people needed, Doug needs The Golden Tux package, costing him another $50k, but he is doing it because he totally knows lying is the best option to make his soon to be wife happy. Inventing fake friends ftw. He just stills has to impress her much smarter sister (Olivia Thirlby) and angry dad (Ken Howard).
And we also have the 7 hired groomsmen. Jorge Garcia, Affion Crockett, Dan Gill, Corey Holcomb, Colin Kane, Alan Ritchson, and Aaron Takahashi. Also Ignacio Serricchio as a gay Hispanic wedding planer. And Jenifer Lewis as Hart's assistant and advice giver. I think I got every one in there.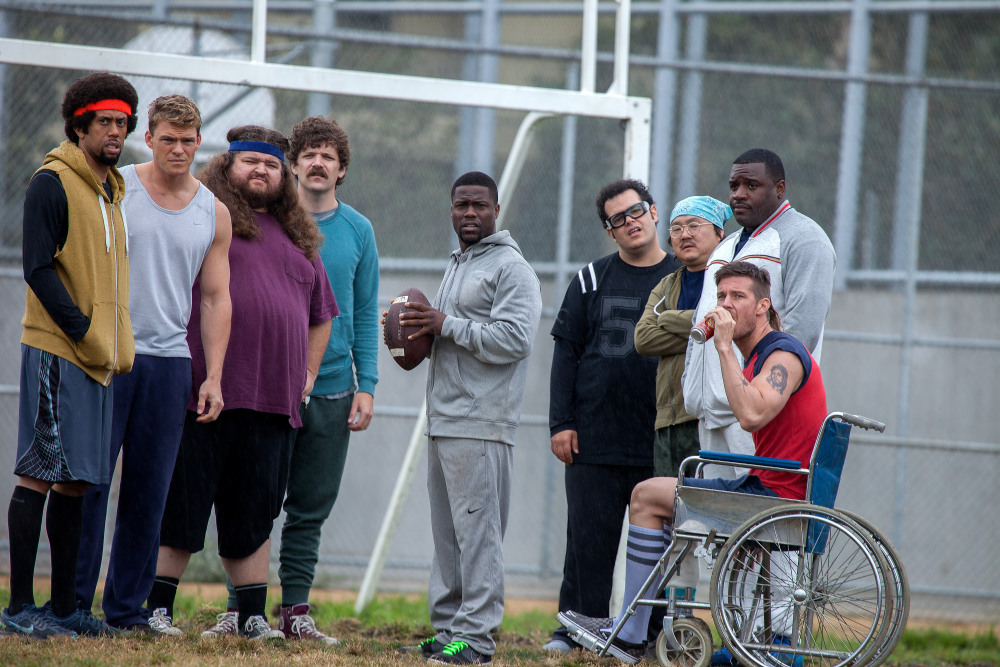 The most eclectic group of friends since All In The Family. Errr.
One of the most annoying parts of this movie is it just is an impossible service to imagine. Doug has to pay $50,000 for the service he offers, and the only other price we see is about $20,000. Some people apparently have a lot of money on the side that their soon to be spouse know absolutely nothing about. So it is not only a huge breach of trust, spending that much extra before you share things, but the other breach of trust about lying about someone in your life. It is crazy.
So after I get over that fact, there are quite a few amusing moments in the movie. I could tell how the whole thing would end after about 20 minutes, so they never really stray off of the beaten path. That is a bit disappointing.
The cast of extra characters was entertaining. Kevin Hart was his usual self. Gad was never really anything funnier than "That fat guy", so his character needed a lot of work. They gave me a Lost joke, which is all I really cared for.
The Wedding Ringer is okay, and not the giant shit show I thought it would be. After all, Kevin Hart's last January movie was Ride Along which failed to live up to its potential.
2 out of 4.