March 10, 2012
The Three Musketeers
What story is more cherished than The Three Musketeers?
Apparently a lot of them. You know how hard it was for me to find someone who knew the actual plot of The Three Musketeers book? I had never read it, nor have I really seen another movie with them in it. Maybe a wishbone episode, but I don't remember it. I know I am not comparing the book to this new movie, but while watching it, I knew pretty certainly that some of the events in the movie could not have possibly been in the book.
After all, if they had been, that book might be a lot cooler.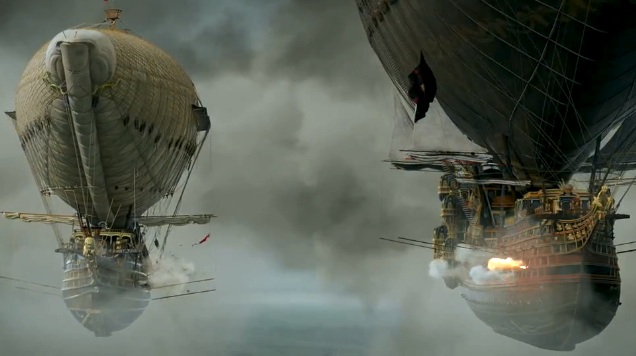 This scene was one of the few that made me question if this was the actual story or not.
The story begins with the Three Musketeers trying to unlock Leonardo da Vinci's secret tomb, where his most awesome invention blueprints were stored. Athos (Matthew Macfadyen), Aramis (Luke Evans) and Porthos (Ray Stevenson) are all introduced (even with frozen framed name cards!), as is Milady de Winter (Milla Jovovich). Each are shown their general personality, and how they prefer to conduct business and fight.
But after acquiring the plans for the warship…betrayal! In the form of the Duke of Buckingham (Orlando Bloom). The Musketeer program is disbanded at that point. A year later, D'Artagnan (Logan Lerman, aka the Percy Jackson) is training with his father, a former musketeer. He dreams of going to Paris and becoming one himself, and so, you know, does that.
In Paris, he starts off on the wrong foot, pissing off Rochefort (Mads Mikkelsen), captain of the Cardinal Richelieu's (Christoph Waltz) guard. Despite barely escaping, while running through Paris, he also encounters each of the Musketeers, offends them too, and offers them each a duel an hour apart. Then he is like, oh shit, Musketeers.
They get arrested for illegal dueling, but because they took out 40 men in the process, the king (Freddie Fox) reinstates the Musketeers. Just in time. Because the Duke wants to go to war with France. So he arranges that love notes be found in the queen's (Juno Temple) desk, that say she was having an affair with the duke, and had given him certain rare diamonds (which he has hence stolen). The king will be forced to execute his wife, and go to war, but because he is so young, the public wont like it, and reinstate someone else instead.
Unless the Musketeers can fix the day! Also there is a hot lady in waiting Constance (Gabriella Wilde) who totally wants D'Artagnan.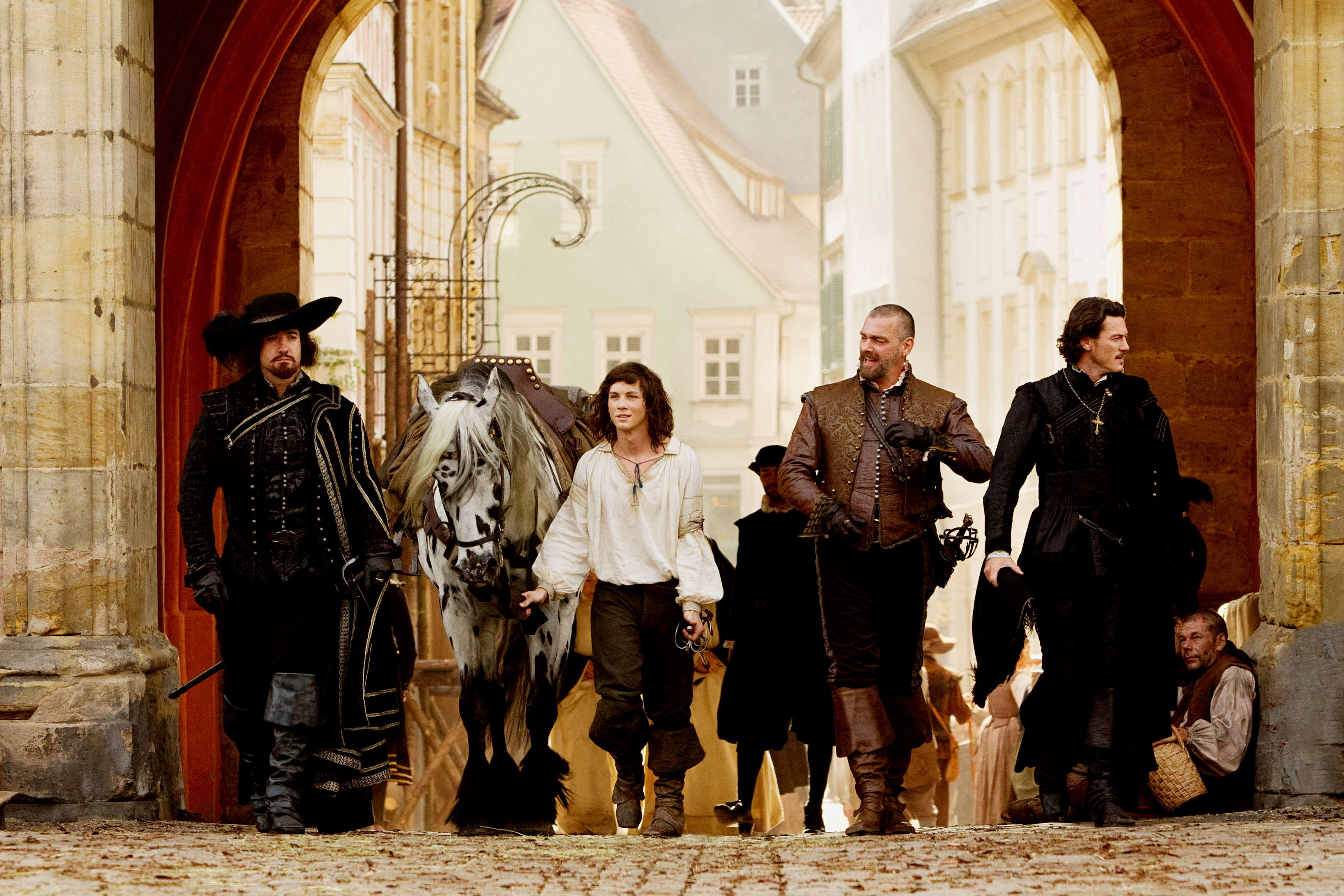 Lerman (center) looks like his head is out of place each scene with that hair.
How'd you like that summary? If you actually read the book, you'd notice obvious differences. I think Milady plays a way more important role in this movie, than the books. I think also the affair is real in the books (maybe here too? Could be argued). Also, warships.
This movie is also VERY colorful. The colors pop out, at first kind of distracted me (in the first throne room scene), but I got used to it and overall liked it.
Also, this movie reminded me of TONS of other movies. The movie did had an overall epic feel, similar to Pirates of the Caribbean: The Curse of The Black Pearl, and not just because of Orlando Bloom. If anything this movie succeeds because of everyone else. There was also a scene that was a clear homage to Mission Impossible. But instead of lasers, I assume just had to see trip wires that would ring bells, or something.
Did I mention warships?
If I had a big complaint, I would say they didn't flesh out the three musketeers personality wise enough. They do a bit at the beginning, and some other moments, but this is clearly an action driven movie. I will say that all the musketeers, in my eyes, did a fantastic job, and the kid. Seriously, they all kicked some ass. I liked the steampunk like warships involved, and found it odd that I was so captivated by a movie that did so bad in the box office.
GUYS. WARSHIPS. GUYS.
3 out of 4.