January 11, 2018
The LEGO Ninjago Movie
I had absolutely no intentions of watching The LEGO Ninjago Movie earlier in the year. When this and The LEGO Batman Movie were announced, I honestly wasn't too fond of either idea, but this idea less so because I don't know what the fuck a Ninjago is. It is one of their brands, but never anything I touched, so who cares.
I just wanted a real sequel to The LEGO Movie more than anything, so these off shoot films were very "whatever" on my radar.
And then I ended up being so disappointed in the Batman film and animated films in general that I needed to give Ninjago a chance. I needed to check every crook and nanny to see if all the animated films were bad. And you know what? I think this one was hated right out of the gate, with people who had very similar thoughts to mind.
No one wanted to give Ninjago a chance, which is why there hasn't been a lot of hype for the film. And yet it, in my mind, is the better LEGO film of 2017.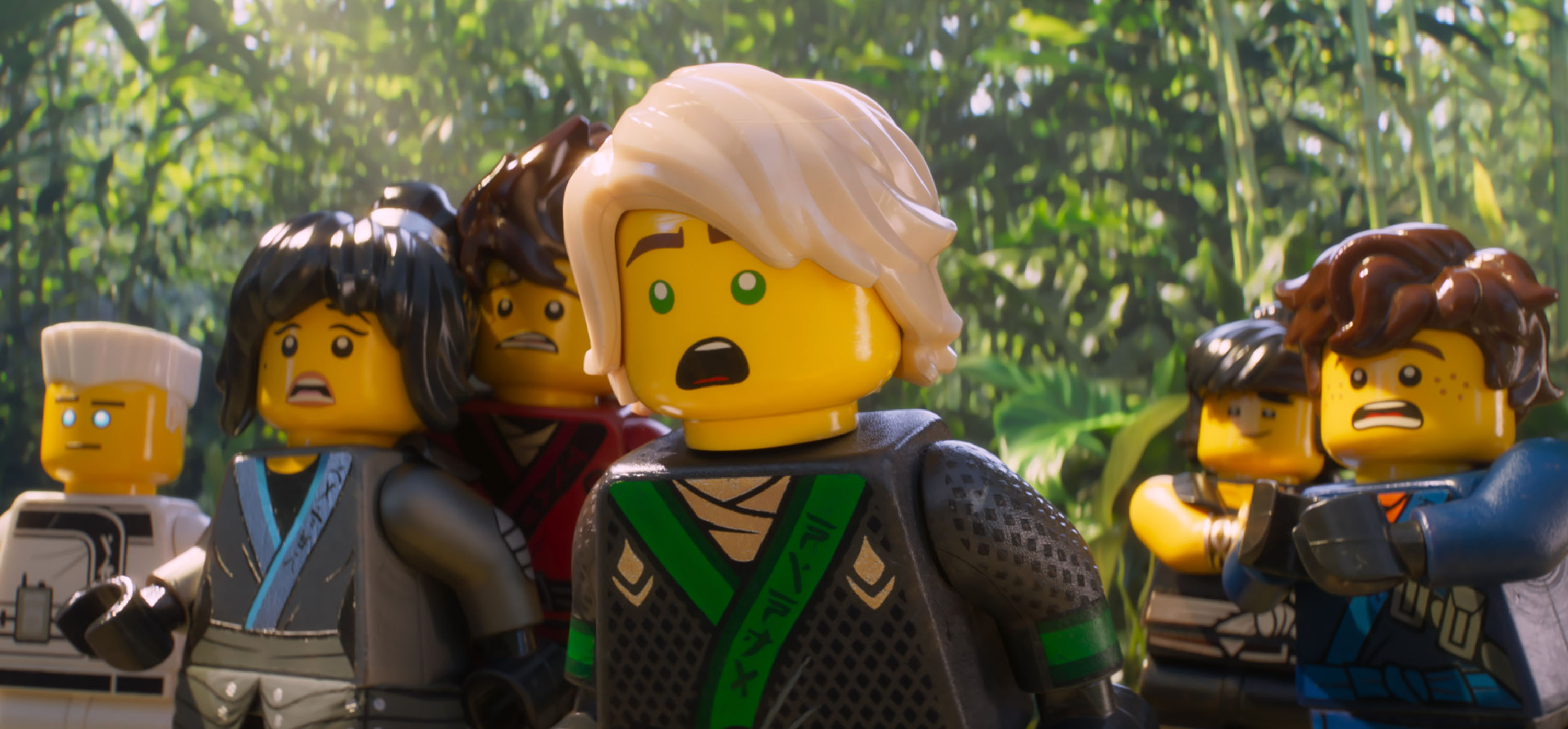 \
Featuring so many members of Silicon Valley also had to be intentional.
In the city of Ninjago, normal city things occur, bakers, bread buyers, bread eaters, you name it. There is a giant volcano near by across the bay, and in it lives Garmadon (Justin Theroux), a four armed evil ninja mad man who wants to take over the city, become its mayor, and rule it with his man evil fists. He is a big pain, always destroying things, bu he never wins thanks to a group of young teenagers with attitude.
You see, there is a protective ninja force in town! They have Mechs that can help them stop Garmadon every time. They all have cool elements too: The Fire Ninja (Michael Peña), The Lightning Ninja (Kumail Nanjiani), The Water Ninja (Abbi Jacobson), The Ice Ninja (Zach Woods), The Earth Ninja (Fred Armisen), and The Green Ninja (Dave Franco). Yes, the power of Green. Sucks even more for The Green Ninja, besides his lame element, because his dad actually is Garmadon.
Despite Garmadon being out of his and his mom's (Olivia Munn) life since he was a baby, everyone knows he is the son of Garmadon and teases him non stop, because his Ninja identity is a secret. This enrages him of course, along with his anger at his dad and the fact that they never truly win. Despite the warnings of their master (Jackie Chan), the Green Ninja tries to use the ultimate weapon against Garmadon, which ends up putting the city at an even bigger risk without hurting Garmadon.
Fuck.
Now the Ninjas are going to have to find the Ultimate Ultimate Weapon, and discover how to be real ninjas without relying on Mech technology, in order to save the city, defeat Garmadon, and you know, be better people.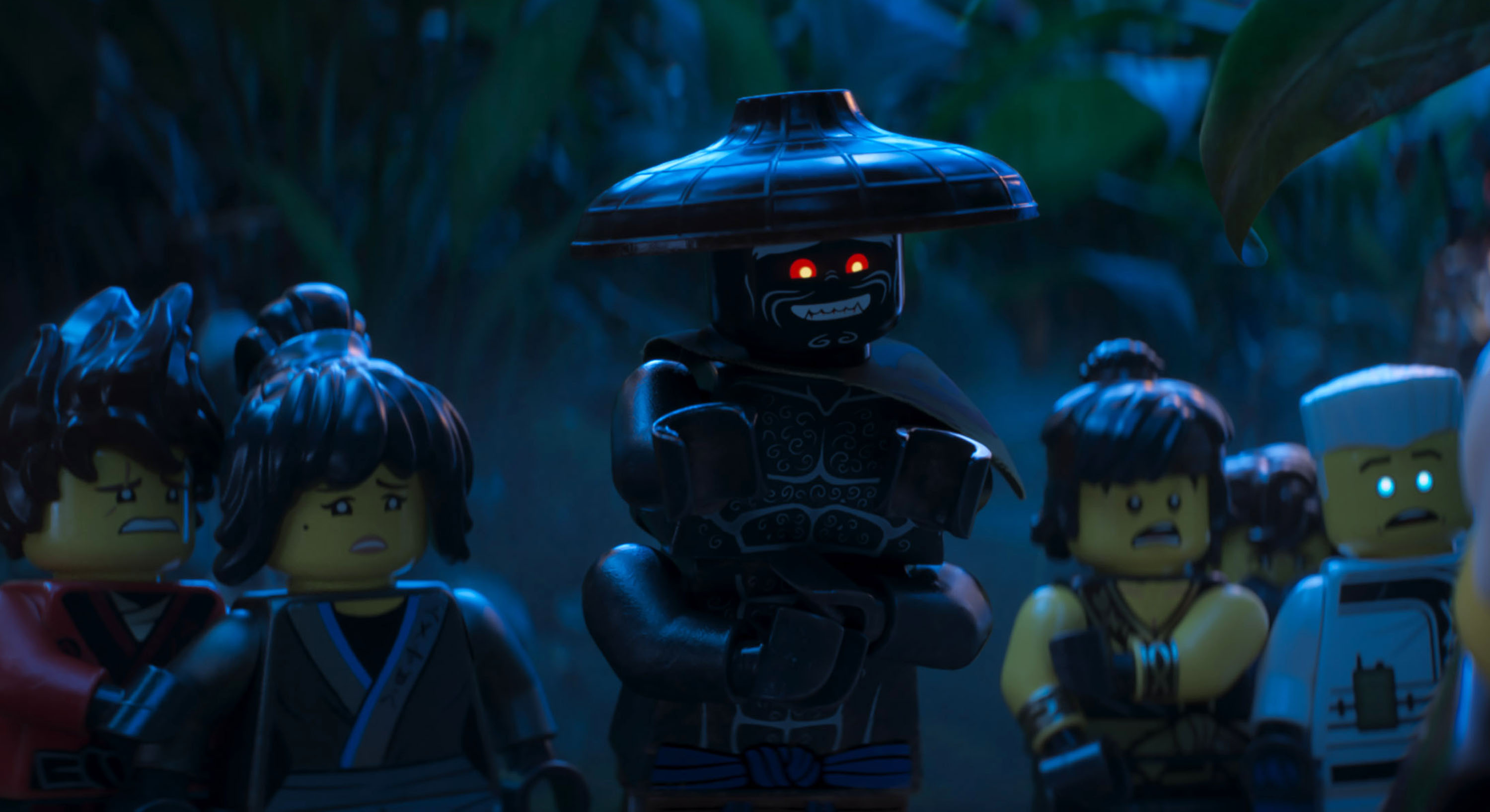 The story about his extra pair of arms is actually a funny one, you see….
Does the Ninjago movie have a lot of ninja stereotypes? You betcha. Does it focus on only one main plot point of the lost father/son relationship? Of course. Does it rely heavily on jokes about this relationship, bringing them up again and again? That's another affirmative.
I believe those would be the reasons it is getting some pretty sad reviews overall. And yes, relying on one line of jokes through the majority of the film is a problem. But the good news is, it is more than just that line of jokes, they are just mostly pushed to the side or hidden in the background. In all of these LEGO movies there is a shit ton going on at all times, including quips from various characters, some without real names. And they carried the film for me.
I could have done without what felt like a long montage about learning how to throw. But the conversation about not knowing how to throw early on was amazing. And so on and so on. I found a lot of the characters to be quite amusing and thought they did well as a martial arts parody film.
But more importantly, the size and scale of this movie was appreciated. This movie is probably better to me because of comparing it to Batman. But Batman was too big. It had its own world that was unfortunately overstuffed, intentionally, so much that the had to bring in 20 or more characters to make the joke. But in Ninjago we have a handful of important characters dealing with issues in their city and not relying on outside pop culture references to tell this story.
In fact, this is one of the few reviews where I didn't have to end my middle section with "Also starring!" and a huge list of people I couldn't easily fit in to the plot description. It is a nice, self contained story, that amused me over the small run time. And that is why I can put it above so many other animated films this year.
3 out of 4.