December 23, 2016
The Edge of Seventeen
Coming of age films are a dime a dozen, and I don't really understand if that means they are common or just cheap.
But they are easy to cater to large audiences. Most adults used to be children, so at some point, they must have come of age. Put in some embarrassment, some universal feels, and hey, people will relate, like it, laugh, and enjoy.
I will be honest that I never really was able to connect to a female coming of age film really before, given my lack of ovaries, and some of the growing up experiences become a bit different. Despite that, I was still excited about The Edge of Seventeen, because I ended up seeing the trailer at some point and hey, it looked funny, crude, and real.
As a bonus, everyone looks awkward.
When Nadine (Hailee Steinfeld) was just 13 years old, her father (Eric Keenleyside) passed away. Which besides sucking for the obvious reasons, was extra bad because he was the only person who seemed to understand her. He was the reason Nadine and her mother (Kyra Sedgwick) could live under the same house, as they got on each others nerves.
Also Nadine is sort of miserable. She is sarcastic, she jokes around, she is vulgar. She is the star of every teenage coming of age film about a loner, except this time she is a girl not a boy. But somehow she still has a friend. Krista (Haley Lu Richardson) is only a little bit weird, but she puts up with Nadine's shit because she is a good person. But apparently Krista was just waiting 15 or so years to secretly ruin her life. After a night with their mom out of the house, drinking, fun, Nadine wakes up to find Krista in bed with her older, perfect, brother Darian (Blake Jenner).
Yep. Now Nadine's life is ruined. The only way to end it has to be suicide. There is no way her life can get worse. Sure, there is a boy in History class (Hayden Szeto) who seems into her, but he is only cute in a pity way. Her one confidant left is her teacher (Woody Harrelson), who has resolved to fighting her sarcasm with his own. And she is madly lusting after a boy in her school that she barely knows (Alexander Calvert) because he is mysterious.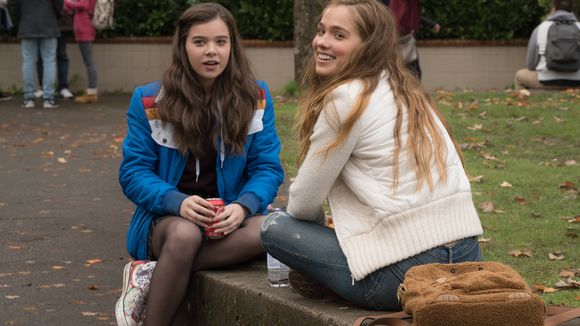 Nadine is a bit mysterious too, because she does not have blonde hair.
As I already alluded to in the review, I loved that our main character felt like one of the many guy leads that normally have this movie. Women leads like this are rarely so crude and unlikeable, so it was a fresh change of pace. And like our lead, most of us have still done stupid things like her before, so yes, she was easy to relate to and cringe along with.
Steinfeld hasn't been this good of a lead since True Grit (which I am still annoyed the movie put her under Supporting Actress). Most of the rest of the cast isn't given a lot to work with in comparison, but Harrelson always brings a laugh whenever he is featured in his scenes. Jenner has had a really good year, with this and Everybody Wants Some!!. And I haven't seen Szeto in anything else before, but I couldn't help but sort of melt into his awkwardness.
I don't think it is hard to see why people love this movie. It is quirky, it feels real, and it brings up that nostalgia that we all love to remember.
I am not saying it will go out and win a lot of awards, but in terms of over all feeling good (While also dealing with a LOT of dramatic elements), it keeps a nice balance and really takes the viewer on a teenage ride. A fantastic film, and one is keeping the coming of age story fresh and relevant.
4 out of 4.