October 21, 2019
The Addams Family
When I first heard that Oscar Isaac was set to play Gomez Adams, I was ecstatic. Perfect! I love it! Let's do it! Probably one of the best actors who could play him after Raul Julia did it in the early 90's!
And then they announced it was actually an animated movie and he was just doing voice work.
Ohhhh….boo. What a waste. Anyone can be Gomez in terms of voice acting. That almost seems to imply that if they eventually do a live action one in the next decade, they probably won't pick Oscar Isaac for it now. And life is disappointing.
Not off to a good start, The Addams Family animated movie.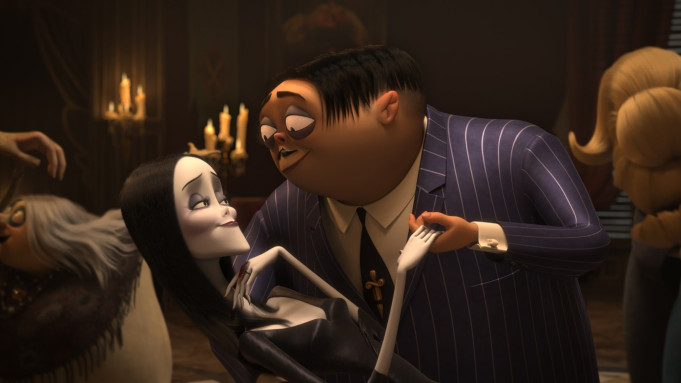 But thanks for focusing on making sure Morticia was boob focused most of the film?
Not wanting to start with our house of weirdos, this film starts with the marriage of Gomez (Oscar Isaac) and Morticia (Charlize Theron) in a likely eastern European village. But alas, their families are labeled freaks and they are chased out of town by torches and saved by Fester (Nick Kroll). They decide to start their family far away, somewhere no one will find them and disgusting. An abandoned mental asylum they find in New Jersey!
Now thirteen years later, they are loving their mountain top paradise, surrounded by swamps, raising their kids Wednesday (Chloë Grace Moretz) and Pugsley (Finn Wolfhard) and their man servant Lurch (Conrad Vernon).
Things are happening quickly though. Pugsley has his mamushka coming up to prove to all of his family he can protect them with a sword so all of the extended family is coming.
And then? The fog disappears! It turns out someone drained the swamp and put up a perfect community below the mountain. A perfect city with perfect citizens called Assimilation, that Margaux Needler (Allison Janney) is fixing together to sell as part of some reality show. And this sudden big scary castle on the mountain is not going to help her one bit.
Also featuring Snoop Dogg, Bette Midler, Titus Burgess, and Elsie Fisher.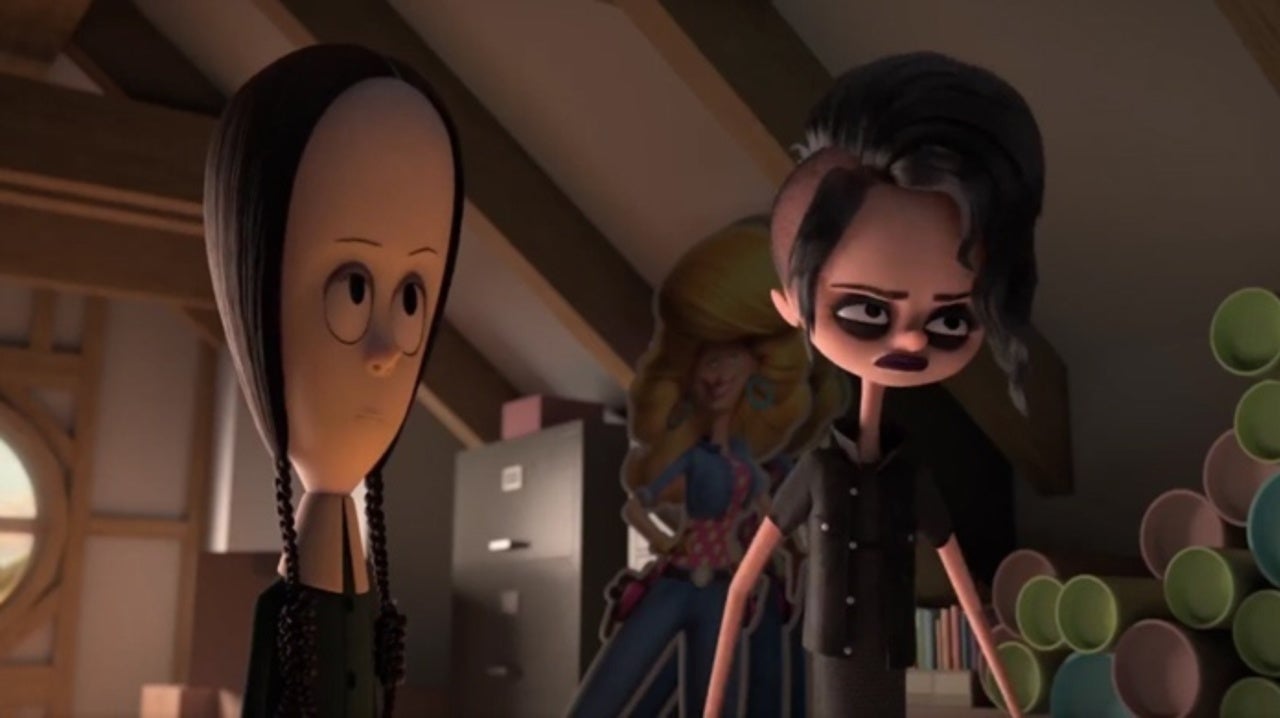 Oh and Wednesday joins public school and becomes a trend setter.
Giving us a prologue for The Addams Family it turns out is completely unnecessary. Is it cute? Sure. But it also tells us their house is an asylum, not a MUSEUM, which is not only in the old theme song, but literally that theme song is used in this movie as well. Unacceptable.
This Addams Family cartoon didn't go far enough. Enough in like, any direction. They didn't have too much shocking or spooky or weird, as a lot of it is just replaced with explosions, from bombs and boulders.It was just very tame. And in terms of humor, actual good jokes were few and far in between. I watched it with a very full theater with a lot of kids, and rarely were there chuckles.
This is a film that is played way too safe. I am not saying they need extreme dark humor, or to make it not family friendly. They just didn't do really anything with this large and interesting cast of characters. Gomez is a bitch. Morticia doesn't really do much at all. Pugsley and Wednesday look a bit too weird and don't feel like real characters.
Come on Oscar Isaac. Demand a reboot with you playing the live action lead now.
1 out of 4.