I have had to write this title, The People We Hate At The Wedding, at least 10 times now in my life. And every time, it just feels wrong. I don't mind long titles, but the "We" really throws me off, because who are the we? Are we the viewer, the we? Are we acknowledging that the leads in the film are the people we hate?
Because the title feels like something that the character should be saying. But at the same time, it is clear from the poster, that the main characters are the characters that should be hated. Are they hating on even more characters? Are they aware they they should be hated for their behavior?
I think it might be a better title if We was replaced by You. Then it has more of a documentary feel. We know we are watching and supposed to hate them. It is a movie showcasing them!
It turns out that my grumbles towards the title, despite loving the three leads, was just the start of my issues.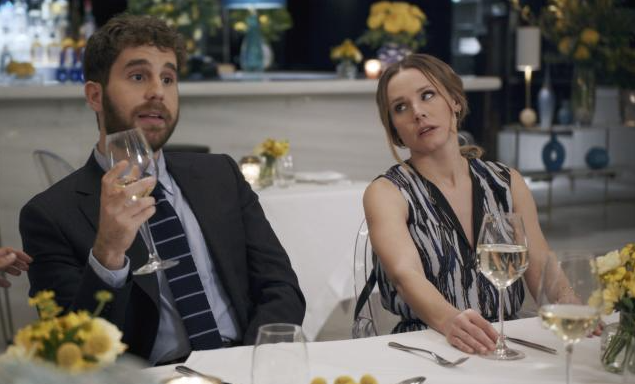 Hey look, it's those people we all agree we hate.
Donna (Allison Janney) and Henrique (Isaach De Bankolé) got married and had a kid in London, named Eloise (Cynthia Addai-Robinson). But their relationship didn't last, so they broke up and Donna went back to America, where she got married again (Andy Daly), and had two kids, Alice (Kristen Bell) and Paul (Ben Platt). They would get to see Eloise when she visited once a year, and got to do American cuisine like Taco Bell. They were an okay family, but Eloise was rich, and Alice/Paul were not, and it seemed to just get worse over the years.
So now that they are adults, and miserable in their lives. Alice is in a strange relationship with her boss (Jorma Taccone), who is rich, but also, you know, married. Ben is in a relationship with Dominic (Karan Soni), who apparently wants to experiment with a more open relationship. Their mom, Donna, is single again. And she doesn't really talk to any of her kids.
But they all get an invite to Eloise's wedding. She will pay for a lot of the trip too, but she wants her whole family there. However, her extended family is upset with her, or the situation for various reasons. And when miserable people conglomerate together, where they feel more miserable, then you're gonna have a bad time.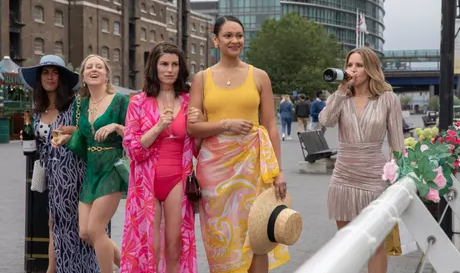 Here are more people. Should we hate them too? 
Comedies can be hit and miss, depending on the subject matter. Wedding movies are similar. For example, six years ago we got Mike and Dave Need Wedding Dates (oh hey, something else starring Pitch Perfect alumni). It wasn't loved overall, but I had a good time with it and laughed a long with. Unfortunately with this film, I just could never care about their experiences. 
The protagonists are in sad situations, but none of them feel relatable. So I don't care about their downward trend then eventual growth throughout the film. Instead it is more of a "well, miserable people deserve to be miserable" sort of attitude I had. "Oh no!…anyways"
It just feels like absolutely no joke landed. I don't know if it is because of how unoriginal the story felt, or if it was just poorly paced or what. I do know that I wasn't shocked at any point of the film. Once it was fully set up, it was predictable where would be by the end of the movie. 
There are no stand outs from the cast. It is nice that they let Ben Platt be gay on screen, which hasn't happened a lot. But the movie itself is as forgettable. Just like the actual phrasing of the title. 
1 out of 4.