May 16, 2013
Tai Chi Zero
I don't remember /why/ I know about Tai Chi Zero, but damn was I interested. It said steampunk and martial arts! Why not! Seems cool! I like some of those things.
Especially since currently, martial art movies seem to have left realism behind to focus on better things. More exciting things. Like unrealism. Yes. The best type of fights are unreal, we all know that. I assume that every fight type has already happened, so we have to start bending physics to make it interesting again.
This has nothing to do with this movie.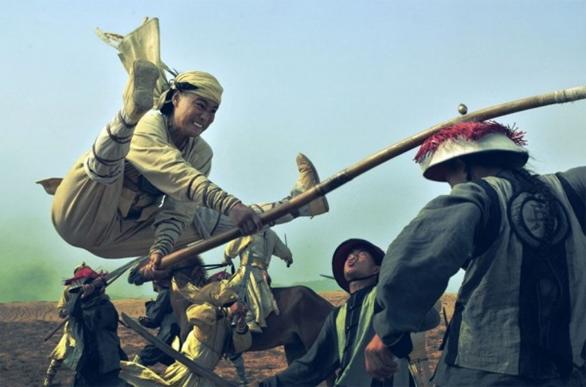 But I am glad that it features Thwaps!
So this takes place sometime in the past in China, like normal. Our main character is a freak. Really. That is his nickname The Freak (Yuan Xiaochao). That is because when he was born he had a tiny mini-horn on his head. He grew up wanting to learn how to fight, but no one took him seriously. That is until he beat up a bunch of kids his age after they hit him in his horn. Once he gets hit in the horn, he goes all demonic on people, gaining skill and destroying everyone.
Well, long story short, his town gets destroyed when he is older and his former master tells him to go learn the Chen Kung Fu, in a town on a mountain outside of civilization. But when he finally gets there, no one will teach him because he is an outsider! Some old laborer (Tony Leung Ka Fai) tries to help him learn it anyway, through repitition. Yay fake Kung Fu Styles!
But the plot comes when a former townsfolk guy Fang Zi Jing (Eddie Peng) has returned from college! He wants to bring the railroad to their town and increase profits. The town doesn't like electricity, they shun him, he gets mad, and vows vengeance. We also have Mandy Lieu as his white-ish girlfriend, and Angelababy as the future love interest of the Freak, who knows the Kung Fu Style!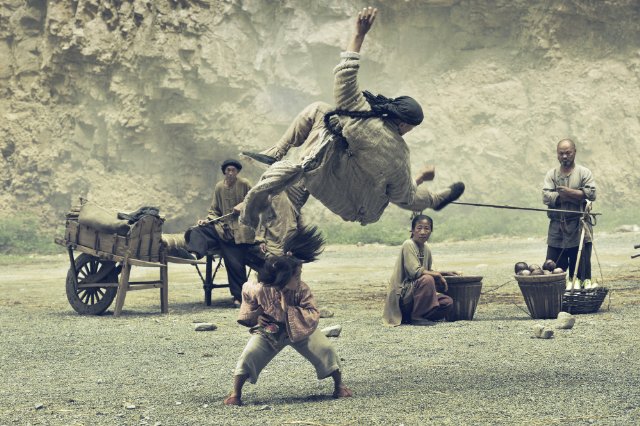 But first, he has to fight this little girl. True story.
That is about it plot wise! This stranger might be able to help save their town from the evil western capitalist machine ways! So the story might be super anti-America without explicitly saying it, but I am still fine with it as long as the fights are cool.
And they are cool! But they are also amusing. Easiest way to describe amusing fight to me is a Jackie Chan fight, but they take amusing fight in a new way. Through specia effects! Like some video game shit. Stage 1, Stage 2 stuff. It helps invigorate the experience!. Tons of tiny additional features to add that add to the fights, and well, they are hard to explain, and I find it funny.
What I found annoying? He went Freak mode in the first scene in the movie, before the plot, and never did the rest of the movie. Huh. Why? This might be a planned trilogy, because it doesn't end with the plot resolved, and the sequel, Tai Chi Hero, comes out to America in June. Also, I should note, that this movie is far from steampunk in any way or form. Even stranger, this movie has Tai Chi in the title, but of course, he has to go learn Kung Fu. Who am I to question that shit. Maybe they are all the same?
3 out of 4.