Another installment of potentially the best Dreamworks franchise they have going for them. Shrek ended off poorly, Kung Fu Panda 3 ended up being a bit more lackluster than the first two. Will the dragon franchise have the same fate?
To catch us up on the series, The first How to Train Your Dragon I only thought was okay. I was annoyed a major plot point was the refusal of adult characters to listen, despite overwhelming evidence. The second one was a masterpiece in an already strong year for animated movies, I believe I barely put Big Hero 6 above it. I was excited for where the franchise was going and had great ideas and theories, and was willing to wait.
And honestly, from the look of the posters, and various screen grabs (I didn't see the trailer), I don't believe How to Train Your Dragon: The Hidden World is going where it could have possibly gone.
I will also note the disappointing title, dropping the 3 and adding a subtitle, seems like a poor move. The Hidden World doesn't draw me in at all, feeling generic. We shall see though!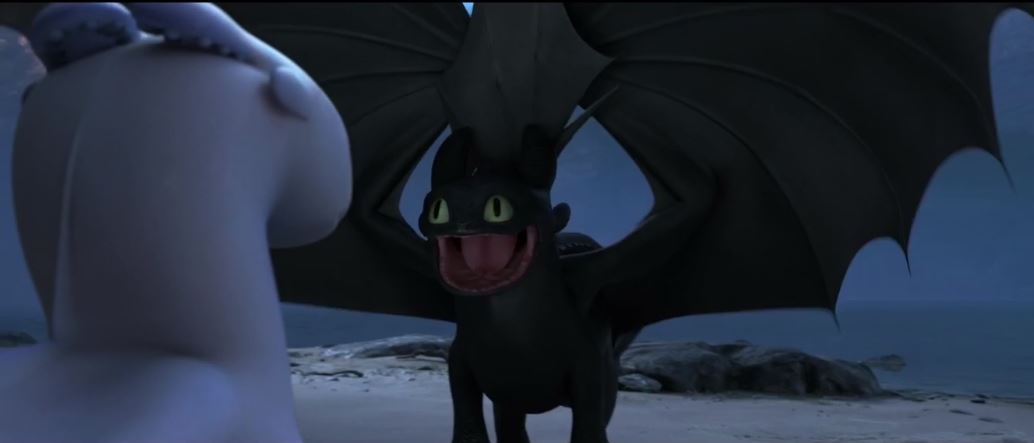 Now if the dragons turn into clowns, we might have a real series!
Set about a year after the events of the second film, we have our new Chieftain Hiccup (Jay Baruchel) trying to do the right thing. The right thing is to find and rescue dragons, bring them back to their home, so they can be free and happy. Dragon raiders are real, and they are kidnapping the dragons and wanting to take them into a dragon army to kill things!
Hiccup still leads his band of youngish riders, all with the same personalities (America Ferrera, Jonah Hill, Christopher Mintz-Plasse, Kristen Wiig, Kit Harrington, and Justin Rupple doing the best T.J. Miller impression ever) and his mom (Cate Blanchett) helping him figure out his way.
Their home is getting crowded. They need more space. Can he move his entire people and dragon population to find a suitable home? And if so, what about the potential Hidden World his dad (Gerard Butler) used to talk about, a place where only Dragons could go and live? His dad wanted to put up a wall to protect them, and he wants to just live near it to protect the dragons.
But of course, some other dragon raiders are angry. We got a new bad guy, who is better than the last bad guy, who wants to just kill Toothless, not capture him, and that will let them capture the rest of the dragons for you know, evil reasons. So they have that going against them.
Also starring the voice work of F. Murray Abraham and Craig Ferguson.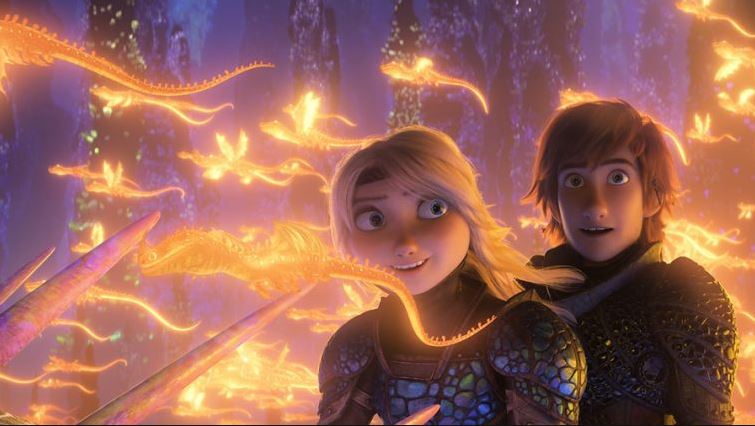 Ohhh, sparkly.
Alright, I can't get this out of my head. Being a reviewer you are supposed to just judge on what was given, not always on what it could be. But I thought it was really clear what they were going to do with the third movie. I thought it would be darker and deal with harder questions.
Hiccup was gaining power. He had the new most-alpha Dragon, so every dragon would listen to them. He was getting a shit ton of power. They may have their boats and weapons, but they have dragons, nothing will stop them. This would unintentionally make them the new bad guy. Regular communities would probably naturally be frightened by them, since everyone is afraid of dragons, and maybe even rise up to try and bring them down. This would lead to a situation where they realize they need to protect the dragons, without holding them all at their homes, due to the misunderstandings, and let the dragons be free and teach everyone to let them be free. You know, something like that.
But! No, we got a world no one talked about before, barely in the future, and a girl Nightfury for Romance. To be fair, some of the elements were used, about realizing they cannot just live with this giant army of dragons, but in a much safer way.
The way they picked was still pretty good. Most of the characters felt unique and had decent plot elements, except for the Snotlout/Erek one. It was definitely gorgeous and had some pretty intense fight scenes throughout it. And hey, the ending was beautiful in its own right, putting us at a good "end point" to the series, and we got to see Hiccup with a beard. Very important stuff.
Overall, despite my bit of disappointment in some of the plot direction, this is a really solid film. This means this whole thing is a really solid franchise, and is going to be remembered as Dreamworks' best animated franchise. Not monetarily maybe, but it definitely has surpassed Shrek and Kung Fu Panda in my book.
3 out of 4.