It is going to be very easy to get the movie, Skin, confused with the Oscar winning Short Film, Skin. After all, they both are about tattoos, Nazis, and race relations. They are about indoctrining the youth to hate. They are about revenge. They share a main actress. And they are written/directed by the same guy, Guy Nattiv.
Wait, a short and a film of the same name about similar topics with similar actors from the same person…and they are not the same thing?
Nope! The movie (which this review is for) is based on the TV documentary from 8 years ago called Erasing Hate. So this is a true story. The short is just an idea that they ran with and people really liked. I can't tell you what was made first, but the short definitely was released first.
And I think this bares repeating. Despite all of the similarities, these stories are in no way related. They are different ideas, the film is not a long version of the short. It is just so bizarre. If it confuses people, it will really only confuse people int he know.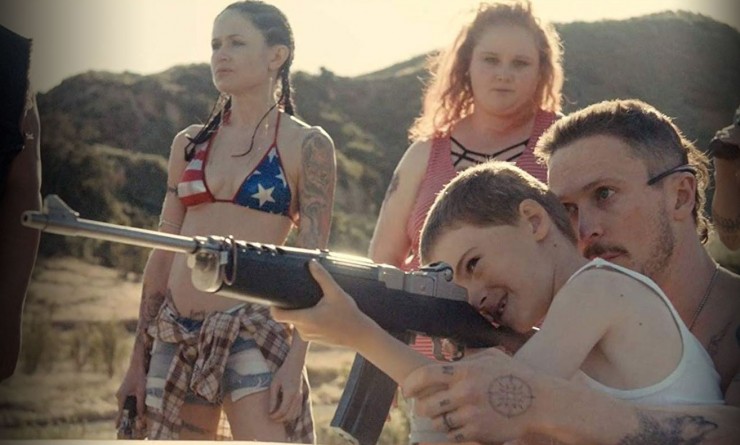 NO! That's a shot from the short film! Not this one! No!
Our story is about a man named Bryon Widner (
Jamie Bell
), who was a teenager when he was recruited to join the skinheads in the Midwest. He found a place that accepted him, and he went with their ideology, and he helped with counter protests and marches against other races. Pretty much a shit person.
But then he met Julie Price (Danielle Macdonald), a woman with three kids and no man in her life, just trying to raise them right. She isn't even like a looker, but he liked her personality and wanted to get to know her.
This relationship led to him joining their family and expanding it, while drifting away from the movement that had captivated him for decades. He didn't really believe any of this nonsense. But he couldn't get a good job with all these tattoos and mess on his body.
So he removed them. Hour by painfully expensive hour. Thanks to generous anonymous grants and activists groups encouraging people to see the error of their ways and change and have a way to normalcy. But the group doesn't want him to leave…
Also starring Daniel Henshall, Bill Camp, and Mike Colter.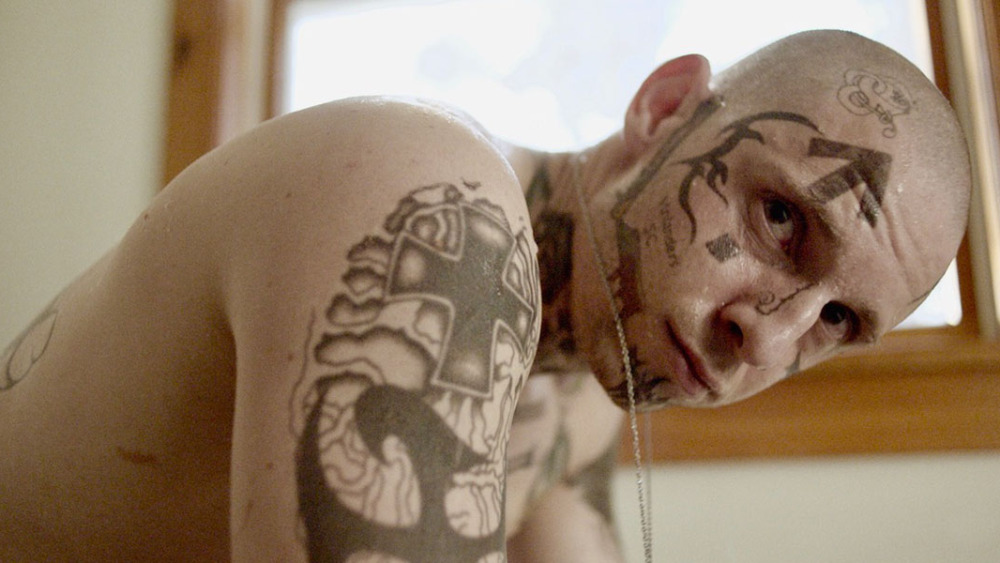 Oh he just looks like a tamer Zombie Boy.
Now given the theme of this movie, you are probably shocked to see the rating. Does Gorgon Reviews hate people who fix their lives and stop being so racist/xenophobic?
No, he just doesn't like this movie.
It. Was. So. Boring. Oh my god.
I didn't feel any of the leads giving a captivating performance, I didn't care about the man who saw the light and was lucky enough to get to fix it. It felt a lot like white privilege, that he was given a second chance, against so many people of color who barely even get a first chance.
This movie is another case where I feel the real story is better than the fictionalized movie version. I have not seen the documentary it is based on, but I bet the truth is better even if it is more messy. Real accounts and real lives affected. This one could never captivate me and felt like it was an eternity long.
And let's be clear, there is a person in here more deserving of the movie. Daryle Jenkins (played by Colter), the African American man who started the One People's Project, to publish information about hate groups and the far right, as warnings and to not let their hate go unnoticed. He is fighting for all of these important things, and was a key person to help Byron. But damn, Byron should just be a part of the greater movie of activist Jenkins. I am ready for that movie right goddamn now.
It is basically Green Book, but not as egregious with its choice of leads.
0 out of 4.