December 27, 2018
On The Basis of Sex
Ruth Bader Ginsburg is a real life BAMF, who should one day be immortalized somewhere with a statue. At least one, hopefully ten. We should have advancing science to have cloning technology be figured out in the next 2 months so that we can make a younger version of her so she can continue her righteous crusade.
First of all, if you have not seen RBG yet, you should. It is on Hulu, it is one of the best documentaries of the year (although it shouldn't make you cry like some other top ones). It is very informative, goes over her whole life, big battles before the Supreme Court, and is a perfect companion piece to this movie, On The Basis Of Sex.
This movie is about Ginsburg before she was in the Supreme Court. When she had to deal with normal lady struggles at the time, while still trying to be badass.
And it will go into the details that the documentary mentioned, but couldn't spend a lot of time on because she had decades of cool things to talk about.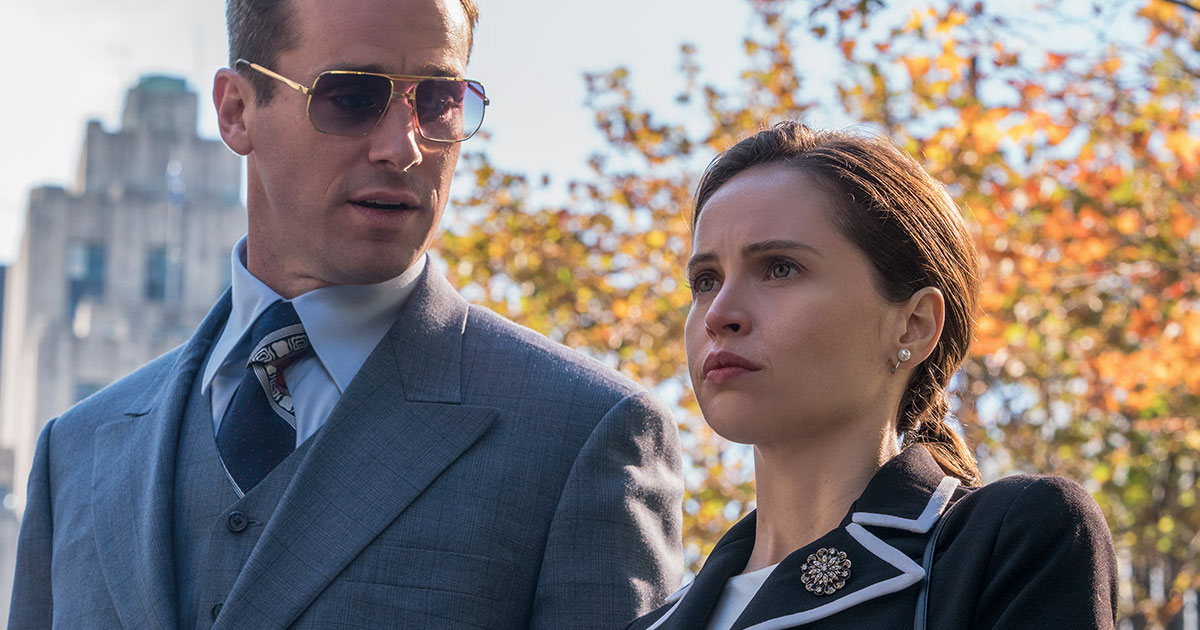 Like how to look imposing when standing next to a giant male model.
Ruth Bader Ginsburg (Felicity Jones) has always been a fighter. That is how she fought her way into Harvard Law School, probably the best place to learn law in the 1960s. It only recently let in women, but they clearly did not like them there anyways.
Despite being the top of her class, she continually ran into oppression. Her husband (Armie Hammer), a law student above her year, developed cancer. With a baby at home, what's a girl to do? I don't know, go to both of their classes, take notes/assignments, take care of a husband and child, you know, superhero stuff.
And despite being amazing, and everyone knowing it, she still couldn't get a job. Top of class? Still a lady. She had to settle for many years, teaching instead, until specific case opportunities came her way. Things that no one wanted to touch, that dealt with gender rights and equality. Hey, these seem like topics she wants to fight too! You know, because of her constant issues.
This is the type of case that needs to be fought all the way to the Supreme Court, to help change the law of the land. The first of many cases she took there before finally getting a seat herself.
Also featuring Jack Reynor, Stephen Root, Cailee Spaeny, Kathy Bates, Sam Waterston, and Justin Theroux.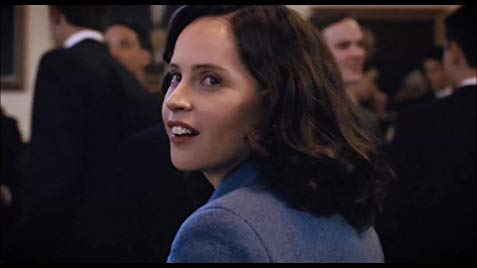 Don't be fooled by her degrees, she still knows how to party.
Jones does an amazing job playing an amazing woman. From the way she carries her face, the power in her little frame, and her voice, it is like looking into the clone machine that I asked for earlier, but with better quality lenses than my poor eyes can normally handle.
As a general rule of thumb, I will always watch a movie with Hammer in it, and he does a swell job as well. The movie does a fantastic job of displaying both the subtle and non subtle ways he has privilege over his wife, and his ability to deal with issues and get certain things passed.
Unfortunately, this film suffers a bit in that it really feels like telling a story in which case she is not able to do things on her own, which she does dozens of times in her life, but instead focuses on the moment where she needs that ally to get her to the next step. It is like my criticism of Marshall, focusing on a story where they can get a white male lead in, despite having an amazing person to talk about. Nothing wrong with Hammer's character, because this is a role where he is the husband and partner in the case, but it still makes me question why not talk about those other cases more when she gets to actually be the star.
Unfortunately, this film is not as good as the documentary on the similar subject. The acting is great, but the story is a beat weaker. We have villains who just are out to get her because she is a lady, which seems like a gross simplification of what she was up against. Film took a lot of history for granted, and turned things into more silly feeling situations.
That does not mean this film is not entertaining or something you will sleep through. I liked it! I was just disappointed it didn't develop into the Oscar contender I was hoping for.
3 out of 4.