May 4, 2021
The Mitchells vs. The Machines
The Mitchells vs. The Machines is one of those films that you are hopefully going to hear about from word of mouth. I know I didn't notice it pop up on Netflix. I know if I did, I would have just ignored it most likely for a bit, and watched it by myself a week or two later. The cover for it on Netflix doesn't look appealing to me at all. It doesn't do the actual animation style any justice, and just looks like a cheaply made piece of crap. And let's be honest, The Mitchells vs. The Machines is not a title that screams out "watch me."
I don't know the Mitchells. Why should I care about the Mitchells?
I guess every famous cartoon family has its start, and if their goal is a franchise, they can constantly have them battling other entities. I guess.
I am getting off track. I didn't want to watch this movie. I was told I should watch this movie. I am glad I watched this movie. You should also watch this movie. And now, here is a review.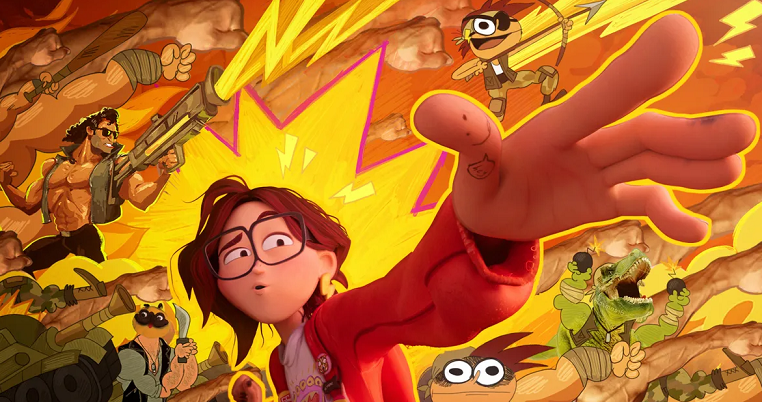 This is apparently an action film with guns, dinosaur bombs, and a dog faced pirate.
The Mitchells are apparently going to have to save the world. And they are not a perfect warrior clan. They all have faults, barely have any cohesion, and sort of hate each other depending on the circumstances. Katie (Abbi Jacobson) feels like an outsider from her family. She has always been into films and creating her own strange movies, that her parents just don't understand. Her dad (Danny McBride) is Mr. Nature, doesn't do anything with tech, can fix a lot of problems, and loves to build. Her mom (Maya Rudolph) is pretty mom stereotype, caring and all of that jazz, believes in everyone. Her younger brother (Michael Rianda) is just super into dinosaurs, starring in his sister's movies, and is afraid of being alone. Also they got a dog that is barely a dog.
Katie got accepted into her dream school in California, for Movie makers and is exited about leaving her home and finally being with people in her life who get and understand her. The "weirdos" and such. Unfortunately, she gets into a big argument with her dad the day before they leave. And his solution? To cancel her plane ticket away from this dump, so they can road trip to College, making her miss out on orientation, but letting them bond one more time.
And unfortunately, during that time, a big robot rebellion begins! Fuuuuuuu. And purely by accident, they find themselves to be the only group of humans not captured. I guess they gotta figure out how to save our entire species.
Also featuring the voices of Eric André, Olivia Colman, Fred Armisen, Beck Bennett, Chrissy Teigen, John Legend, Charlyne Yi, Conan O'Brien, and Blake Griffin.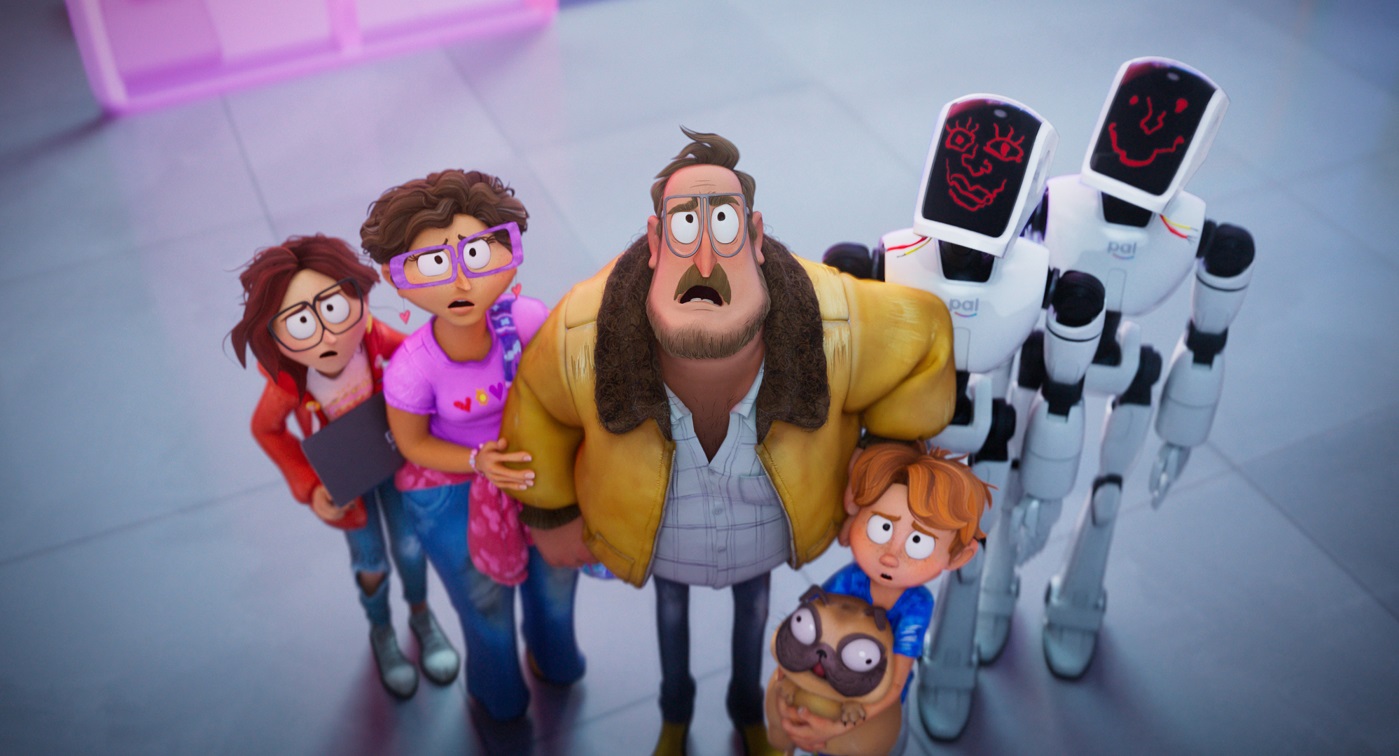 You know, I am not even sure that is a dog…
If I had done my own research I would have found out that I definitely wanted to see this movie. Besides the stacked voice cast (including McBride doing a great impression of Seth Rogen has a father role, based on my confusion on checking IMDB, I would have been able to see that the executive producers of this are Lord/Miller, and I have never not loved something they produced or helped create.
As for the actual film? Damn, what a roller coaster. But it is a roller coaster that just keeps going in loops and is mostly full of really exciting ups. This is a bad metaphor. It has some strong messaging about reliance of technology. Pretty obvious stuff overall, but it doesn't harp on the message and say that technology is evil. It is necessary for our hero after all to follow her dreams, and allows her to do something she wants in life, so it is awesome still. It is more the corporations who suck, and we can all agree on that.
This film was surprisingly funny. I really didn't expect to laugh as much as I did, especially out loud. My kids could enjoy it too, for similar reasons. It had jokes for all, and some good throwback jokes to technology issues in life. It is also full of colors and perfect for the ADHD riddled world we live in, but never really annoyingly so.
I was surprised about halfway through the movie (with a plot point that felt like it would be close to the end) to find it had so much more movie left to go. But it didn't really feel boring, if not a little too long near the end in the final scenes. A small amount of editing/cutting near the end would have been fine. But again, I still love the movie overall.
Give it a watch. I believe it went to theaters for a bit, so it should be eligible for awards next year. Raya and the Last Dragon was good, and now this. Shit, is animation back this year? Will Luca actually be good?!
4 out of 4.
Se