February 25, 2015
Horrible Bosses 2
Horrible Bosses 2 came to theaters in November, and I didn't get to go to a screening because I went to see Rosewater instead.
I actually wanted to see this one more, but I opened it up to a vote, and it was something ridiculous, like 15-1 in favor of Rosewater. Too bad Rosewater wasn't that special.
I really liked the first Horrible Bosses, despite its ridiculousness. But I also liked at least 2 of the 3 main actors, so it made a bit of sense. However, when I heard about this sequel, I definitely thought that it didn't make a lot of sense. They had a potential of making it like The Hangover 2, where they told a very similar story and it just felt like a bad rehash. But at the same time, if it has nothing to do with with Bosses being Horrible, then why is there a sequel at all?
And can they make everything sexier this go around? I doubt it.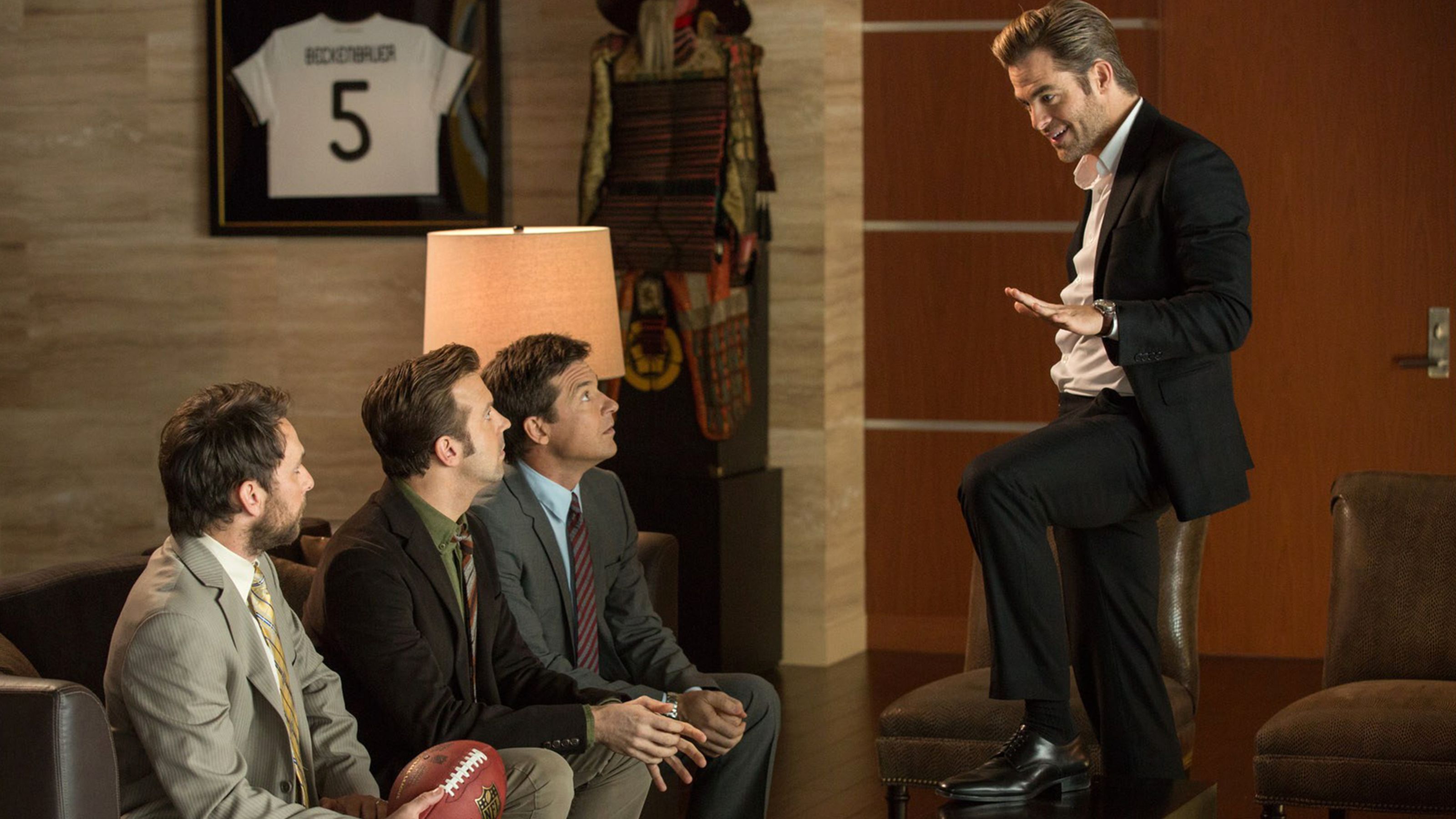 Nothing sexier than showcasing your package in a business meeting. I've heard…
Nick (Jason Bateman), Kurt (Jason Sudeikis), and Dale (Charlie Day) are now in a business together! They made some sort of Shower Buddy item, that not only is a new nozzle for your water to come out of, but also automatically dispenses the shampoo and conditioning when with a timer or something. Yeah it sucks.
Either way, a big company has took notice. Rex Hanson (Chris Pine), CEO or something, wants to buy it all from them for a lump sum. But they don't want to sell their company. He is a dick to them. Then his dad shows up, Bert Hanson (Christoph Waltz), and offers instead to buy 100,000 units, they just have to get their company off the ground. Hire workers, make the product, and they have a deadline.
And guess what, they do it! But of course shenanigans occur, and they might lose their whole business for nothing instead and get screwed out of all their product. What dicks, these pseudo bosses have been! So they eventually get a plan. Kidnap the son, ransom him for a ton of cash to the rich as fuck dad, save the company, and get away with a new crime. Yay!
Oh hey, and of course, Jennifer Aniston, Kevin Spacey, and Jamie Foxx return as their old characters too. For various humor intended reasons. And Jonathan Banks as the FBI guy trying to solve the crime! Life has been decent to him post Breaking Bad.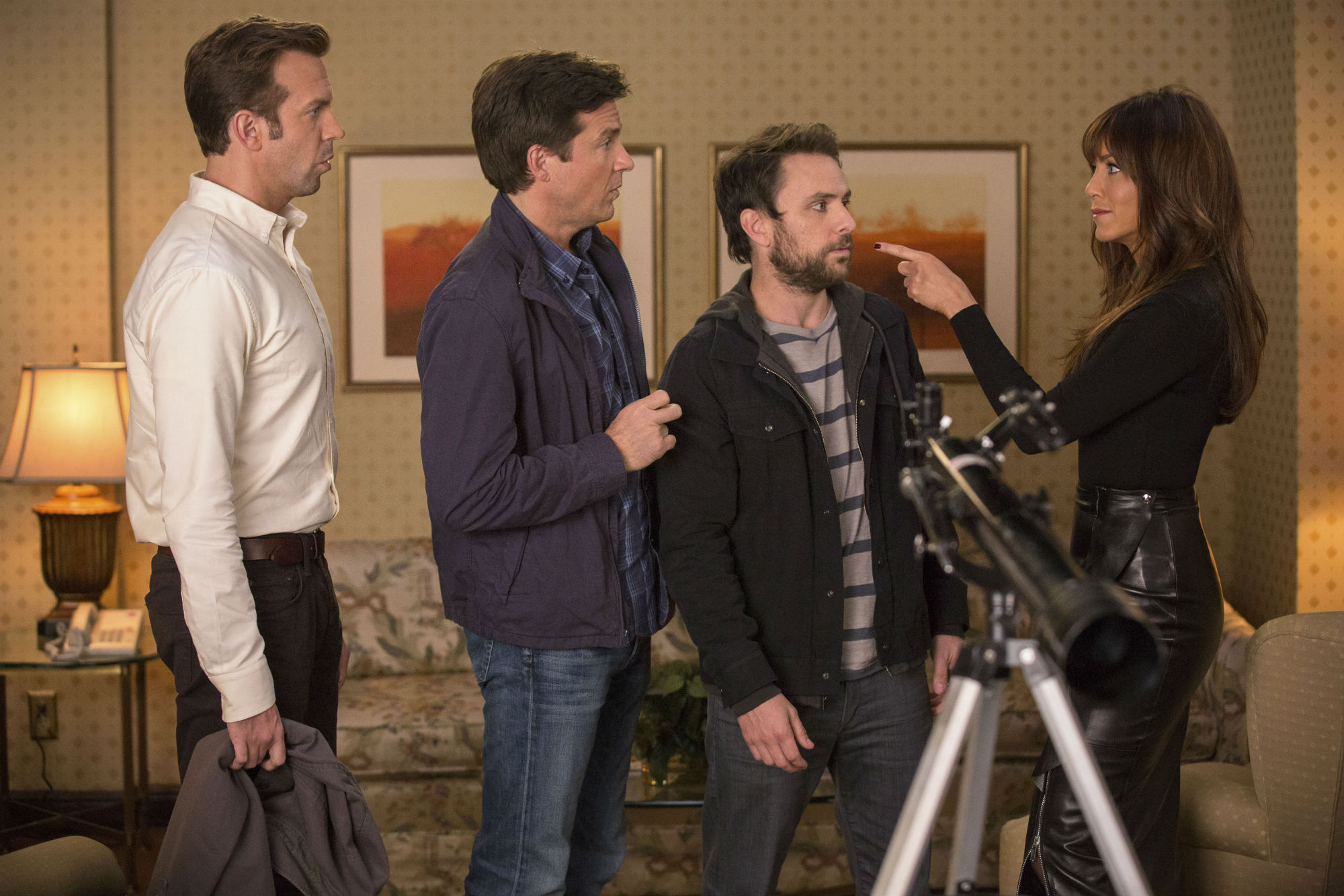 I assume the telescope is innuendo.
I think Horrible Bosses 2 found a nice balance between keeping to the theme of the series, but also giving us something new. Last time they all had different people that they wanted to "kill". This time, they are united against the same two guys and they don't want them to die. Killing is scary business. So instead a very complicated plan with many moving parts is the real ideal.
I will admit I haven't seen the first Terrible Supervisors film since it came out, but I think I enjoyed that one more than the sequel. This one wasn't necessarily bad, as it definitely had quite a few hilarious moments, but I also think it didn't as great of a plot behind it. There were scenes that produced no laughs at all.
But the most important aspect of a buddy comedy is the chemistry, and it is pretty darn good between these guys. I have talked before about Bateman fatigue, but even he wasn't too terrible, although it was clearly Sudeikis/Day's movie for the maximum lols. You might not trust my word on that, because I love almost everything Sudeikis does. I think he's the best part of SNL the last few years.
Also, I practically died laughing every time they used their fake voices. Just it is probably more forgettable unlike the first movie where they did the…things. And stuff.
2 out of 4.