When I first saw the pictures from the film Frank, it seemed eerily familiar and I didn't know why. Most notably, in a fast moment in the film Filth, the main character was watching television and a scene showed a man wearing the iconic head. It freaked me out. Were the two films cross promoting? Was Frank a bigger movie than I could have ever known?
Well, no. Apparently Frank, although fictionalized in this movie, is based on a real person.
Frank Sidebottom was his name, and Chris Sievey was the man behind the mask. He was in some bands in Britain for a long time and Frank Sidebottom was his "Comic persona" and recognizable around the world. Which is probably why it looked familar. I didn't know that I knew that it was a real thing. I must had just seen a person in the mask before, maybe haunting me in my youth. Who is to say.
It is inspired by several musicians, including Chris, but none of this on its own is a bio of these gentle rockers. No. This is its own entity.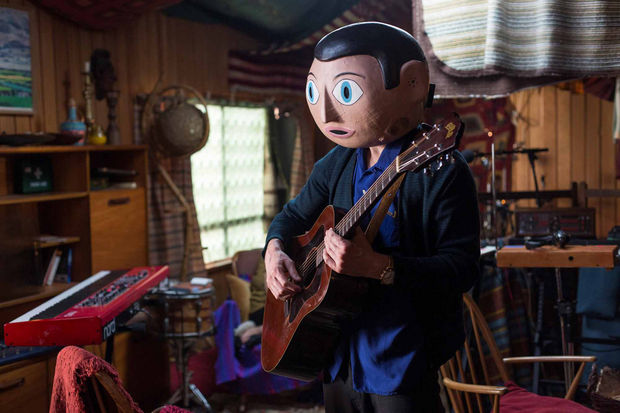 And lo, his name is Frank.
Jon Burroughs (Domhnall Gleeson) would consider himself to be a sensitive man. He lives alone, works a job, has a twitter, and in general would consider himself a decent person. He tries to write music, can play guitar and keyboard, but it is all pretty shitty.
As luck would have it, he happens to be walking down the road when a naked man runs into the ocean trying to end himself. He is a keyboardist for a band. Their "manager" Don (Scoot McNairy) asks if he can play the keyboard, and since he can, he is totally in the band, The Soronprfbs, no practice needed.
He does okay on stage, but he is flabbergasted to find that their lead singer, Frank (Michael Fassbender) is wearing a giant head mask. What. Frank never takes it off. People don't talk about it too. They just go with it.
Next thing Jon knows, he is in the band and they are on a retreat to a cabin to work on their next album and they won't be leaving there until that thing is polished and done. He now has to live with the other band members (Maggie Gyllenhaal, Francois Civil, Carla Azar) and they are as eccentric as Frank, in different ways.
And you know. Frank has a fucking giant head on his head. That is important.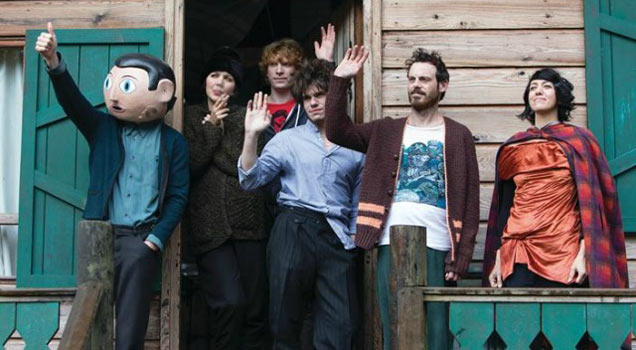 But then again, that bitch is wearing a cape.
At times, Frank was very realistic and charming. The cast seemed to have great chemistry with each other and everyone felt relatively unique. I laughed a few times and found parts very amusing.
But at the same time, I didn't feel like I got enough out of it. The final third of the film felt very different from the first two thirds. That is because change starts to occur, but I just couldn't get into it as much.
I will say I hated the music, but I think I was supposed too. (I have now used but 3 times in the last 4 sentences. Well, now 4 of the last 5) It was very experimental/indie/weird. Not pleasant sounds, but sounds nonetheless.
I think I just expected a lot more given someone like Fassbenders involvement. I wanted them to go harder on the psychological aspect of it all and hated when they ended up doing with the Jon character. However, I do like the head mask. I kind of want to have one. Is it too late to be Frank Sidebottom for Halloween?
2 out of 4.