June 22, 2016
Eddie The Eagle
Eddie The Eagle is one of those movies that I heard was coming out, I wanted to see, and then never saw. I know I know, it happens all the time, but usually I at least manage to see the movies that interest me.
Fun fact about watching the movie. Well, fun to me. The entire time, despite knowing the actual actors name, I assumed it was Emile Hirsch. The problem is that I could not remember Emile Hirsch's name, but assumed it was very close to Taron Edgerton. They don't really look alike, have no where similar names, but I finished the film thinking "Man, that guy from Prince Avalanche sure did nail it!"
It is one of the strangest mix ups I have ever experienced, so strange that I decided to write about it in the intro of a movie review.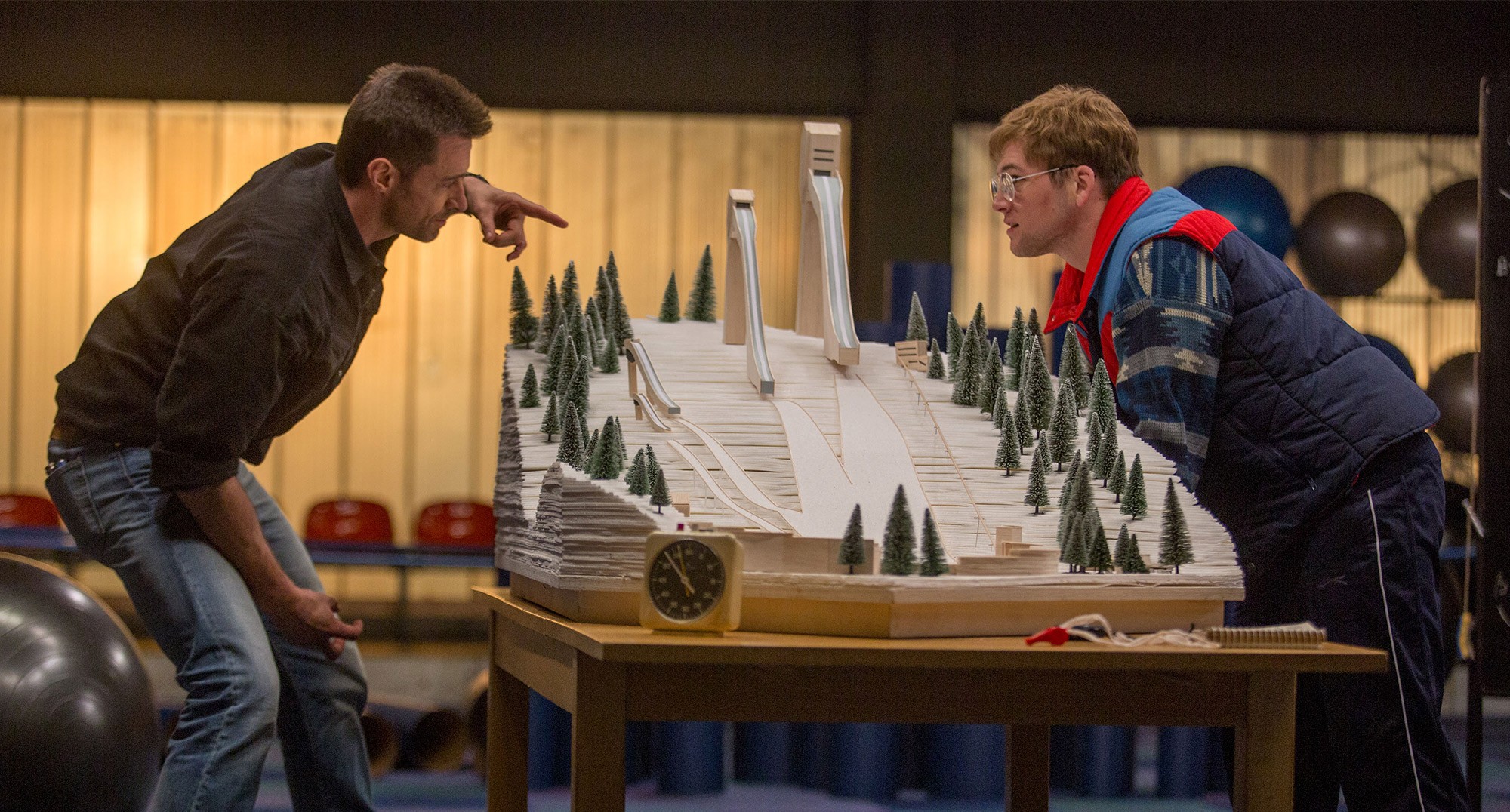 "What is this, a ski jump arena for ANTS?"
Eddie Edwards (Taron Edgerton, not anyone else) always wanted to go to the Olympics when he was a boy. He was kind of nerdy, but he had a goal and put his mind to it. He just wasn't very athletic. He tried so many types of Olympic actives but always came up short. His mum (Jo Hartley) encouraged him to reach for the stars, but his dad (Keith Allen) eventually got sick of it, wanted him to end his obsession and to focus on getting a job and an income. And then Eddie decided he was doing it all wrong. He should train for the Winter Olympics instead.
So Eddie learns to ski and heck, he becomes pretty good at it too. He gets decently fast, but he still doesn't qualify for the British Olympic team. Partially because they think he is a weird guy and not "Olympic Athlete" material. You know, he is quirky. An embarrassment. So what does Eddie do? He finds a new thing to try. Olympic Ski Jumping. If he can learn how to jump and reach a certain distance, then he can qualify for the Olympics on his own, standards be damned!
Which is why Eddie heads to Germany to a Ski Jumping school. If he can learn to jump quickly, he can participate in a competition, qualify, and still make it to the 1988 Calgary Winter Olympics! Yes, those Winter Olympics. The same ones that featured the Jamaican Bobsled team. And sure, he finds a gruff but eventually lovable coach (Hugh Jackman) and is faced with the fact that most jumpers start training when they are 6 and not when they are in their 20's. But damn it, this is his best chance at going to the Olympics and he won't let anything stop him!
Also starring Edvin Endre, Rune Temte, Iris Berben, Jim Broadbent, and Christopher Walken.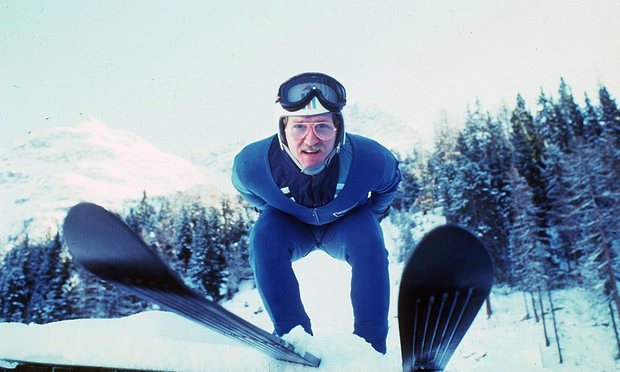 Yeah, technically this is not how an Eagle would fly. But if an eagle had Skis, maybe they would!
I am only human. That means I like to be inspired every once in awhile, and hell, I can find a sports movie inspiring as well. I love the classics but I have found lately that sports movies are trying to hard for inspiration and forcing too many changes into the story. Only a movie studio can take an amazing 100+ game winning streak and lie about everything after the team finally lost and think its a good idea. I've been needing something greater than Spare Parts or McFarland, USA or Million Dollar Arm to really get me going.
Thankfully, Eddie the Eagle had everything I wanted and fulfilled something missing in me for years. Hell, I felt inspired just six minutes into the movie. A lot of credit needs to go to the sound and music team. I don't know what inspired the music, but the tune throughout the film just made me feel like I could do anything.
And heck, the movie is about a guy that constantly got shit upon by others. Especially those in charge. No one wanted him to succeed and constantly they blocked his attempts to go to the Olympics. But he made it. Did he medal? Nope. Did he do his best? You betcha! And he broke records too. Mostly because no one before him had really Ski Jumped in GB since the 1920s.
And what confused me the most after the film ended is that it DIDN'T give me a nice blurb about what ended up happening with Eddie after the Olympics. That is because the Olympics changed their rules to make people like Eddie ineligible for the Olympics in future years. Basically, modern Olympic people don't know how to have fun and are jerk faces. But I had to learn that on my own.
Egerton was wonderful as the lead and I just wanted to hug him the whole film. This is a drastically different role than the one he played in Kingsman, so I am now excited to see where Egerton takes his career outside of that franchise. The guy can act.
Fly like and Eddie the Eagle. Do it or live in regret the rest of your life.
4 out of 4.