November 4, 2016
Doctor Strange
Feeling weird? Then you haven't felt enough, yet.
I have been waiting probably at least five years for a Doctor Strange movie to grace our screens, holding onto every casting rumor. I was straight up distraught when it was pseudo announced that Joaquin Phoenix would play as the titular hero before casting fell through. I knew that he wasn't the kind of guy to sign multi year deals and wouldn't want to fully embrace being a super hero.
Which also explains why I was so excited when Cumberbatch was signed on. Given his role as Sherlock and what I have seen it just made since based on what I had seen of the character in other forms of media. Being a complete Cumberbunny helped of course as well, I'd watch him in basically anything.
Note, despite waiting for this film for years, I am not some weird expert on Doctor Strange. I first saw him in the 90's Spiderman cartoon and just instantly thought he was pretty cool. Then I keep abreast on him every once in a while to see what kind of shenanigans he is up to and that is about it. That's right, zero comics read with him as the lead.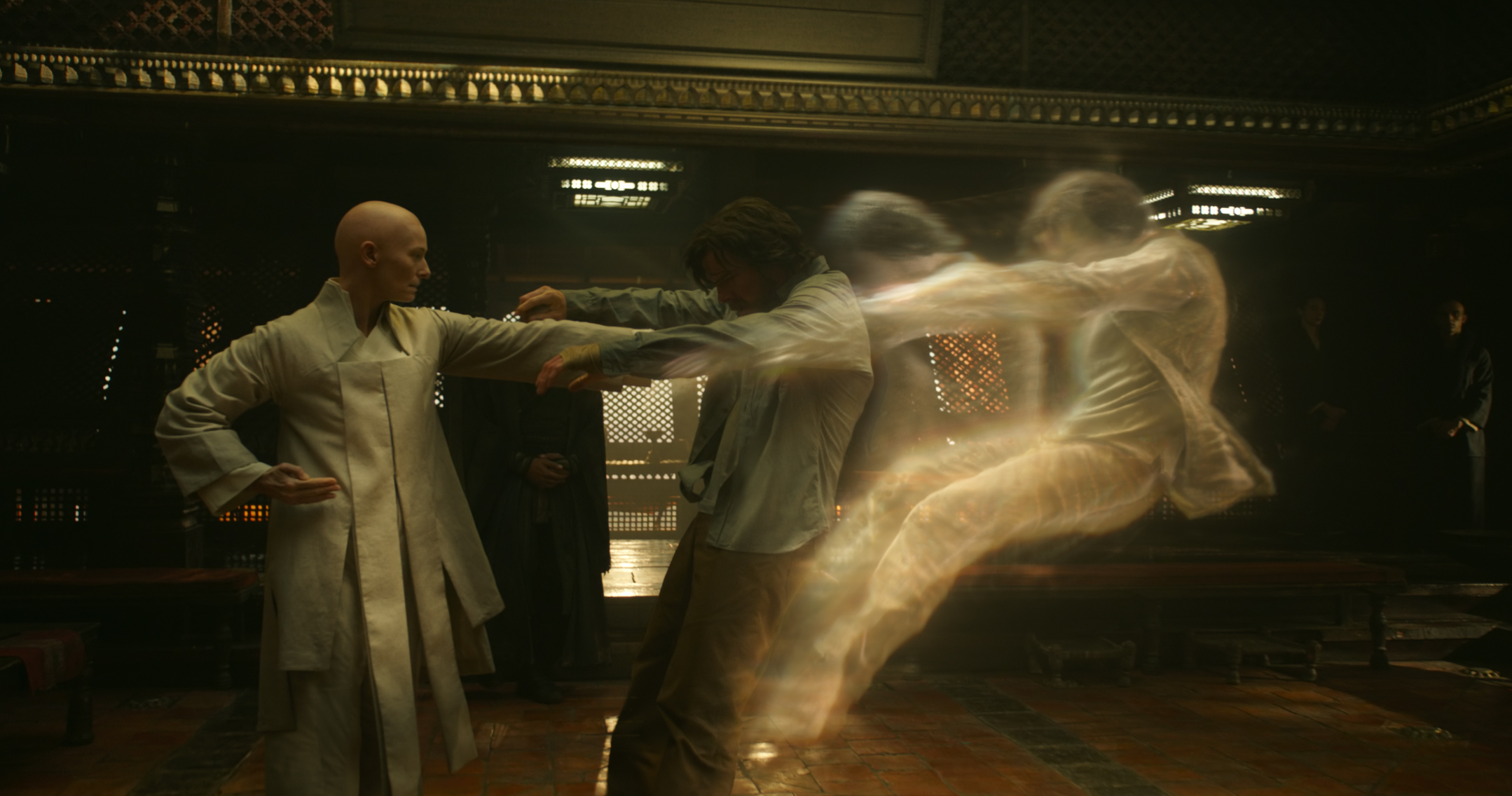 This falcon punch gets you right in the feels.
Doctor Strange (Benedict Cumberbatch) is about the world famous egotist and neurosurgeon, Stephan Strange. He is arrogant, cocky, and other words that mean those same things. But he is also extremely intelligent. One of those guys with photographic memory and all of that, so the cockiness comes with the territory. Well, these character flaws lead him to an accident, where his body is broken and his hands are practically shattered. Fuck!
Not being able to really bend your knuckles and stop your hands from shaking makes it hard to be a surgeon and his life begins to deteriorate. After chasing cure after cure, he finally submits based on a rumor of a past patient and heads to Nepal to find a mystical healing place called Kamar-Taj. There he meets The Ancient One (Tilda Swinton), the Sorcerer Surpreme who eventually is willing to teach Strange the Dark Arts. He only wants to heal his hands, they want him to protect the world from other universes.
He also meets her second in command, Baron Mordo (Chiwetel Ejiofor), and the master of the library Wong (Benedict Wong). Needless to say, his intelligence gets him far, but his attitude gets him into some tough situations, including dealings with Kaecilius (Mads Mikkelsen), a former trainee who wants to take out the Ancient One and release the world into utter darkness. You know, the usual.
We also have Rachel McAdams as an ER doctor / sometimes love interest, Michael Stuhlbarg as a surgeon to be the butt of Strange's jokes, Scott Adkins as generic bad guy fighter, and Benjamin Bratt playing basketball to remind us all of Catwoman.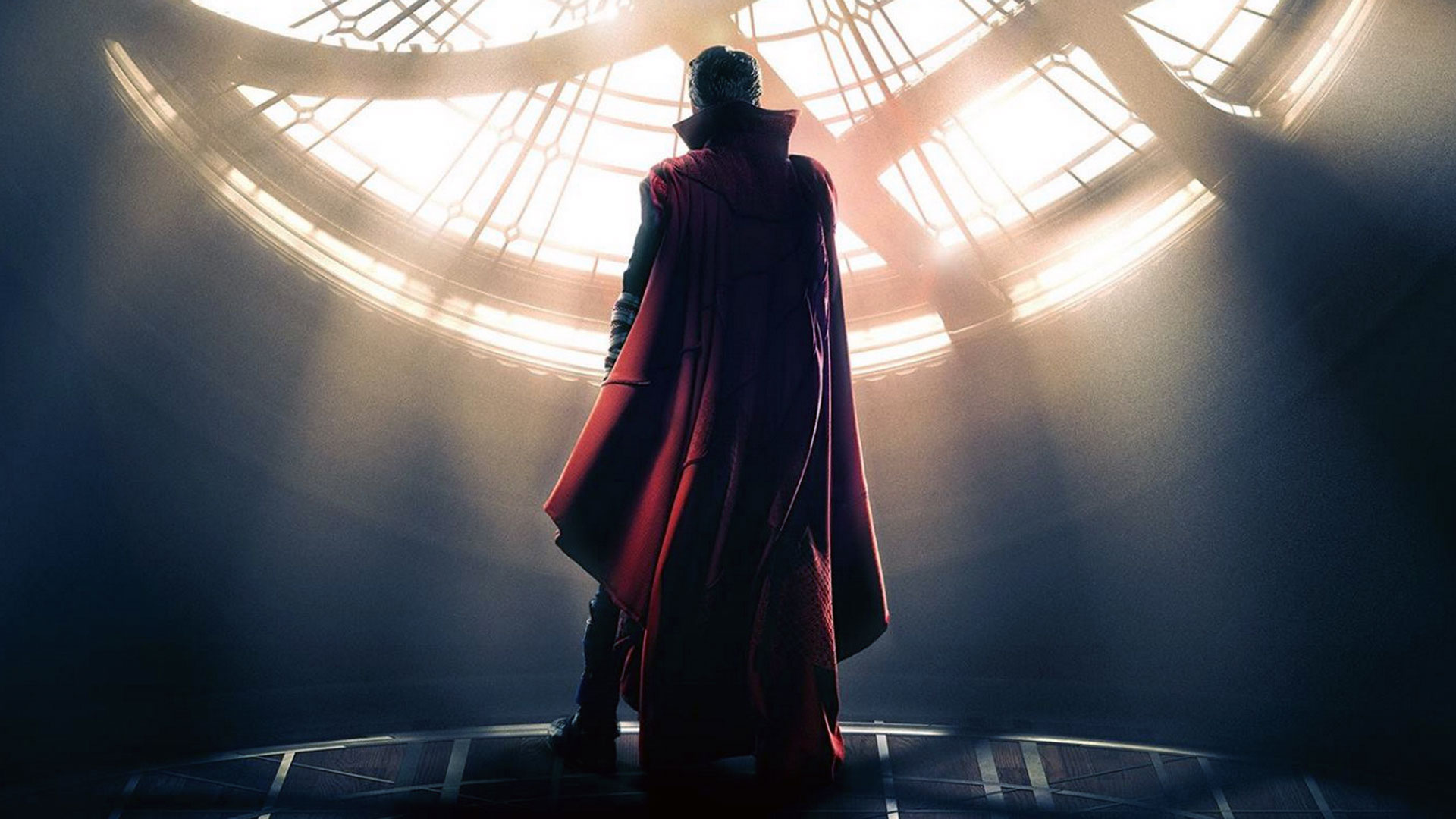 Oh an the Cape is played by Andy Serkis.
Rarely do I make this recommendation, but with a movie like Doctor Strange it practically begs you to watch it on the biggest screen you can with those incredibly annoying 3D Glasses. It is just so goddamn pretty and there is so many details going on, it would be a shame for your eyes to have them all squished together and miss them. And yes, that means don't download this in the future and watch it on your shitty laptop, damn it.
In terms of actual movie plots, this is a fun and interesting super hero movie. We are in a new direction! We finally have magic, something the MCU has been adamant in avoiding as much as possible (especially given the direction they took Iron Man 3).
Strange is certifiable jerk, asshole, and badass all in one. When I first heard their intention was for him to replace Iron Man as the face of the Avengers after Phase 3, I could only barely believe it, but after seeing the film it makes a lot of sense. I can't imagine Downey Jr. surviving Thanos, let us just say that.
Wong was a fun addition, Ejiofor and Mikkelson's characters could have been more fully fledged out, and Swinton was a unique choice as a Celtic Ancient One. Of course, we also have McAdams in here as a love interest, making this the FOURTH movie in her career where she is the love interest of someone who has time altering abilities. What a god damn oddly specific type cast. The other three are The Time Traveler's Wife, Midnight in Paris, and About Time.
Doctor Strange is visually stunning, funny, and complete with amazing battle scenes and a decent ending. I will also note I almost flipped out over the mid credits scene in surprise. It isn't the best super hero movie, but it is a damn good start and I can't wait to see the character in future films.
Oh and a warning. It does feature the cringey line of "Forget everything you think you know," a line that is literally never spoken by a real person ever.
3 out of 4.