Concussion
Head injuries are serious things. Because your brain is your most important organ. You can't survive without your brain, so things that hurt your brain are literally the worse. And vague things like concussions become scary nightmares.
These may sound like facts, but that is because your brain is telling you they are. If you asked any organ what was the most important organ in a body, they would name themselves. What games are you playing, Brain? Making us do shit to appease you? I'm on to you.
So, Concussion. A film about head trauma and the NFL. The NFL supposedly didn't like this movie to protect their players from hearing about the probably brain problems they may have in life. Yay controversy. It definitely sells tickets.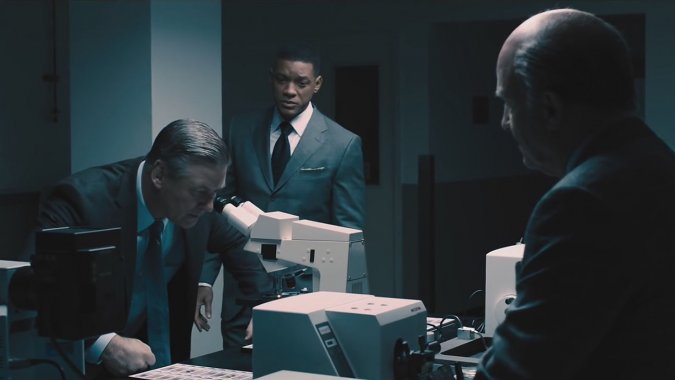 Science used to sell tickets on its own merit.
Dr. Bennet Omalu (Will Smith) is a smart man, and you should most definitely listen to him. He has like, seven degrees, both PhD and masters levels. He is smarty smarty smart. And he is generally a coroner, finding out big mysteries as to why people die.
Omalu ends up getting quite a strange case in his current city of Pittsburgh. Mike Webster (David Morse) is a famous ex-center for the Steelers, loved by everyone in the city, and now he is dead. He was having some issues near the end, going a bit crazy, alienating his friends and family.
Needless to say, Omalu spends a lot of time figuring things out. His brain had deteriorated and no one could explain it. Eventually, science happens everywhere, and he determines it must be due to the thousands of small (And large) blows to his head. Blows accumulated through youth play, high school, college, over a decade in the NFL, and of course practices for all these things. He had tiny concussions and they lead to problems most people just described as early Alzheimer's.
This is bad news for the NFL, so they ignore the crap out of his results, make him seem like a liar, and bury him in the media. Yay PR machines.
Also featuring Alec Baldwin, Albert Brooks, Gugu Mbatha-Raw, Eddie Marsan, Mike O'Malley, Adewale Akinnuoye-Agbaje, and Luke Wilson.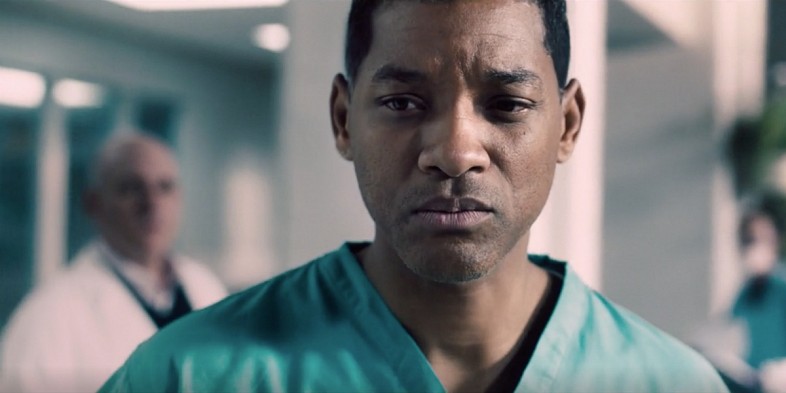 He is making that face because Luke Wilson is playing Roger Goodell.
Speaking of selling tickets, to promote this movie, Columbia promised free tickets to any NFL players who wanted to see it in theaters. After all, they have a lot of twitter and instagram followers, so that is free press. I have two problems with that. One, NFL players make shit tons of money, even the bench riders. They can afford a movie ticket. And two, they should have offered it to High School or College players, people who make no money from the sport and are young enough to get out of it if they are truly worried about saving lives with this film. Columbia went for the cheap and shit route.
Now, the good news about this movie is that Will Smith actually acts. He isn't just playing a cool version of himself or an action version of himself. He is playing a foreign (African) doctor, who doesn't care about football or American things, just science. It was great to watch him actually try after seeing Focus and v.
Unfortunately, the rest of the movie fails to live up to its subject matter or potential. According to news reports, the NFL was involved heavily in the editing of this film. The filmmakers didn't have rights to NFL press reports or team names/logos, or any of that. In order to make it seem more realistic, they wanted all this in the film. So they had to offer concessions and leave parts out in order to get the logos. So the NFL helped make this film and now they don't get attacked as hard.
Do they still look bad? Sure, but they come across as unrealistic cartoon villains, not actual bad real live people. The film doesn't go strong on the science, strong on the PR campaign, strong on anything but Smith's accent. And now we are left with a mostly boring and pointless film that won't change anyone's minds when they are facing potential millions.
1 out of 4.