June 2, 2017
Captain Underpants: The First Epic Movie
Dreamworks films never reach their full potential. Or they do, and Dreamworks films just suck, outside of the two Dreamworks franchises that I don't even have to mention at this point.
They do not aim for universal appeal, they just want to get their cheap kid jokes and run.
I expected to outright hate Captain Underpants: The First Epic Movie. I have never read or looked into a book with any level of effort, but I see the sort of humor that exists. You know, poop and underwear humor. Like the whole series, all based on one sort of joke. It is a bold move, but it was a hit with kids, and honestly I am surprised it took this long for a movie.
But as I left the film, it had some level of charm, despite all the shit.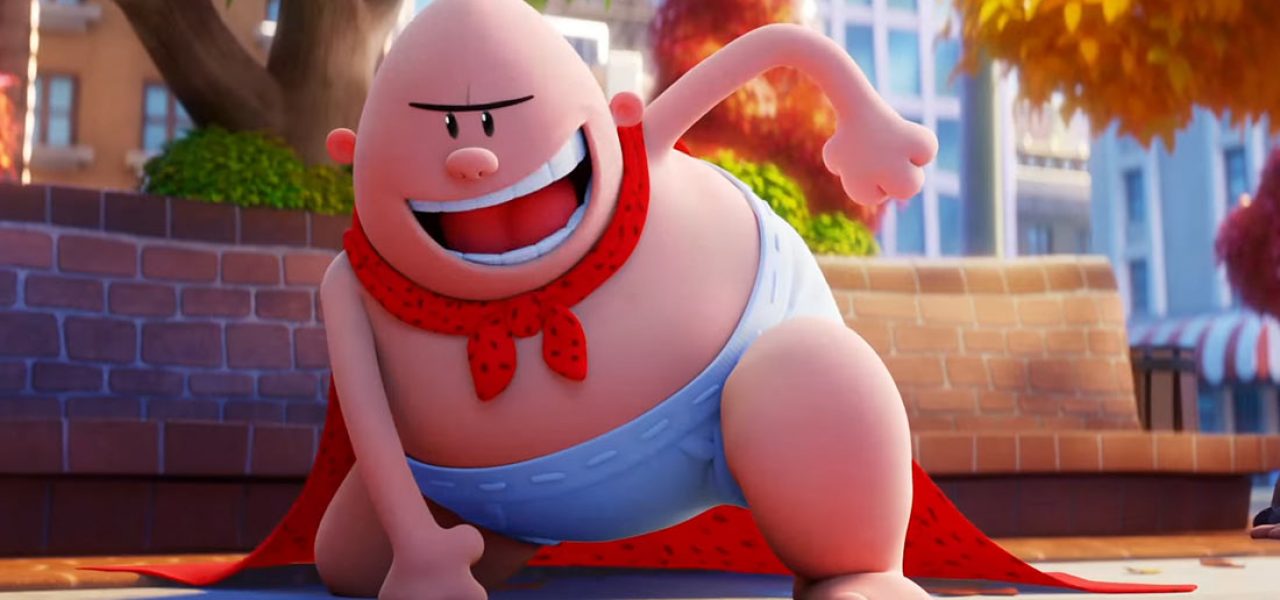 His whole body is just so round.
Before we get to the superhero, we need to talk about George (Kevin Hart) and Harold (Thomas Middleditch). They have been best friends since Kindergarten, thanks to their similar humor styles. They pull pranks on school to get them by, and they love making comics together. George tells the story, Harold is the illustrator. Their favorite comic that they have made is Captain Underpants!
But at school, not everything is okay. The mean Mr. Krupp (Ed Helms) is the principal, and he outlaws fun for the sake of discipline, so George and Harold are a thorn in his side. But he never has proof! When he does get proof, he will be able to separate the two boys into different classes, thus killing their friendship, or something like that.
And thanks to a few other pranks their nightmare is about to come true! As a last ditch effort, they attempt to hypnotize him, and it works! There they decide to make him pretend to be Captain Underpants and wham! A superhero is born!
But can their school be run by a make believe super hero? Can they control him and protect their friendship? What about the evil Professor P (Nick Kroll) who has a weird plan to hurt children too, with the unknowing help of Melvin (Jordan Peele), a humorless nerd. Also featuring Kristen Schaal as the voice of the cafeteria worker.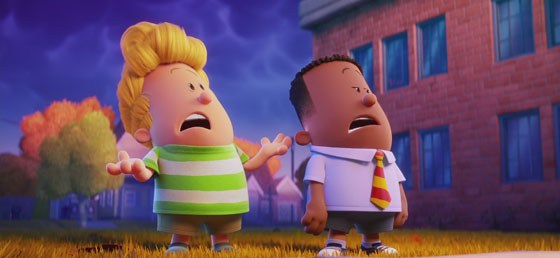 Although pretty round, they have a few more edges so this isn't just some freaky round planet. Whew.
Guess what?! Captain Underpants wasn't extremely poopy, just somewhere poopy. For the most part, I didn't find it really that funny. It relied on the same sort of joke over and over again. Of which the film did talk about how "toilet humor" is the lowest form, so they understood what they were doing. The exaggeration of their friendship being killed by being in different classes was a bit annoying, since they straight up hang out with each other as direct neighbors after school all the time as well.
But it was telling the story in their kid point of view, so it made sense on a level. On a different level, they are supposed to be very smart and savvy compared to the rest of the students, so when their characterizations are sometimes very childish versus mature, it is a bit confusing on what they are supposed to represent.
There are however aspects that I really enjoyed. This is a film where all the main characters are voiced by famous people. It is a stupid trend, it still doesn't lead to more ticket sales like Robin Williams did in the early 1990s. They are paying more money for lesser voices. BUT, the characters in this film didn't just sound like the normal actors for once. The closest two were Hart and Scahal, but everyone else I would not have been able to tell you the voice at all, so that is wonderful.
The second aspect I enjoyed was their decisions to tell the story in different ways. It is a CGI film, but we weren't just given a completely CGI movie. It starts off with a paper comic book feel, we are given a flip book scene, various forms of day dream, but best of all, a sock puppet scene. Sock puppets! The changing formats of the film helped keep my interest and make the film a bit more sophisticated?
No, not sophisticated. Let's just keep it as interesting.
It still caters to a lower form of humor. It still doesn't have a lot of substance. But hey, it did try a few things I enjoyed and wasn't a complete shit show.
2 out of 4.