April 22, 2022
The Unbearable Weight of Massive Talent
Nicolas Cage. Is he a man, or an aberration? Is he a great actor or a bad actor? Many people have struggled with this question for decades, and it is a question that has brought Abed down to his knees in humility.
Regardless of what you think about Cage, you have certainly heard of him. A lot of people have strong opinions about his acting and his choices, especially recently. He has been in some straight to DVD nonsense, but that is also generally known to be due how one of his financial advisors screwed him out of money and he was stuck paying the bill with his wallet missing. But in the last few years, the bad choices have seemed to drift into weird and interesting choices. Wally's Wonderland, where he plays a literal silent protagonist and speaks not a single word of dialogue. Mandy, and all of the fucked up movie that is. Pig, a surprisingly amazing drama that looks like a John Wick rip-off that does so much more.
And then I heard about The Unbearable Weight of Massive Talent. The first description blew me away with what it wanted to do. I knew I had to see it. I went out of my way to watch what I felt were the most essential Cage films I hadn't yet seen before in my life, leading up to this movie. Just to catch more references and have a better frame of mind for this NickCage-fest. Give me your weird ass films. I need them.
I. Need. Them.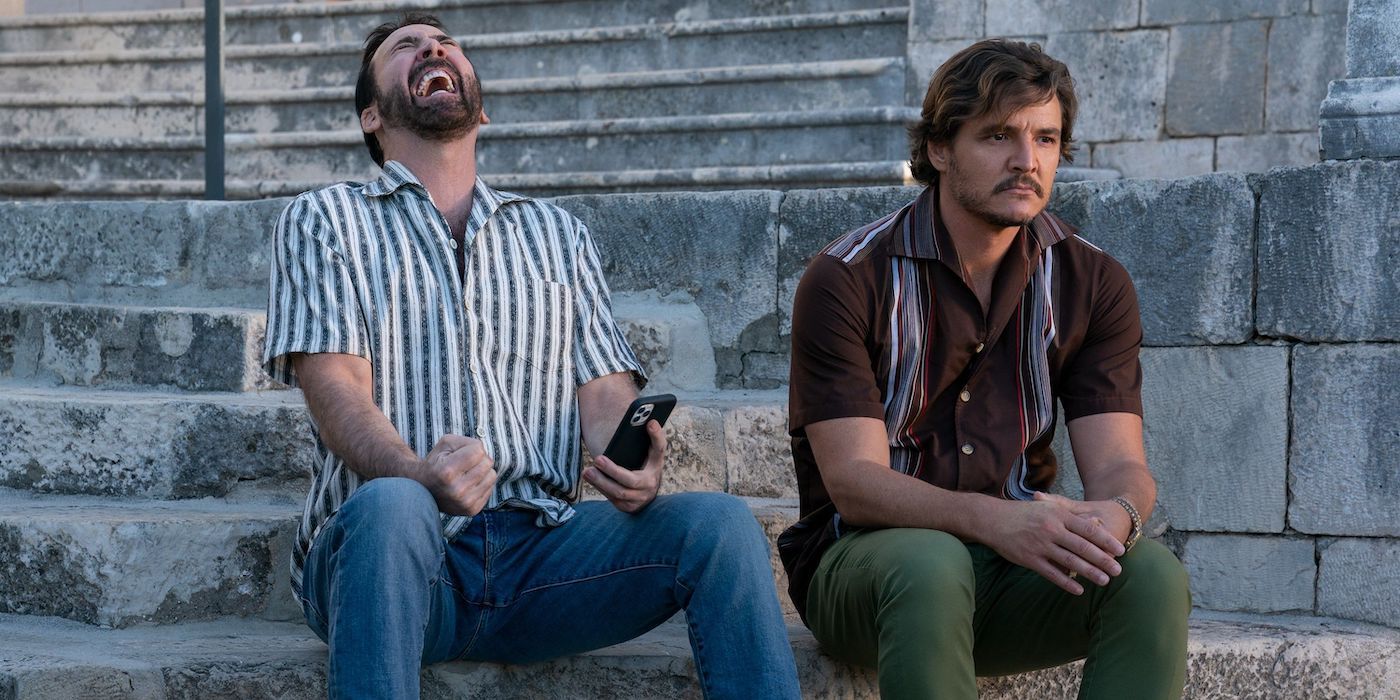 The different people seeing this film. One who knows and likes Cage movies, the other very confused at who Nick Cage is.
What does a magnificent actor need to do when he finds himself under appreciated and maybe even mocked by friends and fans alike? When your debts are piling up, when your family won't talk to you, and you see a big film break coming up that will revitalize your career as a major player? After all, maybe the big break will you get you bigger roles, and more clout, (not that you went anywhere), and you can go into the tail end of your career flying high.
That is what is going though Nick Cage's (Nicolas Cage) head. He has bills to pay, debts, and he can't land the lead of a new film that he thinks will be a box office and critical success. But his agent (Neil Patrick Harris) had another gig for him, although embarrassing. He just needs to go to another country and go to some super fan's birthday party. Make an appearance, talk to guests, and easy million dollars. Cage feels desperate, so he takes the gig, but he feels like he is going to also have to retire from acting, that he can't keep up with the charade.
Of course when Cage gets down there, he makes things awkward. Javi Gutierrez (Pedro Pascal) is not just a super-fan, but he also wrote a script and wants Cage to star in a movie. Cage doesn't know about that, and thinks that Gutierrez is a worker at the mansion. Not to mention that Cage gets intercepted by the CIA (Tiffany Haddish, Ike Barinholtz) because they believe Gutierrez recently kidnapped the mayor's daughter, in order to threaten him before an upcoming election. Gutierrez is awkward, but is he a bad guy? Now Cage has to stay longer than expected, to check the compound, and become a spy, which is basically just acting anyways. Cage is probably the perfect person for this job. Sometimes it is easier to hide with a beacon on your face.
Also starring Alessandra Mastronardi, Jacob Scipio, Lily Mo Sheen, Paco León, and Sharon Horgan.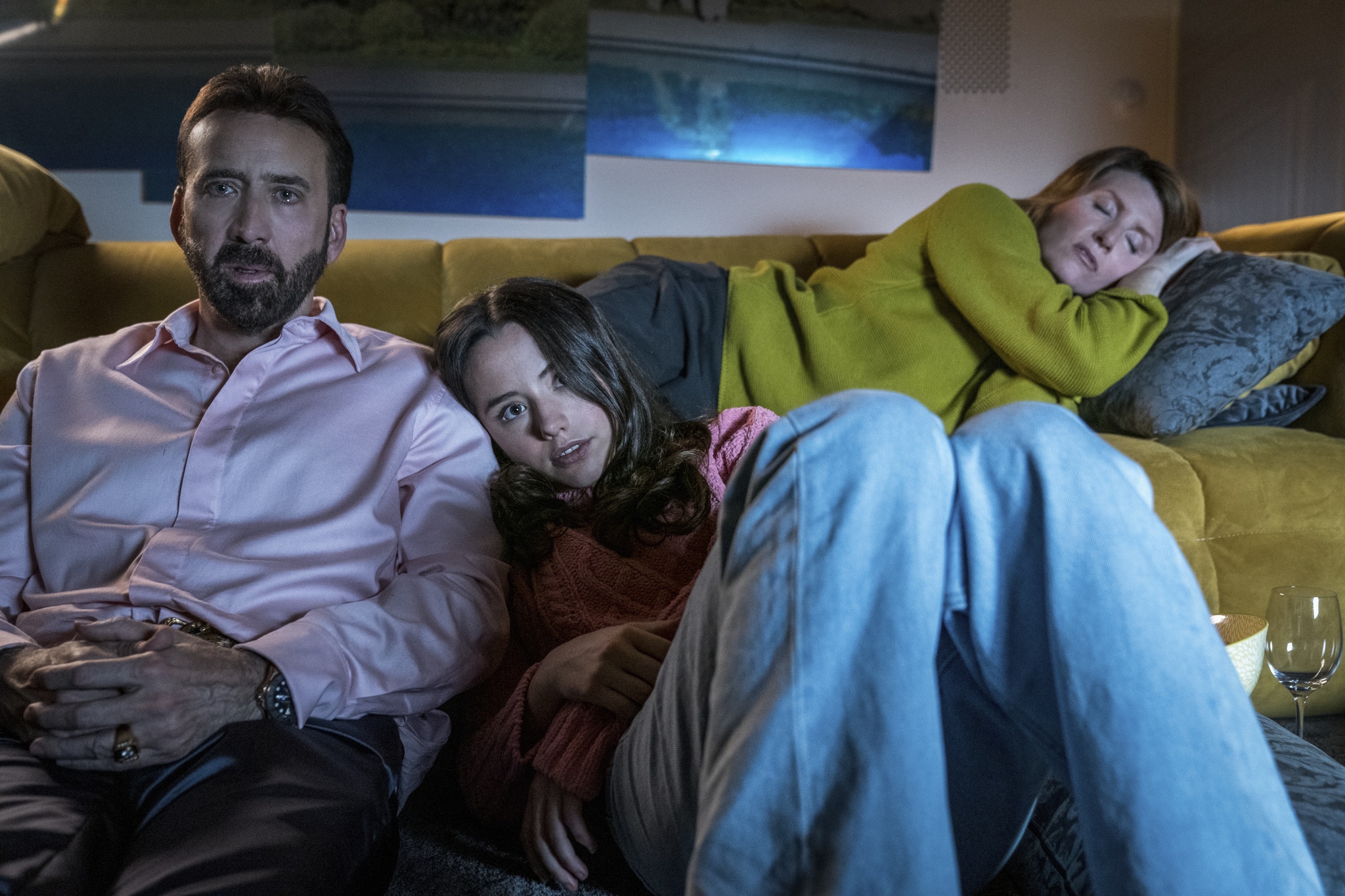 But really, I just want to watch Cage watch real movies with his fictional family.
Surprisingly, The Unbearable Weight of Massive Talent is not the zaniest film I have seen this year. Not even the weirdest. It didn't even make me cry. All of those titles, at this point, would go to Everything Everywhere All At Once.
But this movie is still incredibly fun! I don't know how to talk about it as someone who doesn't know much about Cage, so I do apologize in that regard. But if you are familiar with his work and generally receptive to a lot of his films, I can't imagine now appreciating this fictional version of his life. He pokes fun at his perceptions, while also playing hard into them. It is just so silly, it is infectious. Despite being a film that is a love letter to Cage, it doesn't completely hog the spotlight, while giving shout outs to other great films in cinema history from The Cabinet of Dr. Caligari to Paddington 2.
Sure, the plot is pretty weak. It is going for meta humor so hard that it doesn't always land. The CIA plotline, although necessary for the story, feels detracting by taking us away from the funnier moments, which is when Cage and Pascal share the screen.
This is one of those movies for people who love going to the movies. A movie that is mindless fun that doesn't need you to turn off your brain in order to enjoy it. Cage is living his best life, and we are all just people in the world getting to witness this rebirth of his movie choices (not that he went anywhere), and this is a film about just having to learn to accept it. While not being one of the best movies ever made, it is an enjoyable one, and definitely a film we need in our lives during this time of weary and stress.
3 out of 4.