October 13, 2015
Black Mass
Johnny Depp is the type of guy who is always working and trying out new bizarre characters. It gave him some early fame but lately people are getting tired of him. Mortdecai gets to be one of the worst films of the year, as people assumed it was just a mustache obsessed Johnny Depp playing Johnny Depp.
But then there was Black Mass. Based on trailers and word of mouth, we were told this would be Depp acting, playing a real character, and not the same old shit as before. Something new by technically making him play a more normal role! A sadistic mean and manipulative person, but a real guy nonetheless. No super annoying quirks, no autism, just a dude who didn't mind killing people.
The acting was supposed to be so great that people were going to remember how great Depp could be when he gives a shit. I am sure he gives a lot of shit when doing his latest Burton film, but after awhile, it just looks like he has no more cares left in the world and he would rather just sit there and shit money. (Assuming they don't flop, which they have been as well!)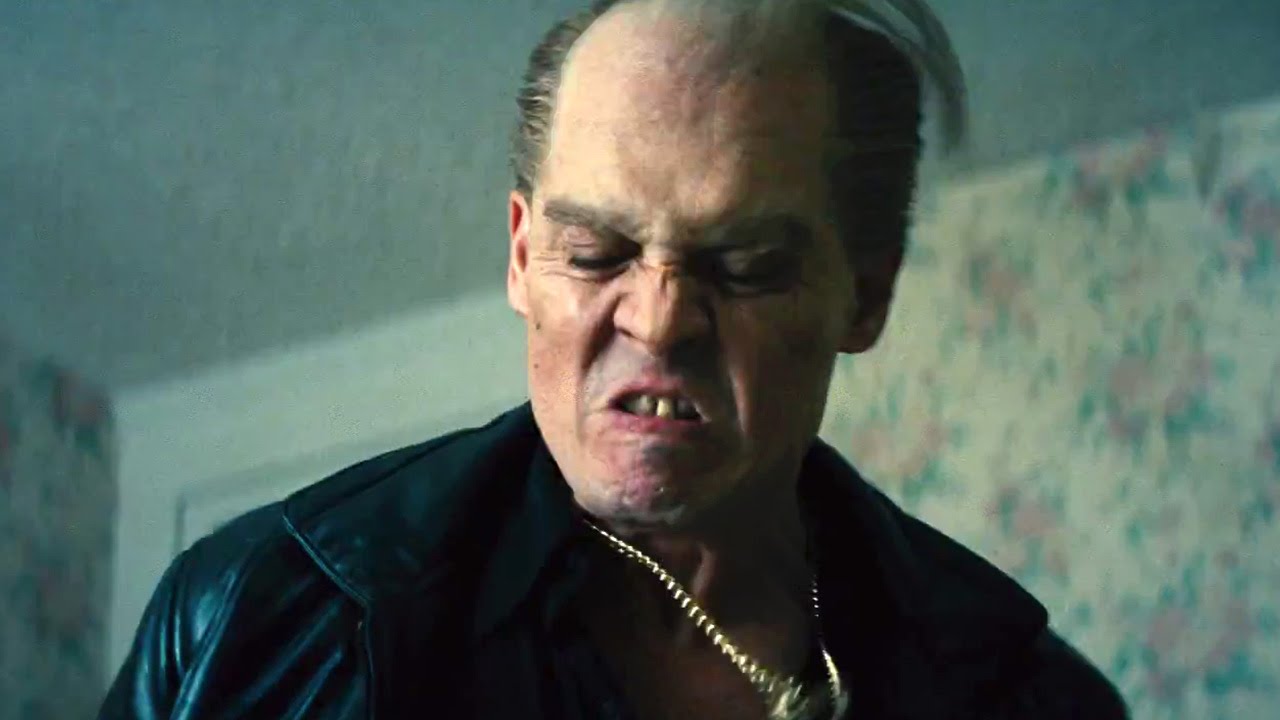 That's the face I make when I shit normal things. Can only imagine other objects.
Black Mass is the story of James 'Whitey' Bulger (Depp), America's Most Wanted criminal for a long time. You may have heard about him for many reasons. Or maybe you watched the documentary (or read my review of), Whitey: United States of America v. James J. Bulger, which was out a year or two ago on Netflix. It went over his crimes and the trial once they eventually caught the guy (spoilers), while the film version specifically only talks about his crimes for the most part until he started to hide elsewhere in the USA.
Like most crime movies, this one also takes place in the scariest city in the USA for people who like grammar, Boston. Bulger and his gang (some members played by Rory Cochrane, Jesse Plemons, and W. Earl Brown) are criming up the streets and kicking butt. They basically control all of South Boston. But there are rivals, and there are conflicts of interest.
You know, like John Connolly (Joel Edgerton), when he returns to Boston, his home, but now a member of the FBI. He is friends with Whitey, despite the mostly common knowledge of his criminal activities. Eventually he convinces Whitey that he should become an informant, because there are other bad people out there who he can rat out to get them in trouble. Doing so, that would allow him to gain even more power on the streets, having the FBI in his back pockets. Oh hey, Whitey's actual brother (Benedict Cumberbatch) is also part of the Massachusetts State Senate. Pretty sneaky stuff.
This becomes a win win. Whitey gains gang power, and the FBI catches a lot of bad guys. It isn't until things get more and more violent that some people out there begin to get fidgety and want to bring in Whitey as well, because something very sketch is going down with his relationship with the FBI.
Also featuring Dakota Johnson, Julianne Nicholson, Adam Scott, Kevin Bacon, David Harbour, Peter Sarsgaard and Corey Stoll.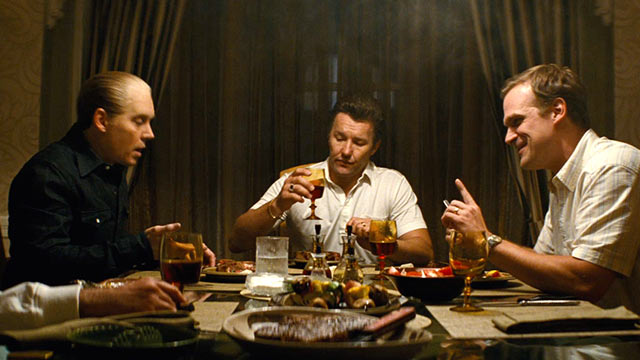 A gangster, an FBI agent, and a David Harbour walk into a restaurant…
I had a BlackWeek on my website, and I was most upset that Black Mass came out so much later than the other Black films. I was excited to see Depp back in greatness, although I think his role from Tusk and Yoga Hosers is actually pretty sweet.
And then I watched Black Mass and it all felt unoriginal. Just because I watched a documentary about Whitey doesn't mean I remember a lot about him. The only thing I really remember was him being a rat and getting the other gangsters in trouble while he got away for decades. Black Mass should have been a nice companion piece to the documentary, giving us intense recreations of some of his worst work and making Whitey seem like a real person.
Even though I didn't know about his individual crimes, the reason it felt unoriginal is just that it felt like every other gangster movie before it. Sure, plot wise it had the original true element of actually working with the FBI, because the real life plot is so silly no one accept it as something plausible in a fictional film. Stylistically, it felt the same. Elements of the film seemed to be bad recreations of Goodfellas.
Yes, the acting was there. Depp, Edgerton, Sarsgaard all did wonderful jobs. Cumberbatch sounded funny and I wanted more scenes with him because of it.
But I would hope that the film didn't feel like the gangster films of the past and tried to make a truly unique experience for this real life story. I guess I could also be biased, because I also have recently seen Animal Kingdom (with Edgerton), and it was definitely a unique gangster film.
1 out of 4.