September 25, 2023
The Wait (La Espera)

The Wait (La Espera) was watched as part of Fantastic Fest 2023!
Sometimes being a simple man isn't always so simple. For Eladio (Victor Clavijo), he doesn't even know how to read, but he has a wife (Ruth Díaz) and a son. He works at a ranch, which comes with a free house to live in. What does he do at this estate? Barely anything to be honest. He maintains the grounds for the rich owner, who never comes out to visit.
But the main crux of the job is that sets up various stands to rent out to hunters to hunt deer and wild boar from. He makes sure the (normally ten) stands are safe and don't overlap, so that they don't have any crossfire. Other people find hunters to pay for the stand usage for the day, while they get really easy places to hunt! However, this time, his coworker says he actually already sold 13 stands worth of people. And if he doesn't tell the owner, and sets it up for 13, he can get a nice under the table bonus. And his family needs the money…
Eladio takes the deal after his wife convinces him to. Sure enough, something bad happens. Which leads to another bad thing happening. And then hey, even more bad stuff happening. Oh fiddlesticks.
Also starring Pedro Casablanc, Luis Callejo, and Manuel Morón.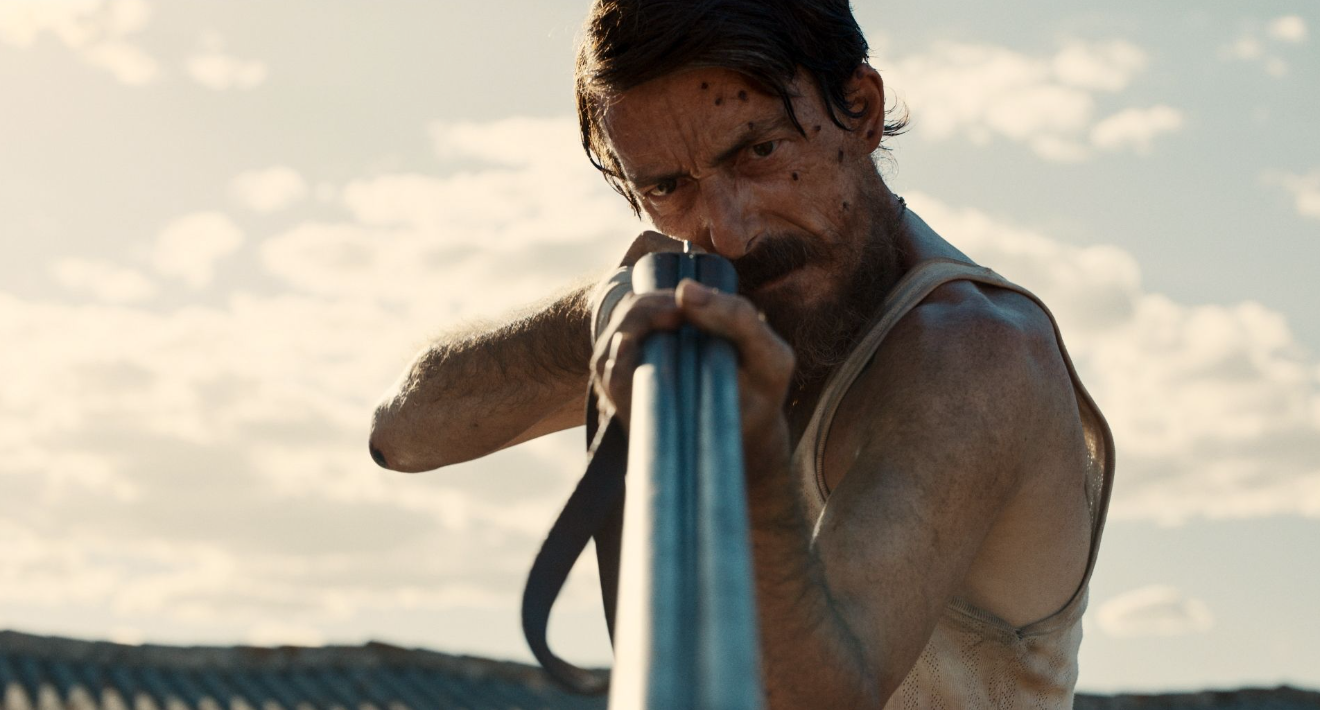 OH NO HE HAS A GUN! Oh yeah, there is hunting. Everyone has a gun.
Now real early on in the film, you can get a sense of what is likely going to go down. You could figure it out from my description. It is called foreshadowing. And sure enough, it does happen! But honestly, earlier and faster than I imagined. That is because a great deal of this film deals with the snowball effects of the events. Things get worse, because it makes sense for things to get worse.
But certainly, I can say the ending I did not expect at all. Things got weird, things got creepy, things got downright extra-evil. This became a sort of mystery film, instead of a sad spiraling drama. And for one, I can say, the ending feels like it lands on its feet.
Clavijo as our main character deals with his issues in very believable ways, and honestly, at no point do I not feel bad for him. There is not real gotcha moment where its like, surprise, he is a bad guy! This shit is at some point just how bad life can be and pile up on those in the lower working classes.
The Wait is a film that honestly really draws the viewer in, and is not something you should be waiting awhile to see before seeking it on your own.
3 out of 4.