October 22, 2013
The Spectacular Now
I only saw the trailer for The Spectacular Now once, but I knew immediately I just had to see it. So many reasons really, but I could tell ahead of time it might be something that I would enjoy.
Damn it, now my bias is showing. I am so embarrassed.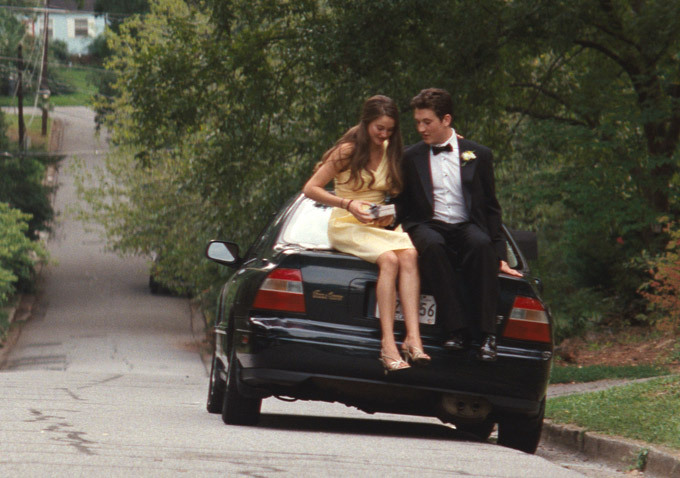 Not as embarrassed as these two when they realize that car is rolling down hill.
Teenage romance. A typical film plot line, but maybe not so typical in this film.
We have Sutter (Miles Teller), life of the party, everyone's favorite joker, he lives in the NOW. Oh hey, movie title. He could apply to college, but that can happen later. Not like college is anything special. His girlfriend Cassidy (Brie Larson) was one of a kind, and everyone loved them and they loved each other. Until his easy goingness got him in trouble and she dumped his ass, this time for good.
So Sutter does what Sutter does best. He drinks away his problems, and has the night of his life, maybe. He passed out, waking up on a lawn thanks to Aimee (Shailene Woodley) with his car no where in sight. Also, who the fuck is Aimee?
Some girl in his grade, he doesn't really know her, but she knows him. Life of the party. Well, Sutter is on the rebound, and thinks he is a nice guy, so he starts to hang out with her and invite her to things. But that dang alcohol keeps going down into his stomach, so next thing you know, he has kissed her and invited her to prom. Did I mention he still kind of likes Cassidy still? Yeah, he is a jerk.
Broken homes, broken dreams, Sutter has a lot of growing up to do. He is going to be eighteen soon, and his life needs to change for the better before it is too late.
His family is played by Jennifer Jason Leigh, mother, Mary Elizabeth Winstead, older sister, and Kyle Chandler, missing father. Shit, even Bob Odenkirk is in this movie, but just a little bit.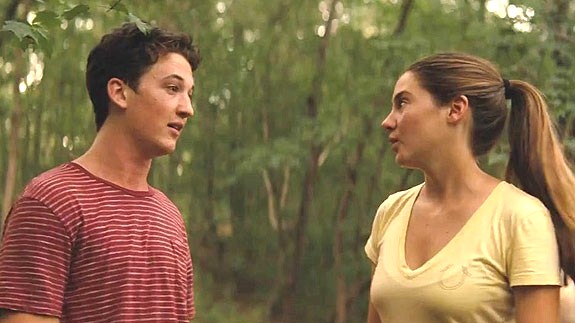 Huh, I wonder if she made her prom dress out of the same material of that shirt? Or I guess she really likes yellow.
Ughhh. Fucking movies these days going for realism. A different amount of realism than they were back in the day. Back in the day, actors might have mumbled their lines, or messed up their words, and they would keep them in the take, because that shit is natural. That doesn't happen as much anymore.
No, this is realism in a different way. I am sure each take took multiple times, but more ad libbing or something is now allowable for these actors. There is no way a lot of these dialogue scenes were read word for word, it just can't be true. They flow really well and they all seem like things people of that age would say. I know its hard to understand, but it is hard to explain. I smiled throughout the film, due to the realism of the characters and the dialogue.
The film shows drinking in a negative light, but they also explain why the drinking happens, and you don't hate the main character, you feel sorry for him, and you understand. Until he is a dick to Aimee, no, then you hate him again. So much rage.
The film doesn't follow the standard path films of this description tend to take. There are some obvious moments, but there are other moments that come out of no where, like a bus from Mean Girls. The acting by our leads was fantastic, and I was also impressed with Kyle Chandler in his smaller role. Shit. It had a lot of stuff going for it. I am worried I might start thinking Miles Teller is a real actor now.
4 out of 4.