December 23, 2017
The Post
It is very hard for me to feel unbiased when watching a movie about sexy journalism. Especially if that is a story about real life sexy journalism, not made up who gives a shit journalism (Fake News?). Spotlight was something that felt like a slow burn, but ended so strong, with the good guys (the journalists, always), winning and doing the right thing. All The President´s Men felt very real and told the story about how Watergate was discovered and put into the papers. Another fantastic story.
And now out of nowhere we have The Post. This is a film that didn´t receive hype all year before coming out. It felt like sort of a secret movie, and that is bizarre given that it was directed by Steven Spielberg. Spielberg loves his period pieces, three of his last four films were Lincoln, Bridge of Spies, and War Horse, all of which I have varying opinions on.
Needless to say, given how little I knew about this film (and despite my journalism love), I had very low expectations for this movie. Low yes, despite the people involved. In my eyes, they haven´t necessarily produced the best work over the last few years, and this could be a very mediocre movie overall. (Much like my thoughts of Bridge of Spies).
Actual future footage of the cast waiting around to hear Oscar news.
Back in the 1960´s, the US was in a really shitty war in Vietnam. People were dying by alarming numbers, we were not winning the war, it was dreary, miserable, jungles, and what not. It made a lot of people sad and angry, including a point when people began to protest almost constantly the idea of that war.
One man, Daniel Ellsberg (Matthew Rhys), was sent over to record and write and determined that a lot of what was going on was lied about to the American public. Not just current administration, but for decades politicians said one thing and did another. He had access to a private report on the war, of which he slowly made copies of over time. And years later, he was starting to strike.
That is when the New York Times, with several months to comb over the report, began giving details from the report, about how the people were lied to, in their paper, causing quite a ruckus in the US. This in 1971, with Nixon still as president. It caused such a ruckus that Nixon decided to get the Attorney General to put a hold on their articles about these leaked documents, until legal matters could be settled, the first time in American history that the executive branch tried to control a press so overtly.
And that is a big deal.
Enter in the team from The Washington Post. Led by their owner/publisher, Kay Graham (Meryl Streep) who has lived her life in her father´s shadow, and husband´s shadow (who took over after her dad), who is never really sure if she is competent to lead a paper. Their main editor, Ben Bradlee (Tom Hanks) wants to turn their paper into a national paper, to be a leader not a follower of the times, and wants to use this legal battle to fuel their own paper and report on the same report despite what the president says. It is time to stop toeing the line and to start asking the hard questions. The American people deserve that. Can´t stop that first amendment!
Also starring this grand bunch of actors: Sarah Paulson, Bob Odenkirk, Tracy Letts, Bradley Whitford, Bruce Greenwood, Alison Brie, Carrie Coon, Zach Woods, David Cross, Jesse Plemons, and Pat Healy.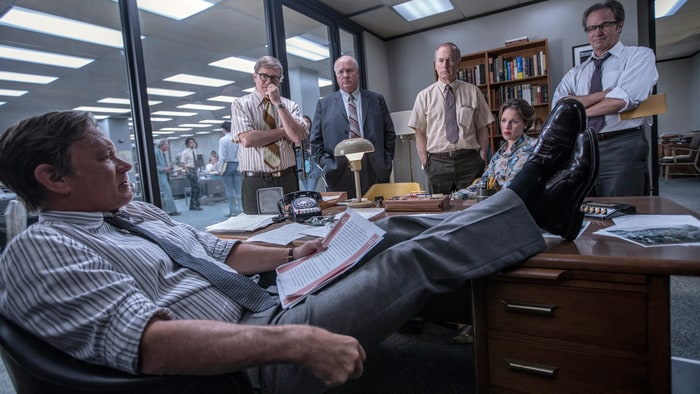 Don´t worry, we still get sexy shots of people lounging in offices.
On one hand, given my status as a self proclaimed movie buff, I start to assume I k ow directors personally. Since this movie honestly felt like a secret, I assumed it would be a quick piece by Spielberg that doesn't have a lot of heart around it. But I was pretty wrong.
Now sure, the beginning was a little bit slow, with some necessary Vietnam backstory and death. Spielberg loves his wars. And then we have to introduce the many players at the Post and their conditions at the time. I know I certainly didn't know they were not a major player in the 1960's. It is important but it isn't sexy.
It gdfs sexy eventually, as we see them sort of luck into these documents with a few individuals with some gusto. But really the second half of the film is where the gold was at. As soon as they get the documents, most of the film takes place over the one day as they look for stories, deal with lawyers, have to convince the board and so on. It was incredibly thrilling! Edge of my seat despite knowing the outcome. The heart and soul were there.
On another note, I was originally really angry at Spielberg for having so many passive lame women characters in this movie. Paulson felt wasted! Afterwards, it was still a bit awkward, but it is clear it was done intentionally as a mini theme. In order for Streep's personal fears to make more sense, Spielberg constructed these roles to really drive home what was still expected of women at this point in history. It is annoying, but on purpose.
Overall, The Post is a very solid film and less obvious piece of history. I cannot wait for them to start adding on to the Investigative Journalism Extended Universe.
3 out of 4.