February 5, 2021
The Little Things
The Little Things, if I do say so, was probably the most hyped up movie coming out in January, 2021. Sometimes it is hard to say that with certain, but for movies that hit theaters and online at the same time, I think I saw more advertisements for this on social media than any other movie this month. Heck, I was excited to see it. But the more ads, the worse some of them look.
For example, most ads ended up looking something like this. Great, cool, advertising the three leads, looks suspenseful, that is what it is going for.
But I also saw an ad like this for Cinemark. In teacher land, sometimes we ask questions to get students to discuss, usually "What do you notice, what do you wonder?" And well, I found the Cinemark ad odd, given that it focused on two thirds of the leads, leaving out the one who happens to be black.
Is it to highlight academy awards? I hope not, because Denzel has two for acting, compared to the others having one each. (And arguably those single Oscars are pretty debatable for each of their roles). It is just something I notice and wonder. You know. The Little Things.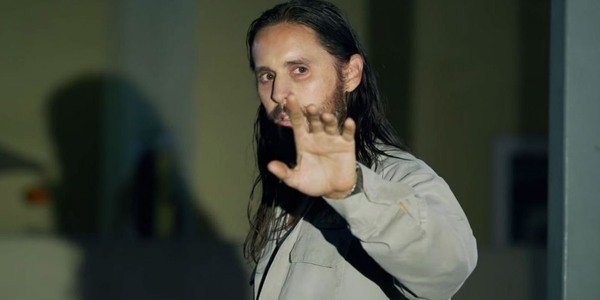 Yes, yes, I was in Suicide Squad. Please, please. No Autographs.
Joe 'Deke' Deacon (Denzel Washington) is small town sheriff far outside of the city of LA, working where things are calm most of the time, but still good at his job. He is asked by his superior to head to the city though, to pick up some evidence they have for a case.
Turns out, Deke used to work at that same precinct about 5 years back before an incident. He became transferred from the area, and accepted his new life of solitude. He does minimal snooping around, because he'd prefer to be there and out and not stay and hang with his former coworkers. But, there is an interesting new case. And Jim Baxer (Rami Malek), a young hot shot detective who wears suits and has a family and charisma, who got the job with Deke being ousted. Jim just finds Deke interesting and wants his input.
There's a serial killer afoot it turns out. They might have a live witness too. And some bearings of the kills and bodies might be connected to what Deke was investigating years earlier.
So of course, Deke puts in some vacation days and decides to hang out longer. He will find this guy, damn it. Also they think it is a person played by Jared Leto.
Also starring Chris Bauer, Michael Hyatt, Sofia Vassilieva, and Terry Kinney.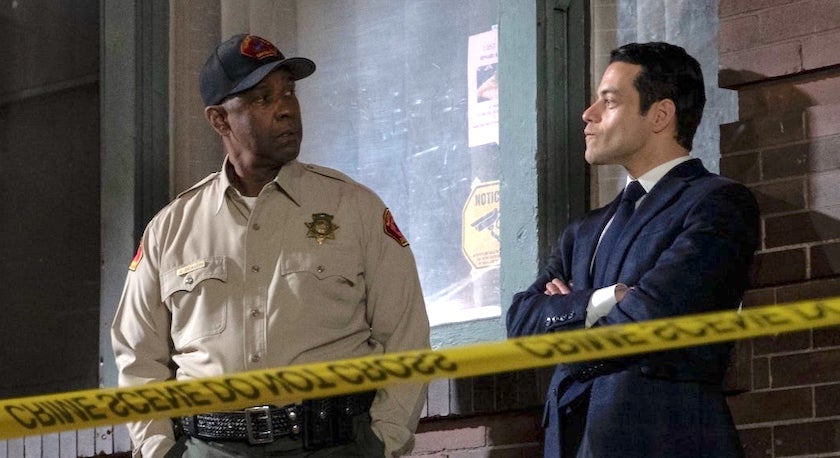 Don't cross the tape they say. Don't murder they say.
Acting. Acting is important. And the advertisements for this film really wanted to make sure you knew that for the main three roles of this movie we had three academy award winners for acting. That way the viewer can walk up and go, "Hot damn, look at all that acting talent, I am in!" at the theaters or, more likely, on HBO Max.
And sure enough, Washington, Malek, and Leto, act pretty darn good. Washington doesn't just play a serious good cop, you can tell he is also obsessive and willing to skirt the law. Malek normally plays more serious characters, or friendly characters, I don't think I've seen him play the young hot shot charismatic type before. (Yes, this is very different than Freddie Mercury). Leto just has to play a mysterious and smart normal person who may or may not be a serial killer. Seems like that is in Leto's normal wheelhouse.
So if you want to see two hours of some cop drama and investigating with some pros (mostly Denzel is the driving force here), then sure, go for it.
But damn do I hate the overall plot and final act of this movie. It throws in some surprising (ish) moments and it leaves some things up in the air, but not in a satisfying way. Prisoners, for example, was a long cop drama, with questionable actions along the way, with an ending that wasn't fully explained or finished, but still extremely satisfying and fulfilling at the same time. This ending feels hollow and absent. This ending doesn't make me want to see the movie again. It just leaves me disappointed.
And you don't want to leave a movie feeling unfulfilled and disappointed, even if the acting was top notch. Jut the mystery wasn't worth the time.
2 out of 4.