July 1, 2015
The Lazarus Effect
Hey, didn't I just talk about this? Yeah, last week or so! The weird genre of watching a bunch of people famous from TV shows make a movie together. I just talked about it with Adult Beginners, and now I can talk about it again with The Lazarus Effect.
This time we have a guy from The League, a girl from House, and a guy from Community.
The good news about all of this is I have never really seen a group of TV stars do a horror movie. It is almost always, 100% of the time, an independent comedy drama where not a lot happens.
But this is a horror! Time to party because it is new and different!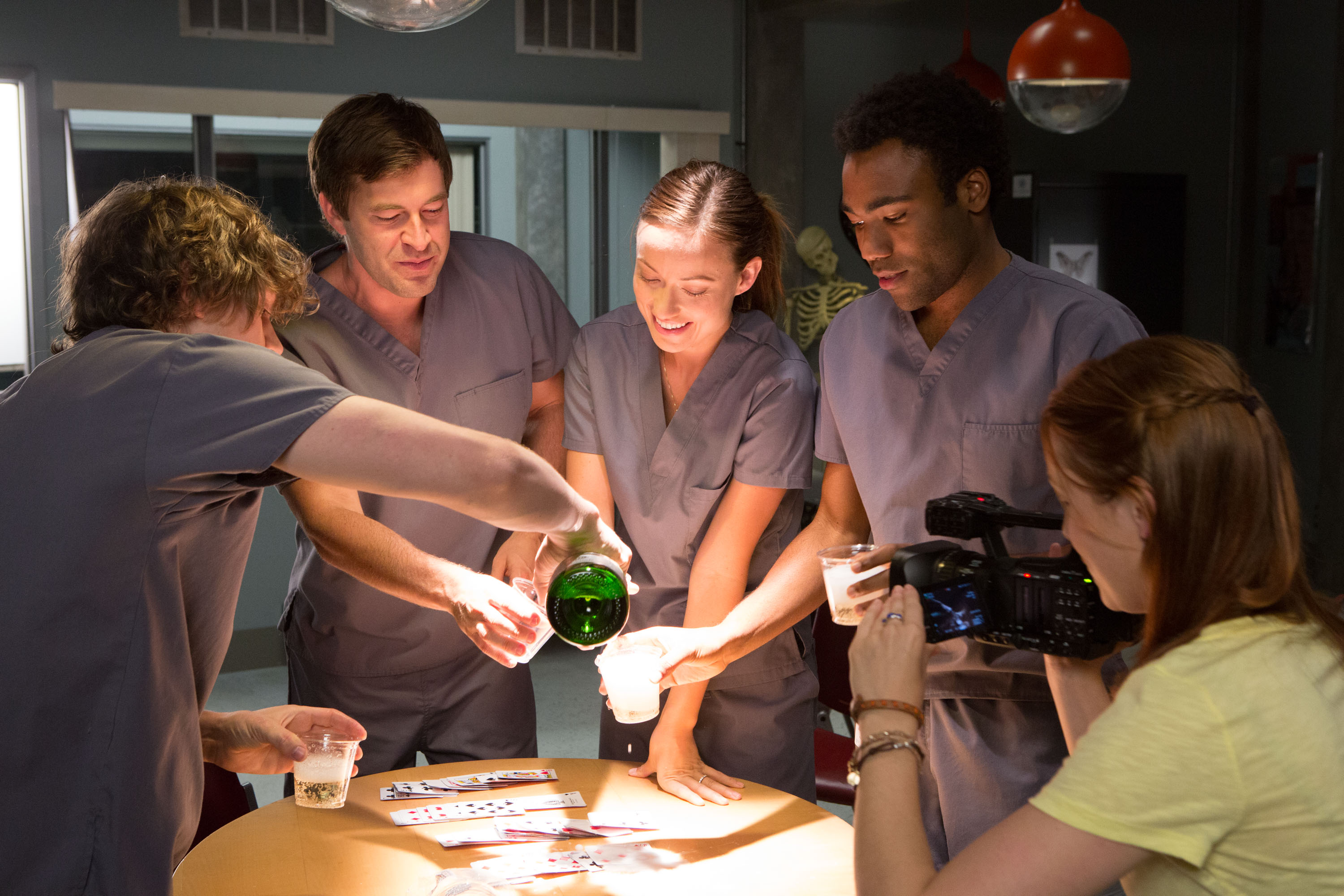 Science! Party! Happy times!
This isn't just a scary movie. It is a scary SCIENCE movie, about science going to far and playing god.
The scientists in question are Frank (Mark Duplass) and Zoe (Olivia Wilde), who are not only partners, but also dating. Oh snap. Personal lives mixing with work lives. How scandalous. They started their university research into something about coma patients, but now they are on to something even bigger and more sciency. Instead of helping coma patient, it might bring the dead back to life. Kind of fucked up, right? After doing some science stuff, they are finally able to get it to work on a dog. They had some assistants of course, Niko (Donald Glover) and Clay (Evan Peters), for more witnesses.
Speaking of witnesses, they even have a girl with a video camera, Eva (Sarah Bolger), so no one cries bullshit after success.
Well, obviously the dog is now alive, but the dog is acting a bit weird. Aggression based weirdness mostly. Oh well.
What's that? They can't do more research because it is awkward and sneaky and some pharmaceutical company is going to take it all? What's that, Zoe is suddenly dead thanks to an accident while trying to re-do the experiment? Oh my goodness, Zoe is back alive? That is fantastic. It works on humans. Now they can find out what it is like to die and what she can tell them and hopefully she doesn't turn all psycho and kill everyone.
That wouldn't be okay!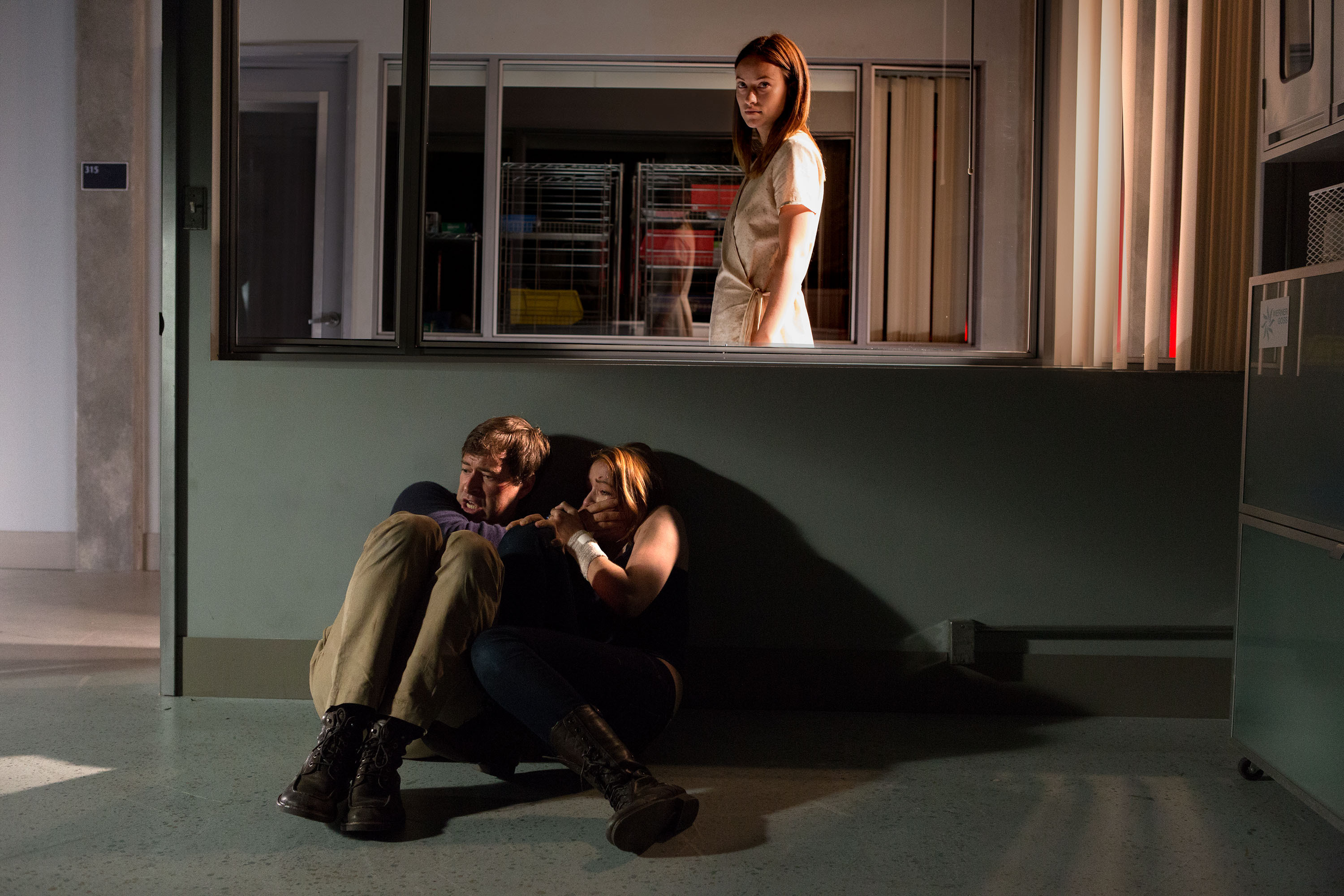 I would also probably hide if Olivia Wilde came walking down the hall.
The first thing you will notice about The Lazarus Effect is that it is unusually short. Some horror films are short because everything takes place during a small amount of time, like in Unfriended, and it worked very nicely. Unfriended also got to the "horror" part of the film pretty early on, so there wasn't a lot of time wasted.
This film, however, dawdles pretty hard core. They had what felt like several different plot lines going on to lead up to the sudden human trial to save Zoe's life, but that also took up at least a third if not half of the film. That would be the plot about getting the science right, dealing with a slowly more aggressive dog, and the company coming in to take their work and having them lose everything. That is a big chunk of the movie, but none of it is really that scary. So that is pretty disappointing. You would think with less than 80 minutes of film, that sort of thing can be rushed or already assumed to get us to the part most viewers would care about. For instance, it can start with the formula just working on a dog? Yeah, that would give us more time to focus on scary stuff!
But alas, it is a mostly non terrifying horror movie which is a shame. The acting also is nothing special, and rarely is in a horror film.
The reason I am giving it the average passing score is that at least it tried to make a reasonable and not completely shitty plot. The main issue is that the plot seemed to also forget the fact that it is a horror movie. I need two things to happen in a horror film to give it a rating above a 2. It has to be both scary AND entertaining. This one has only minor scary parts near the end, and is average on the entertainment.
Should there be a sequel, which I doubt, it should be able to deliver more scares as we should be passed all the set up. But it also doesn't really deserve a chance to make up the lack of horror.
2 out of 4.