December 20, 2017
The Greatest Showman
On May 12, 2016, I received an email from one of the production companies who handles pre-screenings in the Houston area. They like to send out emails letting us know what films are coming up and their release dates and studio. It is to make things nice and smooth. Well, the week before on May 5 that email only went to the end of 2016, but for some reason this email added everything they currently knew about for 2017. And at the end of the list, was something called The Greatest Showman on Earth for a Christmas release.
That title intrigued me, so I looked it up. Once I read the plot description and actors involved, at that point I declared it was my now most hyped film of 2017. And it has taken a long time to get here, over a year a half, before I finally got to see it.
I kept away from the trailers, from the soundtrack. I acknowledged that there has been no buzz from the Oscars at all about it, which is a bit surprising, given the genre and cast and subject. They obviously changed the title since then to a much cleaner The Greatest Showman, but I just want you to know, I have been hyped for almost 20 months, and it wasn't a superhero movie.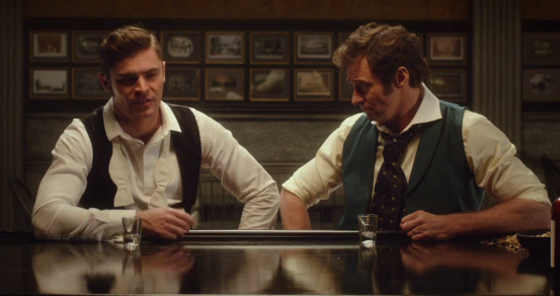 Superhero movies aren't allowed to show too much drinking.
Phineas Taylor Barnum (Hugh Jackman) grew up poor, his dad a tailor, him an assistant. They were looked down by the elite who saw them as poor people, because they were poor people. He had dreams of one day hosting the greatest show in the world. And despite his dad's early death, he was still able to marry and run off with his childhood love, Charity (Michelle Williams), who grew up rich.
They had two kids and had a middling live of above poverty, but it wasn't good enough for Barnum. He needed more, he need luxury, he needed to prove to the snobs and the elites that anyone can rise to their ranks.
And eventually he bought a museum of oddities. Weird stuff, stuff that people want to see. It gradually grew over time, including live acts, like a little man (Sam Humphrey), a bearded lady (Kaele Settle), acrobats (Zendaya) and so on. He gained a rich playwright to help him draw in the rich people (Zac Efron) to mixed reviews. And at one point he brought in a famous Swedish opera singer (Rebecca Ferguson) to get the expensive tickets in the seats. And some would say, he did it all, just to get back at Charity's dad (Fredric Lehne), who never believed he was good enough for his daughter.
A big show requires a big cast, so here are some kid actors, performers, and side kicks. Cameron Seely, Austyn Johnson, Alex Wong, Ellis Rubin, Skylar Dunn, Jacqueline Honulik, Natasha Liu Bordizzo, Paul Sparks, and Yahya Abdul-Mateen II.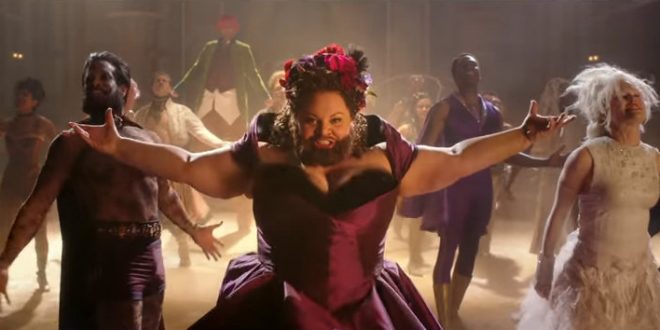 Some would say that the beard deserves its own tag as well.
I would like to say that I am hard on musicals and judge them rightfully, because I have high expectations for them. At the same time, if my toes are tapping, my body is moving, and the show in front of me is eye candy, there is also a good chance I am liking it. Do I like all musicals? Who know. But I must be biased towards them, often having them near the top of my end of year lists in some capacity.
This is probably what is happening for The Greatest Showman. Because on one hand, this film does not accurately depict at all a beliable/realistic version of P.T. Barnum. Sure, some elements are true, but most are complete fantasy and in a very forgiving light. That is going to piss some people off. The plot itself is all relatively weak, or at least, not too new when it comes to story telling of rags to riches and the meek inheriting.
And yet I was so engrossed, I cried four times. I cried over sadness, over love, over happiness, and over the future. Every time Jackman smiled, it was contagious and it felt full of love as well. The sets were colorful, full of fun costumes, unique characters who were really in tune with their dancing.
And the music, the music! I tried to not listen to it ahead of time, and went in mostly blind. It starts off odd, but over time the opening song (The Greatest Showman) definitely grows on you. My favorite is probably This Is Me, their Freak Flag song so to speak, as Keala Settle just fucking rocks every line. Rewrite the Stars is beautiful, heartbreaking, and has the choreography one would expect for a number like it, best in the film. And The Other Side is such a fun song between Efron and Jackman, featuring a nice bar dance and so many shots it is easy to lose count.
Hell, even the tiny details of the songs were great, including the giant character banging on the ceiling to create the beat in our finale song.
It is so easy to get lost in this movie. It is so surprising that it is under two hours long, and honestly, I wish there was a lot more.
One final nitpick that doesn't change the grade. We got a famous Swedish opera singer, so it felt really annoying to hear her singing what amounted to a modern pop musical song, that didn't match her description at all. That song is also amazing, but it just felt very odd at the same time.
4 out of 4.