And now for the movie everyone has been clamoring for…Tom & Jerry!
But you know, animated versions interacting with real people! Yeah! That is what we want for sure!
Okay, but for real. Space Jam was a hit. No way this has to mean an auto flop. I guess if there is a good reason behind it, it should be fine. What better way to fill your film with A-listers to help sell the product than by letting them interact with CGI technology?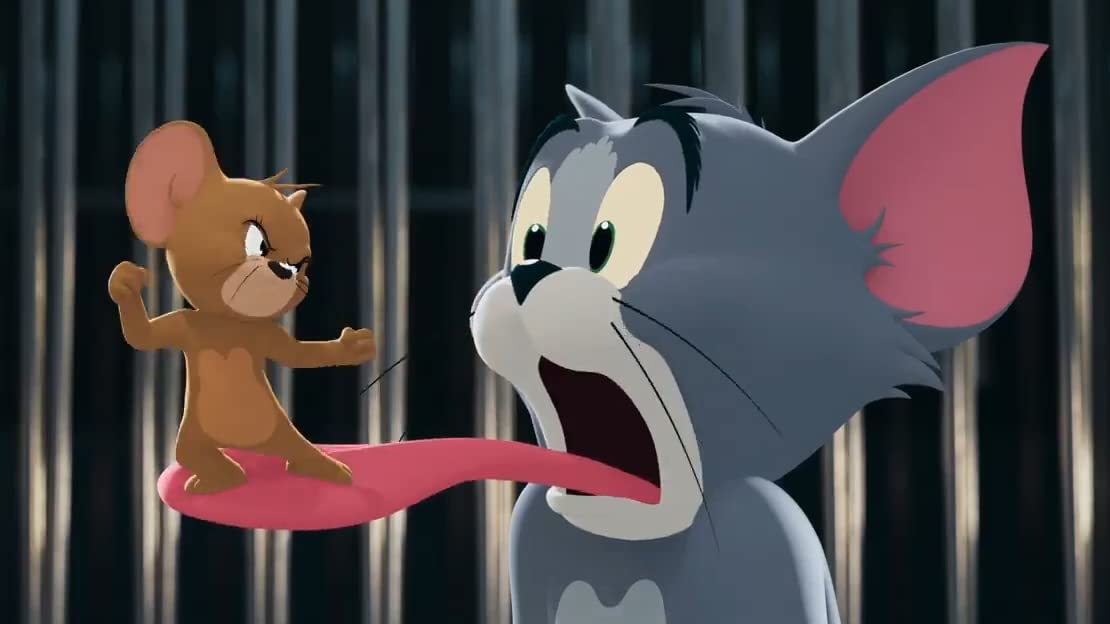 If the angst is fake, we must dispose of the cartoons.
Kayla (
Chloe Grace Moretz
) is a down on her luck, but smart woman, just needing a break and an income in New York City. She ends up conning her way into a sweet hotel gig, and honestly, she is probably qualified if she can convince enough people she is knowledgeable in my eyes.
But this luxurious hotel is hosting the biggest wedding of the year this weekend. Two really big social media influences (Colin Jost / Pallavi Sharda) and they are rich and it will be the tits. Can I use that term in a kids movie review?
Anyways, another hotel liaison, Terence (Michael Pena) doesn't trust her at all, and thinks she is up to something. So he will watch out for her and hope she doesn't ruin things. Oh also there is a cat named Tom and a mouse named Jerry I guess, they are involved in all of this for some reason.
Also starring Rob Delaney, Patsy Ferran, Jordan Bolger, Ken Jeong, Daniel Adegboyega, Nicky Jam, Lil Rel Howery, Utkarsh Ambudkar, and Bobby Cannavale.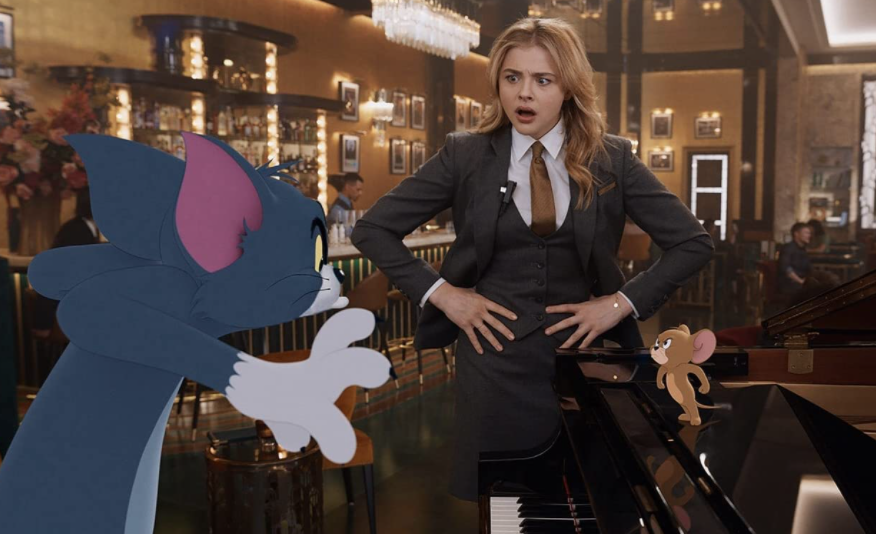 "I am shocked, shocked! To find you two causing problems." – Chloe, probably
What is the normal plot of Tom & Jerry? Tom is a house cat, Jerry is a home invader who starts to live in their owners house and Tom is supposed to kill him for the owner I assume. Jerry is clearly not a pet. And mice can live a lot of places and aren't entitled to human houses or anything like that. But I think the cartoons ignore a lot of that and just make the back and forth seem natural and fine.
So what about the movie? Well, we know that Jerry isn't a rich mouse so can't get a sexy apartment and eventually sneaks into a fancy hotel and is seen by guests and they want him out. That makes sense. This is a fine establishment with a no pets policy already. We also see Tom making money in the park as a piano playing cat. He also pretends to be blind for more sympathy tips maybe. Kind of bad. He should be able to rely on just his cat piano self, its already impressive. Then Jerry comes up and puts his own jar out as a dancing mouse and tips go to him.
Why are the tips going to Jerry? What's more impressive, a dancing mouse or even a non-blind cat playing piano? One is just straight up reactions. So Tom gets notably angry at him for this, but Jerry keeps winning.
Alright, so like, I don't know what they are doing to make us on Jerry's side? Because the one constant is of course that Tom tries to get Jerry and Jerry wins and survives and Tom gets hurt. But in the cartoon Tom is just doing his job assigned to him? In this movie, Tom gets hired by the hotel to help get Jerry out of there before the wedding and guests find out about a mouse problem. Again, a job.
Sure, the animals in this world are all animated, but they also are animals. People eat meat. Jerry isn't inherently a special mouse. He is someone who broke into a business as a trespasser and won't leave. And everyone is fine with the fact that cats eat mice. There are zero problems here from Tom.
And yet, that is what we get repeatedly. The same shenanigans. Tom continually losing and getting hurt in terrible ways.
The fact that this is set in the real world makes things a bit worse. The wanton destruction of their surroundings, in the park, in NYC, in the hotel lobby. It is ridiculous as he humans just stand by and have continual WTF looks on their faces. My own kids laughed early on at some of the shenanigans, but once the real world implications continued to occur and compound, they didn't. It is hard to laugh over seeing things get destroyed and violence even on the cartoon scale.
So we have a majority conflict where the bigger jerk continues to win (and obviously this is not a story where the bad guy eventually loses). We get violence after violence. And a plot that kind of includes them.
Sure, the movie eventually tries to give us a message of togetherness and harmony. But it doesn't feel earned at all. And it all just feels like a mistake.
0 out of 4.