I personally feel a bit British just saying the title of this movie.
Conversations With Other Women.
It feels so proper, and pretensions.
Yet at the same time, so adulterous.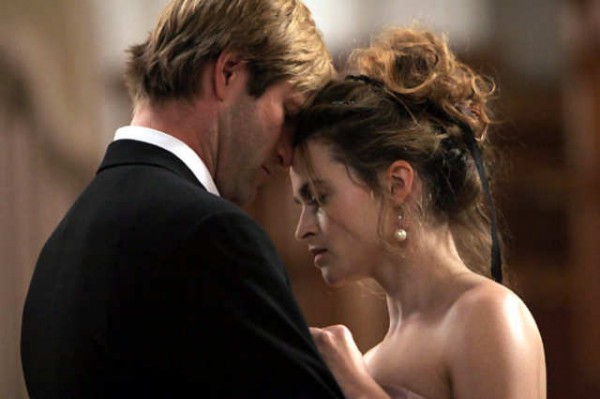 While also potentially having a lot of talking.
And by that I mean tons of talking. That is all the movie is! But good dialogue is good.
Aaron Eckhart is at his sister's wedding. He finds Helena Bonham Carter. one of the bridesmaids, and she is British!
Now is good time to note that this movie is "split screened" with a left and right side. Most of the time, each camera is focused on both of their faces. They happen to be near each other the whole movie too, so its good for their conversations.
They also have some sex that night, despite the fact that she has a husband (Ex husband) and two kids in London. He is in a lot of different relationships, random ones, even young girls. But maybe they also knew each other in this past and this is fate?
Oh hey, and Olivia Wilde has a role as drunk bridesmaid, and Thomas Lennon as weird video camera guy. And some quick flashbacks of the man and woman, played by different people in their yuoth.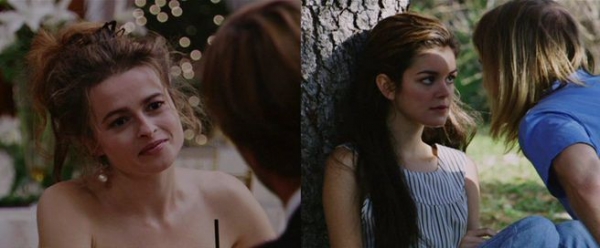 What's that? You said you wanted an example?
Well, as expected, this movie has a lot of dialogue. Like, aside from some strategic awkward silence, it is mostly a night long conversation with the two leads. Not a whole of lot of women, unless you consider Helena to be the other woman.
But was it interesting? Well kind of. But also slow.
I mean hey, give it a shot if you like banter.
2 out of 4.