I do love me some double meaning titles in movies. They literally carry me through life. Without them, I would be a lost little shell of a man, who has no friends, no family, no love, and of course, no double meaning titles.
Last year we got CODA, which was brilliant, and already this year we now have The Outfit. The Outfit is a nickname given to the Chicago mafia specifically, and it is pretty well known. And this movie is also going to involve a tailor? A suit maker? Someone who literally designs outfits?
Sign me up. But only if the movie includes actual tailoring and suit crafting knowledge and teaching. I don't want it to be about someone who looks like they are faking it, or the movie doesn't know the subject matter. Teach me, or else I riot.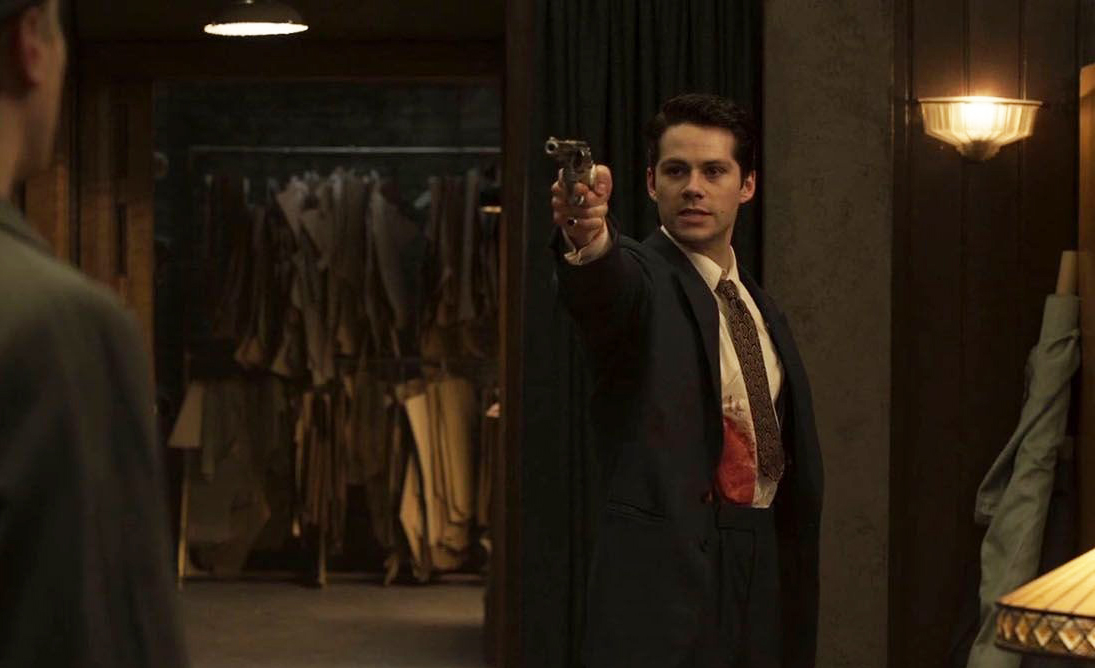 No, get out of here with your guns. I want to learn about tailoring and suit making!
Leonard (Mark Rylance) is an older gentleman, who runs his own suit shop. By appointment only, he will design all of the way a fresh suit for whoever will buy one, and it will be of the highest quality. But he is NOT a tailor. That is just a bitch who can sew. He is a cutter. He is a trained cutter. He demands that title respect too. He also has a receptionist (Zoey Deutch) who dreams of traveling the world some day, and collects snow globes to put in their shop window.
And sometimes, when he is working, with or without customers, men in suits come in to put envelopes in a lock box in the back room. Very suspicious. Leonard ignores them. And apparently at the end of the day, two mobsters (Dylan O'Brien, Johnny Flynn) go to the lockbox to retrieve the envelopes, and go back off into the night.
Looks like Leonard is a safe house for the mob, but he tries to not get involved in their antics. Does he do it for protection? For survival? Is he a former mobster? Who knows!
But once a note gets out that there is a rat in the organization, it turns out his closed shop is going to be almost ground zero for betrayal, backstabbing, and just regular amounts of death.
Also starring Simon Russell Beale, Nikki Amuka-Bird, and Alan Mehdizadeh.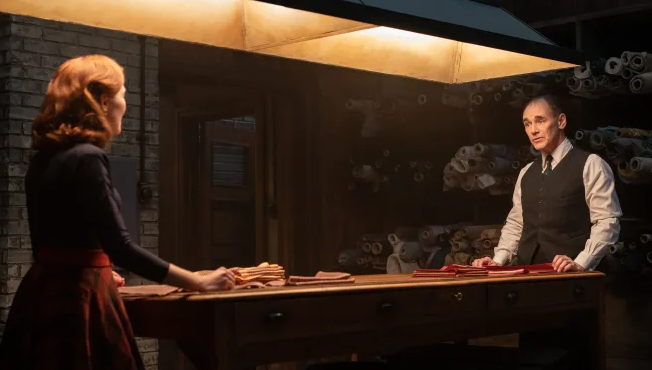 Yessss, this is the content I have come here for.
Did I learn how to be a tailor cutter? No, not really. But I did learn a little bit about it, which is more than I have ever assumed I would in my life, so that is a plus. Rylance's narration reminded me a bit about Michael Caine's narration in The Prestige. No, I won't go into specifics, for potential spoiler reasons, but they seemed to have the same overall goal. Also, Caine's name in The Prestige was actually Cutter. Is that a coincidence? Yes, probably.
I loved The Outfit for sure. The entire thing takes place inside of the shop, which is wonderful. I love it when movies get Bottle Episode-y.
There were twists and turns in the film, some expected, some not. I certainly wasn't sure the entirety of who the rat was by the end. I wasn't sure who would live or die either. It was very slow moving at points, but the sitting and waiting really helped make me feel more uncomfortable, which is a good thing. I don't want a mystery to feel pointless. You don't want a mystery to feel pointless.
I think all of the actors involved did a swell job, but extra shoutout to Johnny Flynn. First, he is the actor with the most mobster like name in real life. But I was really impressed with his attitude, and accent, for being the fourth biggest name on the main cast list. I don't know anything about him, but his character was magnificent.
The Outfit won't likely do well in the box office, but from this critics mouth, it was a great movie, and one I can imagine watching even more than once.
4 out of 4.