Being a Widow must suck. You know, getting married, being in love maybe, marriage for decades possibly! And then your spouse dies. I also learned recently that the term widow only refers to a woman who lost their partner. I guess that is good, because then I never have to be a widow. And you know, I just talked about how that must suck.
Widows is a movie brought to us by Steve McQueen, who has not been too busy since he had a movie win best picture. He famously directed 12 Years A Slave for a 2012 release, and since then this is his first theater film. Someone clever might say 6 Years NotInTheSpotlight for McQueen. Does this mean that Widows is going to be 3 times as good as 12 Years A Slave (because 12 Years came out 2 years after his previous film)? Yes. It has to mean that.
You can't argue with science.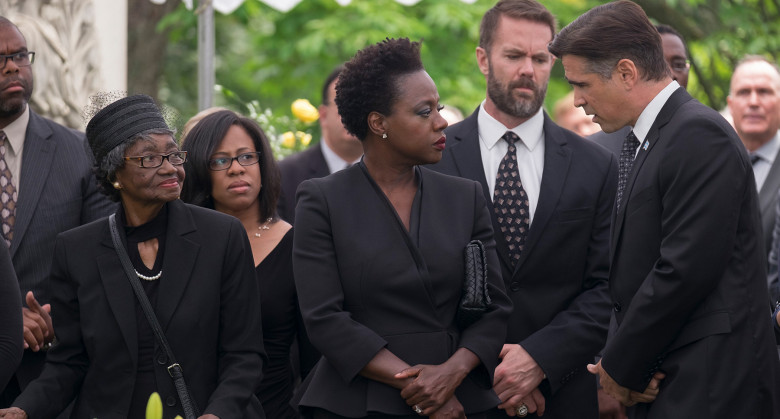 Having the funeral really cements in the widow status.
Veronica (Viola Davis) is wealthy, giving, and in love with her husband (Liam Neeson). He might be into some corrupt shit, working with political campaigns an doing jobs, but she doesn't know the specifics and it does put her life in a good place. And then? Well, a job goes poorly, and he gets killed dead along with three other men, leaving her to feel quite sad, notably poorer, and alone.
But she isn't given time to grieve. It turns out in this final job, her husband stole from some powerful people, and they know who robbed them. So they have to now harass Veronica, to look into their savings accounts or whatever to pay it back. Or else.
Unfortunately, nothing like that really exists, as far as she knows. She does end up finding a notebook, with plans on robbing an even bigger fortune. If she can pull off this heist, she will be able to pay off the goons and have a lot left over to live comfortable and worry free after that. She just needs a team, and she isn't the type to know about this sort of stuff.
There is an idea for a team though. She wants to find the other women who just lost their husbands. They are probably hurt and need funds as well. Maybe they are all desperate enough to join her.
Starring Michelle Rodriguez, Carrie Coon, Elizabeth Debicki, and Cynthia Erivo. Also starring Colin Farrell, Brian Tyree Henry, Daniel Kaluuya, Molly Kunz, Jon Bernthal, and Robert Duvall.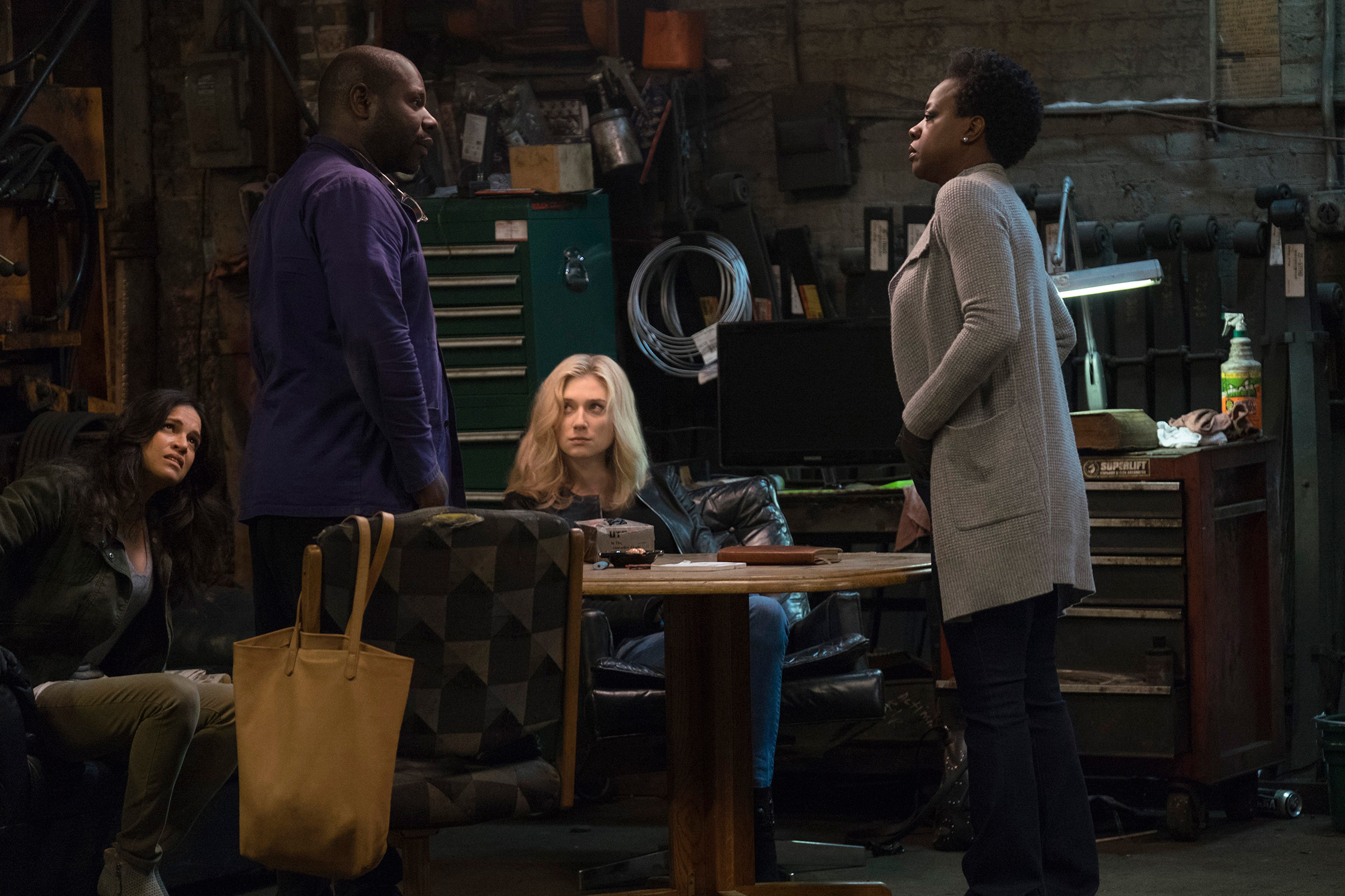 It is impossible for the guy in purple to be a Widow. We talked about this.
If you are thinking about 12 Years A Slave still, which scene do you think about? It is likely the one where the main character is being hanged by his neck for a few minutes, with kids playing in the background, him struggling to breath, and of course, eventually not dying. It was scary, and intense, and the camera did not move away.
I love a long scene that doesn't cut, and there is one very exciting scene in Widows that is similar. It doesn't show violence, and it isn't scary, but it is just a long cut of a very short car ride in Chicago, showing how quickly it takes for one to go from a poor to a rich district. During this scene is a conversation as well, and it would be one of the best scenes of 2018, if we got to see the characters talking as the drive occurred. The camera didn't focus on them, just on the scenery, so it is most likely that they did the conversation later and just edited it on top. But it is still a great scene and shows that McQueen has a lot of tricks up his sleeve.
Davis is the star of this film and has to carry a lot of it with her face and eyes. There is no doubt she is a great actress and does a fantastic job in this one. I do want to point out another actress though, because it was a surprise. Debicki, who has been in plenty of films, and never been the one reason you want to see it. Her character had a lot more going on than her normal characters, and by golly, she felt like a real actress and not just a model who is in a bunch of movies. Hell, she could have a best supporting from this for all I know. It was also great to see Erivo in this film, who was one of the best parts of Bad Times At El Royale. She is having a great year and she came out of nowhere.
To highlight one male actor, I will point out that Kaluuya was scary. He felt like a wildcard in the realest sense of the word, and I loved seeing him on the screen.
Widows is suspenseful, with a few twists that I didn't fully expect. It hits hard and is not afraid to throw any punches. It could have been better, but the over two hour film just flew by and it was good enough for me to just love.
4 out of 4.