Godzilla. King Kong. Lizard. Ape. Will buildings get destroyed? Yes. Buildings will get destroyed.
The attempts to combine these franchises (well, one recent Kong Movie and two recent Godzilla movies) into one ultimate destruction battle was a lofty one, but clearly not one unheard of in our connected universes strategy of films. It was a guarantee, I imagine, to one day occur. I tried to come in ready for it, but honestly, I still never saw Godzilla: King of Monsters from two years ago, and at this point, I can't imagine I will.
I was hoping that seeing the other two intro films would be enough, but it looks like this film made mostly throw backs to that last one, versus the other two. Damn it.
In Godzilla vs. Kong, the director promised there would be an obvious winner and not some bullshit tie overall. That is an important claim to make and really one of the main reasons I decided to even watch this one.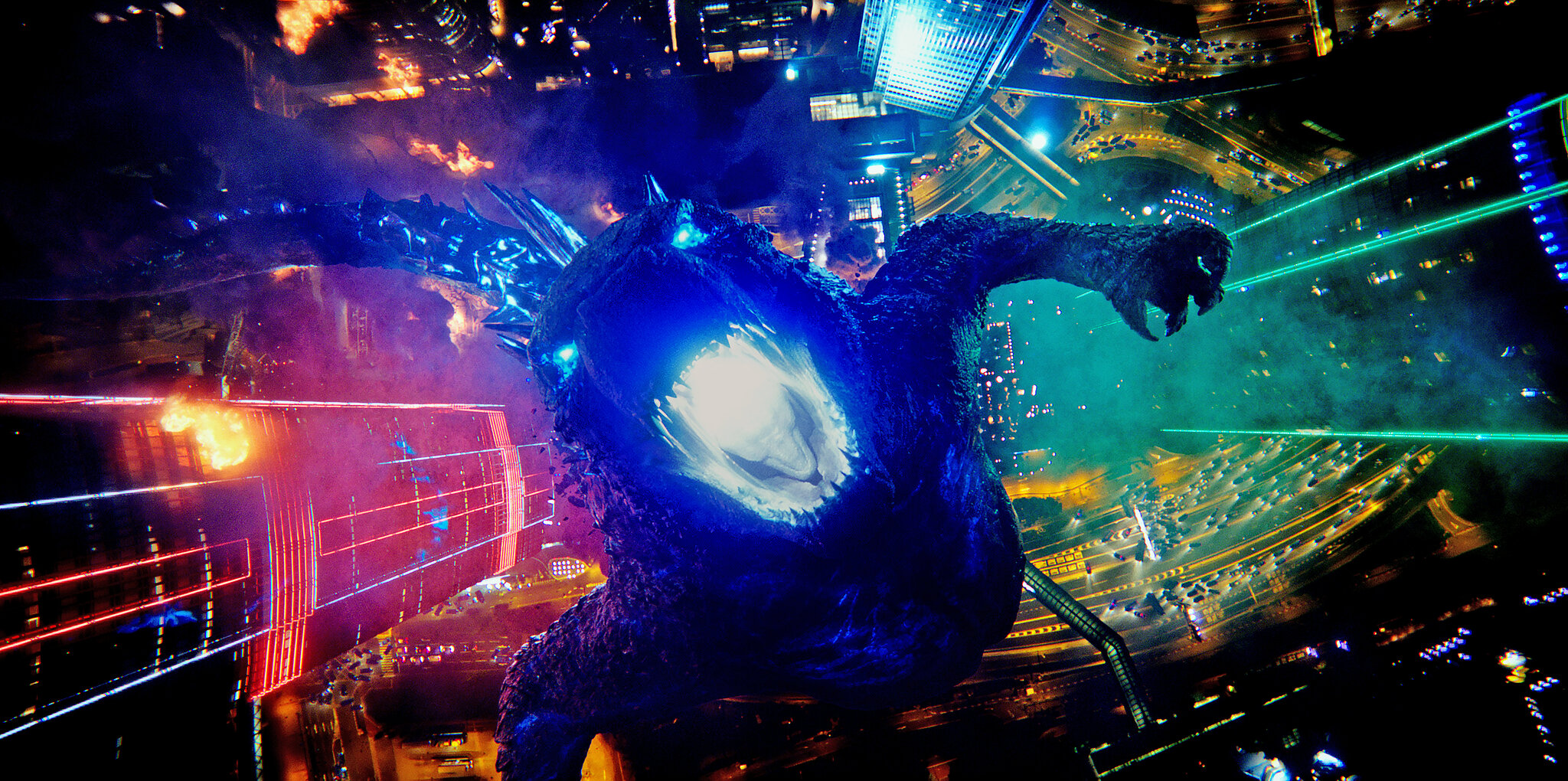 Oh, Rave Godzilla has to be one of my favorite Godzillas. 
Rawr! Let's get it on! Wait, no, not yet. First of all, Godzilla has been firmly established as some sort of Alpha Predator, whose sole purpose and existence is meant to make sure no other threats ruin the world. Godzilla doesn't want to destroy, it wants to keep the balance and go back to the depths.
Kong though is another alpha predator thing. So some people are worried that this means Godzilla is going to come and destroy him at some point, so they have him in hiding, sort of.
There are also some corporations doing corporation things. There is a theory of a Hallow Earth where these beasts must have come from, that is likely to have huge power sources. So some companies want that power. Some want to just return Kong to his home. Some want to destroy all the monsters. You know, typical stuff.
Overall, they are going to have to fight, multiple times, and we are going to have to see things get fucked up along the way.
Also starring some humans like Alexander Skarsgård, Brian Tyree Henry, Demián Bichir, Eiza González, Julian Dennison, Kaylee Hottle, Kyle Chandler, Lance Reddick, Millie Bobby Brown, Rebecca Hall, and Shun Oguri.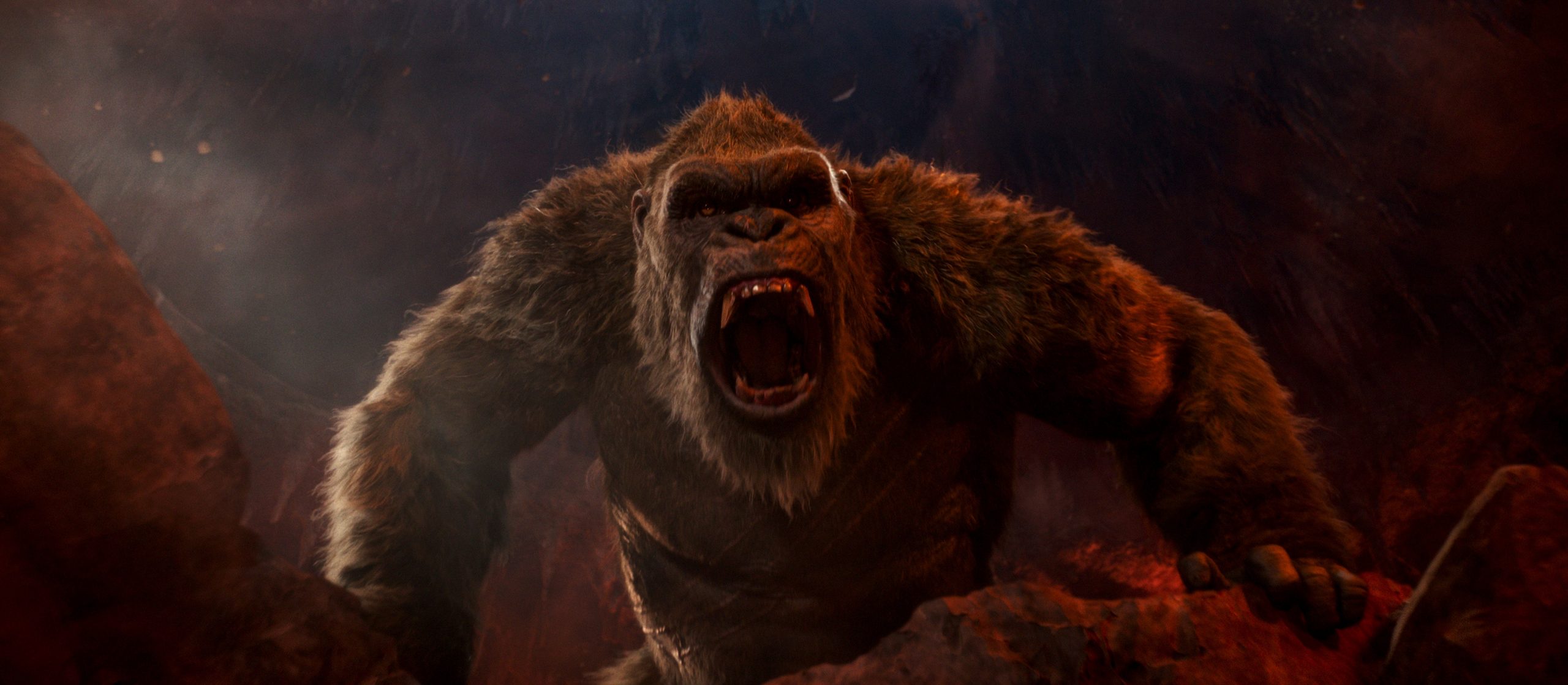 Is this his "fuck around, find out" face?
Hey? Do you like monsters fighting? Then this film has some of that! Honestly, I did think there would be more fighting overall, so I am surprised that there wasn't even more. But I guess only two main monsters can wail on each other for awhile. There are some minor monsters in the Hallow Earth area too, but they don't do much for the action or the plot.
Of course the plot is weak. And again, I am disappointed about how much of it is based on the King of Monsters film, just because I hadn't seen it. Literally any returning characters (outside of the giant ones) were from that movie. It did have some surprises in store, which helped keep things interesting. But at least early on, the slowness of the plot, and even the first battle, failed to keep things super interesting for me.
Now one major plus is that the fight scenes were all incredible visible and detailed, and I loved that. Giant monster fights and CGI have usually meant a lot of dark fights, or messy blurs, where your mind has to put in the action, but that only happened a little bit in the first major fight, due to the underwater aspect. The major fights that mattered where very clear and that added a huge amount of awesome to the film.
And what about the winner? Did the director lie? No. Not really. I can understand the moment they are saying that there would be clearly one winner, no takeaways. But we still had to fall into some similar versus film tropes that I also wanted out of my movie. From what the director said is the definitive answer, I agree with who was chosen, as it is the one that makes the most sense.  However, again, still, they make it super definitive either. It isn't as final as I would have hoped based on the remarks, so really, the director remarks set up my expectations to be higher than they would have been otherwise.
Godzilla vs. Kong is still a lot of fun, especially in the last third. Just have to slog through the human stuff, and the early battles.
2 out of 4.