The Art of Self-Defense hit a few festivals before it got its wider release. I had so much hype built up towards it that I will say, right now, I might have liked it more had my expectations been more regular. And that sucks.
It does have a lot going for it. A24, a quirky film where Eisenberg can showcase his talents, and more.
And you know, its about karate! We haven't had many dojo based films in awhile. The last one I really remember is The Foot-Fist Way. It was another smaller indie film with a weird humor sense. And it was okay. Maybe the real reason this came out is Cobra Kai. People love that series.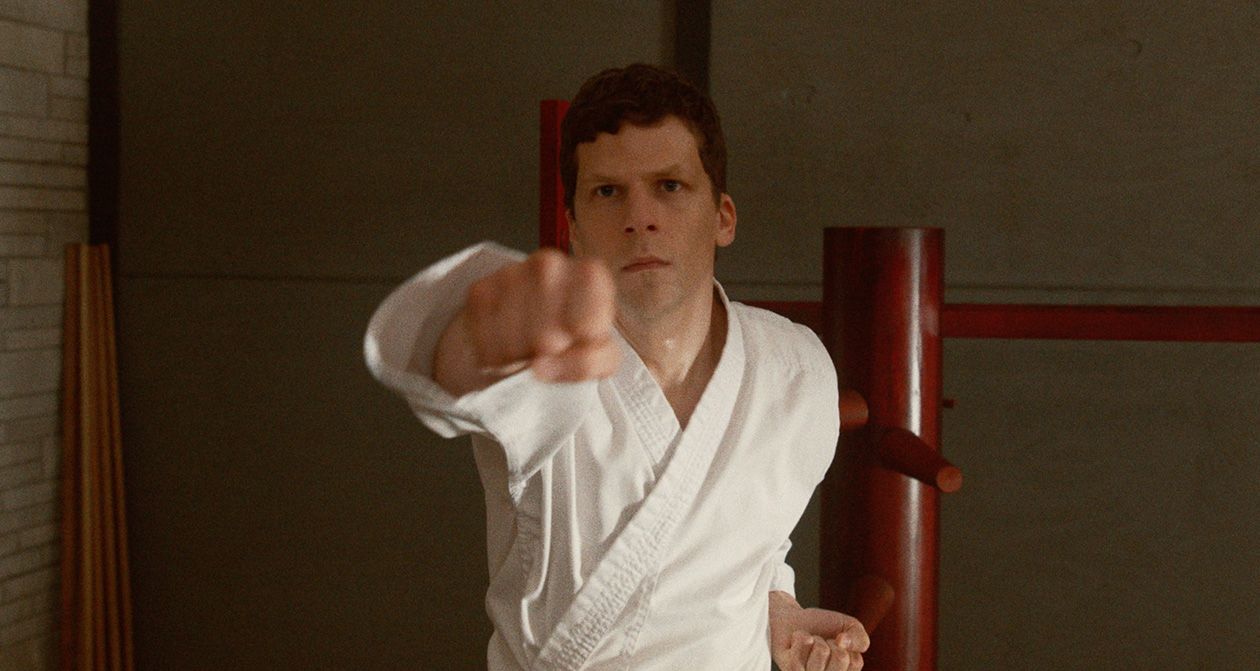 Punch
Casey (Jesse Eisenberg) is a little bitch. Maybe because he has a common lady name, but he is passive, quiet, and lonely. He lives at home with a little tiny dog. He goes to work. He doesn't go on vacations. Gosh. He is an accountant. Gross.
Well one night he gets home and realizes he is out of dog food. Having to walk to the store in the middle of the night is scary, more so with recent reports of motorcycle people running around and beating people up. Sure enough, he gets mugged, put into a small coma, and in drastic need from rest.
While he is away from work, he wants to change his life. No, not a vacation. Getting a gun! That will help defend himself. But there is a waiting period. While waiting, he instead finds a karate dojo, led by Sensei (Alessandro Nivola), who talks in such a charismatic way. He makes Casey feel special, he gives him goals in life, he gives him a meaning. He is also going to help him become a better man.
But the more and more involved he gets in the class, the more Casey is realizing he is in something bigger than he bargained for.
Also starring Imogen Poots, Steve Terada, Phillip Andre Botello, and Hauke Bahr.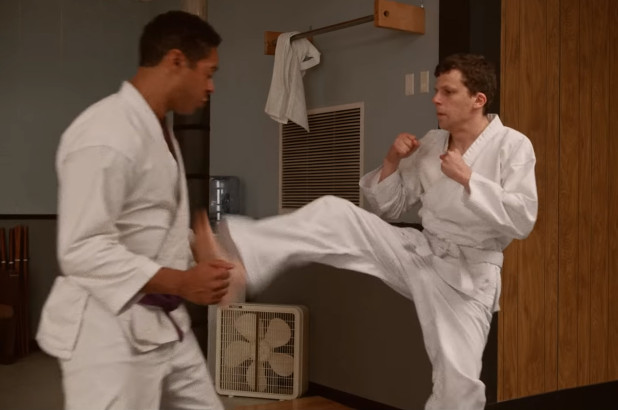 Kick.
I will do my duty to defy expectations by not talking a lot about how this movie was in terms of the genre. Because it turns out, that ruined it a bit for me. What you can and should know is that it is a Dark Comedy very much so based on the genre.
This is a swell role for Eisenberg. He is able to definitely to act his way into this character and it feels like a natural fit, unlike a lot of other recent roles. Poots really dives down into her character as well, and was unlike any other role I've ever seen her in.
I think Nivola is the real star and talking point here. That character is just so unique, brave, and twisted. It is hard to describe and compare him to other roles that might seem similar. It is just bizarre, and I love it.
A lot of surprises are in store for The Art Of Self-Defense, but ones that are welcome to the Sports karate genre of film.
3 out of 4.