There is a chance that this movie might have snuck on by me, and that would have been a travesty. It came out last weekend, both in theaters and on VOD. Shiva Baby is based on a short film of the same name with the same lead from a couple of years prior. People liked the concept, and hey, it was expanded, with some bigger names added to the cast overall. It went from 8 minutes to 77 minutes. Definitely a full length movie now, but shorter than most movies that are released, meaning it will still feel short in some aspects.
So how did I hear about Shiva Baby?
Just word of mouth. Another friend said they heard it was "More Stressful than Uncut Gems."
Whoa. Calm on down now. Uncut Gems was by far one of the most stressful movie experiences I have ever had in my life. It involved guns and death, gambling and high stakes, women and jewelry, athletes and bookies.
Just by comparing the two, you have my attention.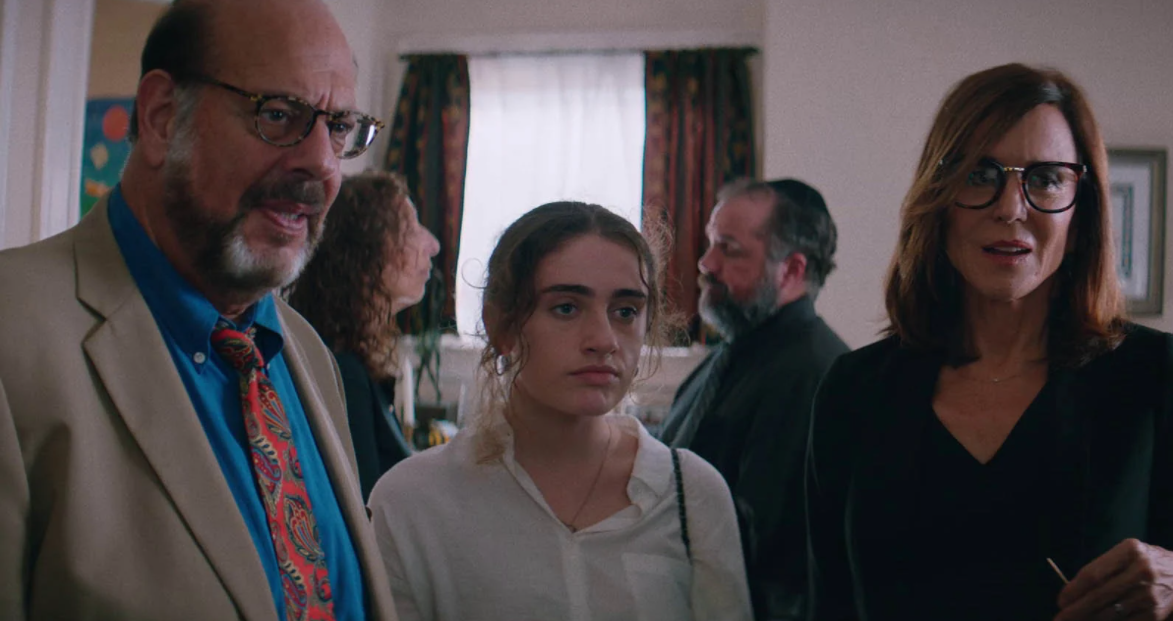 The face you make when you don't inherit your parent's height.
Danielle (Rachel Sennott) was just trying to get her sex on, when she gets a voice mail from her mom reminding her of a funeral that day. Fuck. Okay. She missed that, but she is expected to show up for the Shiva, and be there for hours, talking with all of her relatives, and old friends. But everyone there is so nosy. They pry. They want to know if she has a job lined up. How is college. What her major is. Who is she dating if anyone. And she has to answer these questions, with her parents (Polly Draper, Fred Melamed) there who know some of the truths too, so she can't just lie.
But you know who also shows up? The guy (Danny Deferrari), she was sleeping with, who gives her money for things. Her "job" that she says she has for her parents and friends to get off her back. Turns out she was lying to him. He was lying to her too. Turns out he has a wife (Dianna Agron), and a kid.
And to top all of this off, her best friend Maya (Molly Gordon) is here, and she is seemingly being a complete bitch to her in all of her moments of woe.
Cramped spaces. Relatives. Family friends. Food. Old people. Babies. Who wants to be trapped in this situation when your entire reality is crumbling?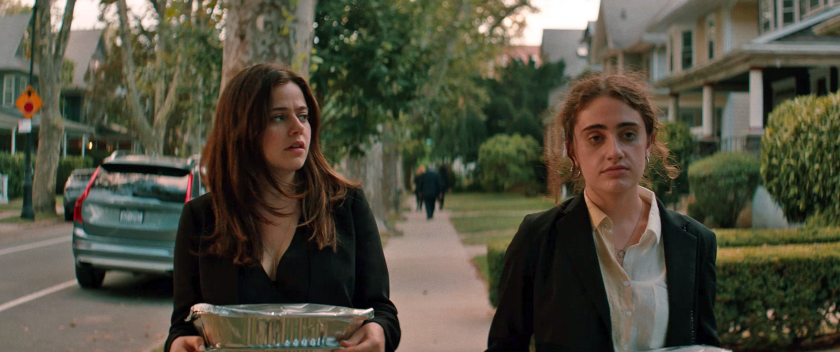 It is hard to see someone looking more miserable than our lead here.
To start with the comparison, no, it is not more stressful than Uncut Gems. That was an unreasonable bar to start at for any movie, so I quickly adjusted my expectation on stress levels early on and it was a wise decision.
Because Shiva Baby was still quite stressful. The run time being under 80 minutes was perfect for the situation we were in at the Shiva. The level of claustrophobia felt very real and very high. The viewer will feel stuck in that house with all these people that you also, do not want to talk to. Not just because of Covid, or your own levels of social anxiety, because you know you also won't have any answers to their damn questions. Each one making our lead character, and us, feeling uncomfortable. Their disappointment in their tone and eyes.
And that is only one aspect. All of the drama about the job, college, the relationship, just really adds up. The main reason this all works so well has to be the score used throughout the film, full of quick violin bursts, almost feeling like a horror film at times from the sound alone. The acting across the leads as well is great. Timing and realistic conversation is what makes this thing work, and they put their skills together to make it work great.
Emma Seligman, the director, showcased a strong film for her first feature length project. I don't know how much of the movie drew on her own experiences growing up, but you can tell this story was handled by someone who wanted to make sure that various messages were given care. That grief is strange. That sex work is not only okay, but not a big deal. That sexuality in general can be a spectrum and that relationships aren't always straightforward and need time to work out for some.
Shiva Baby is an overall great film to add to the "Stressful Jewish Cinema" collection. Not above Uncut Gems. But slightly beside it. Let's get some more in this genre, please?
4 out of 4.