I'll be honest, when I first heard of the movie Selma, I had no idea what it was about.
When I found out it was a pseudo-biographical film about a moment in MLK's life? I assumed Selma was his wife.
Nopers, I was way wrong. Selma is actually a city in Alabama! Yeah, who knew? Not only that, but it was a huge staging ground for civil rights in the mid 1960s, and it had nothing to do with sit-ins, busses, or fire hoses. That is pretty exciting on my part, because that means I will actually learn something new instead of the same few tales they teach us about in school. As it deals with race relations, it will probably end up being topical too in some way.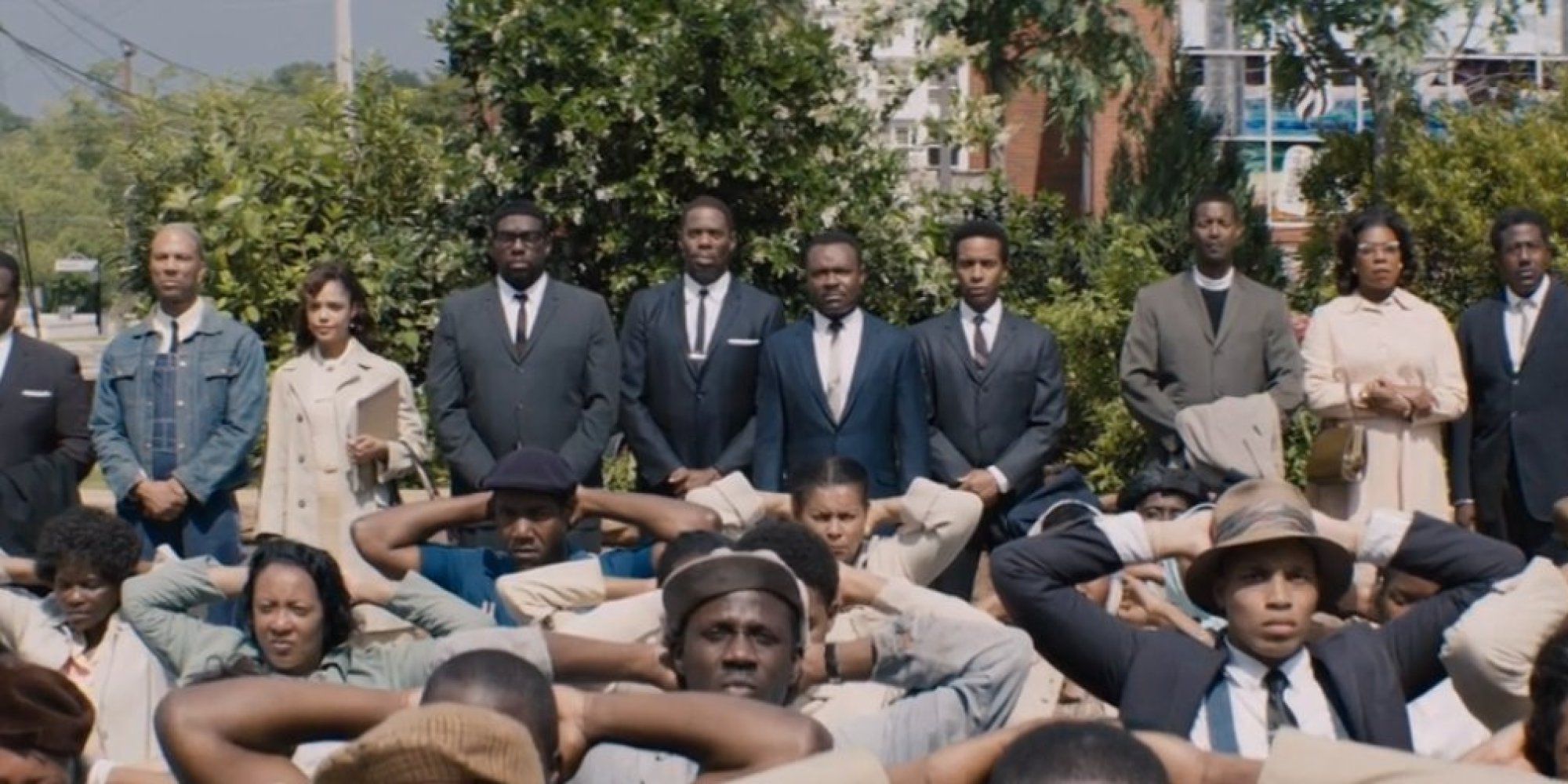 Not sure how, but I am sure someway it could be topical. Hmmmm.
Martin (David Oyelowo) (We are on cool enough terms for me to just use his first name) had just received his Nobel Peace Prize in 1964, but he wasn't done yet. This was after his I Have A Dream speech. There was a big issue with Jim Crow laws in the south. Sure, technically, everyone now had the right to vote. But people were getting in the way of that.
Poll taxes, literacy tests, inconvenient hours, and rude as shit clerks made things like that hard. Not to mention the general threat of violence for those who might attempt if they were black. Martin wanted LBJ (Tom Wilkinson) to make fixing this issue a priority, but LBJ wouldn't have it. He had other issues like poverty he wanted to work on. So Martin and his comrades (Common, Andre Holland, Wendell Pierce and more!) found the staging grounds for their next battle in Selma, Alabama.
A student group (Stephan James, Trai Byers) was already working there, building up community support, and of all the registered votes, only 1% were black despite about equal numbers. It was a great battleground. Even had a super racist sheriff (Stan Houston)! Martin just also has family issues with his wife (Carmen Ejogo) while all this is going down, so, pretty intense stuff.
Oh and a whole lot of people are in here as smaller or villainous roles as cameos. We have Tim Roth, Giovanni Ribisi, Cuba Gooding Jr., Martin Sheen, Dylan Baker, and Oprah Winfrey.
People walked a lot more back then, just a matter of fact.
Thinking back on it, I don't think I have ever seen a high quality film about MLK and his life. He has appeared in other movies I have seen, like Nelsan Ellis last year in The Butler. But filmmakers seem to be afraid of his life, despite clearly being a popular figure. I wonder if people are afraid of doing him badly and not living up to his larger than life persona?
Well, if they were afraid in this movie they shouldn't be. David Oyelowo did an INCREDIBLE performance. His walk, his talk, his power, he had it all. His looks weren't perfect, but man were they believable. And when he did his speeches or sermons in this movie? Yeah, his voice carried it hardcore, and not in the same stereotypical way people normally do Martin's voice. It had its own uniqueness and similarity that made it seem just as awe inspiring and just as real. Shit, the final speech he gave? I was almost certain it was an actual recording instead of Oyelowo, but I was wrong. It almost made me tear up.
My only issues with the film is that despite its superduper lead, the supporting cast didn't seem to catch up with him. I think this is the worst ever portrayal of J. Edgar I have ever seen. Out of no where it all seemed more comical instead of serious. Roth was awkward as the evil Governor and he also felt quite cartoonish. I couldn't take these guys seriously, limiting the seriousness of the film.
I learned a shit ton about the subject though and it is an incredible story, even if certain aspects are fabricated. A very nice watch to learn about a very overlooked yet important event in American history. And damn Oyelowo. You good, you good.
3 out of 4.