Oh hey, remember how everyone wanted a new Scooby Doo movie? Nah.
Okay, that is fair, we don't have to ask for a movie to come out to get one. Sometimes the studios know what is up. For example, I bet people did ask for a live action Scooby-Doo movie in the late 90's early 2000's, and what it gave was a really cheesy strange story, with adult jokes, some obvious some not. And honestly, it sort of filled a really good niche back then. Go figure.
So even though this animated version is going full CGI, and is dealing apparently with the childhood beginnings of the gang (ehhh), as long as we got mysteries to solve and people in masks, it shouldn't be too hard to make it work. Unless they decide to go for the "monsters are real" gag, which basically every Scooby Doo entity has been doing for the last 20 years, so it is kind of getting annoying. Please, give us weird people in masks.
Remember, if a movie has an exclamation point, it should be a musical. Scoob! should be a musical.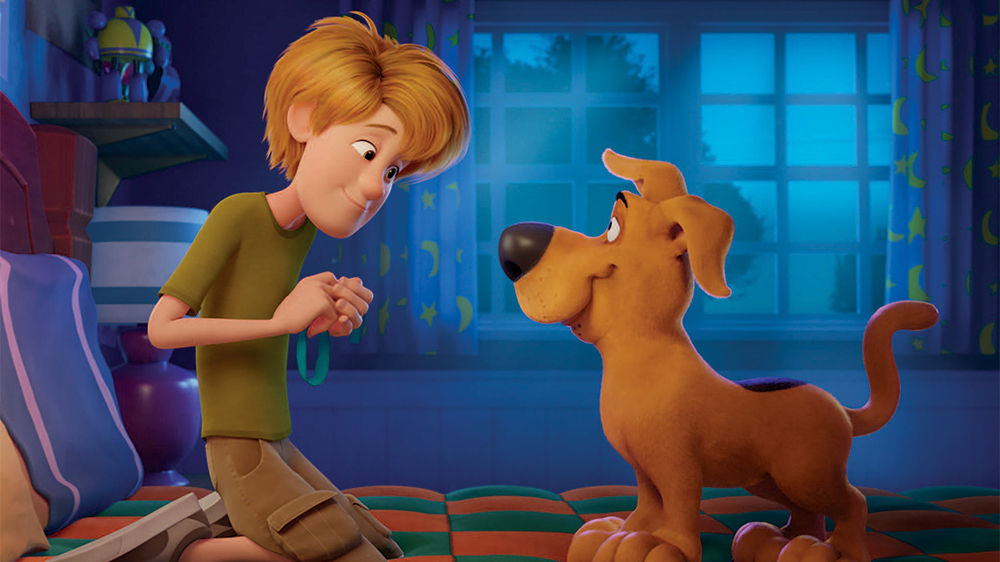 Ah yes, origin stories, like a superhero movie.
Alright, here we go! Shaggy (Will Forte) and Scooby-Doo (Frank Welker) meet on the beach when they were younger. Shaggy needed friends. Scooby-Doo needed a home.
Later on, at Halloween, some bullies mess with the duo, and some other kids help the two out! Their names are Fred (Zac Efron), Daphne (Amanda Seyfried), and Velma (Gina Rodriguez). Also right after that, they end up solving a mystery of a lot of stolen goods that no one even knew was a thing! They just had to meddle.
Alright, years later, many mysteries, they want to expand their operations. Their Mystery Machine needs work, so they want bigger clients, and higher paying jobs to become a success. And then they bring in Simon Cowell for some reason, who barely insults Shaggy and Scooby who leave as a result.
The other friends don't go and stop them, so eventually, Shaggy and Scooby get attacked by robots. And then abducted by aliens? Nah, it is actually Blue Falcon (Mark Wahlberg), Dynomutt (Ken Jeong), and their assistant, Dee Dee Skyes (Kiersey Clemons). They know that Scooby-Doo is important for something. Because Dick Dastardly (Jason Isaacs) is looking for him and some ancient skulls, to maybe summon dog Cerebus from the underworld. Ah yes, real mythical monsters.
Also starring Christina Hendricks and Tracy Morgan.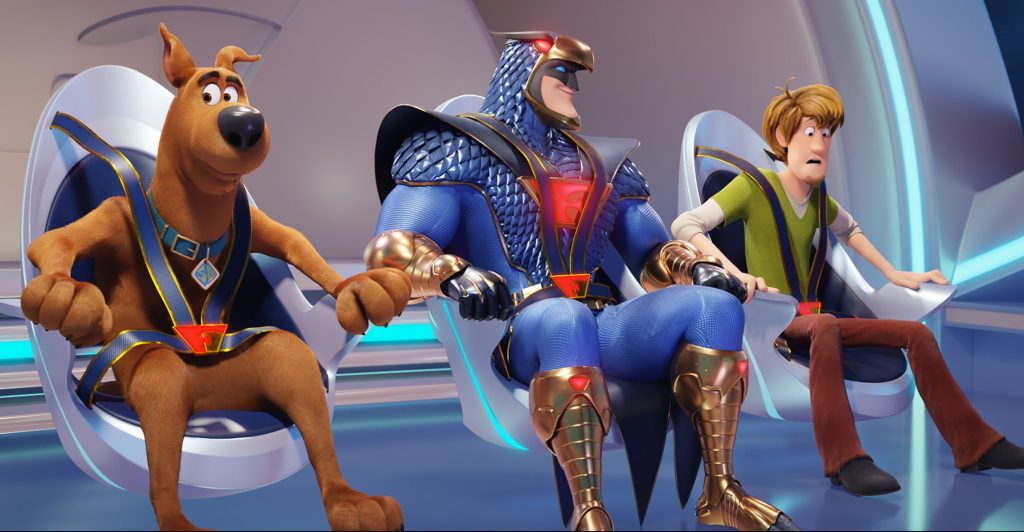 What nice chairs. And I feel like a hater not showing Daphne/Velma/Fred.
It is really early on in the film when you realize this is not going to be something you want to see again, and for a lot of people, that is when Simon Cowell appears. But before that, I will acknowledge they did a version of the original intro. It was okay in the singing department, really basic, but they did recreate parts of the intro and use it as a montage of solving some mysteries. That was nice.
That was also where most of the Scooby-Doo action remained. The kid mystery was very awkward, because when a ghost appeared in the house they already had their goal completed. They could have just…left, like any normal person. Having this long run through the place and eventual capture of the ghost to find it was a masked person didn't even make sense.
But let's get back to Cowell. This movie came out in 2020, why the hell is Cowell in this movie. This is not 2004. Kids for the most part won't understand that at all.
In terms of how Scooby-Doo this movie is, it is Scooby-Not. Most of the time the gang is split up (which happens a lot sure, but not to this scale). This is a superhero movie. It is about Blue Falcon, and Scooby-Doo wanting to feel more special. It has a real monster and issue to deal with, and…it is just a mess.
A lot of the voice acting felt off. I especially did not like Jeong as Dynomutt, because it just sounded like Ken Jeong, not a robot dog.
It was a boring film for the most part, with some other Hanna Barbera properties thrown in for fun. It is really easy to see where the movie is going, where the conflicts will appear, and what will happen at the end. It is such a waste of a nice property. It felt like something they would try as a third or fourth film of a reboot, not right away. This was barely Scooby-Doo. Focus on the basics first.
And obviously it wasn't a musical, but it did have a lot of modern music because that is easier to get the kids to love it.
1 out of 4.