September 22, 2016
Queen of Katwe
Honestly, Queen of Katwe came out kind of a surprise to me, which is mostly surprising as it is a Disney movie.
I mean, shit, the bombed film The Finest Hours which Disney barely cared to promote I was still able to see advertisements for. But queen of Katwe? I just assumed it was some random actual Queen of an African nation. I mean, I recognized actors on the poster and it seemed like it could be about royalty.
But no, this is one of those Disney true inspirational stories. And I completely missed the fact that the poster had a ton of chess pieces on it as silhouettes, just assuming it was a fence. Fuck. A Disney movie about Chess and Africa? What a brilliant idea to really bring two things not really thought about together to make a unique film.
Well, unique if it wasn't a true story. Now I am babbling. Yay chess?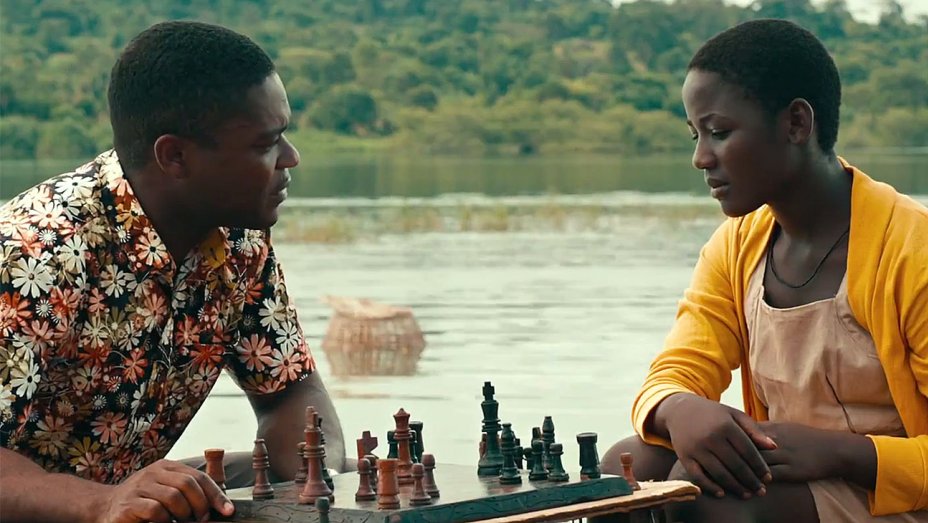 Yeah, there is some chess right there!
In Uganda, a large portion of the population does not play chess. In Katwe specifically, it is a mostly village town with a lot of people living in the slums, struggling to survive. Phiona Mutesi (Madina Nalwanga) is a young girl living in these slums! She doesn't go to school as they cannot afford it. Instead she helps sell corn all day to people in cars so they can afford rent. She lives with her mother (Lupita Nyong'o), older sister Night (Taryn Kyaze), younger brother (Martin Kabanza), and a baby brother too. No dad anymore, he died a few years ago, thus the struggle to survive.
But there is some hope. There is a church group nearby that is helping keep the kids in good health and spirits, teaching them soccer mostly. But one man, a very smart man, Robert Katende (David Oyelowo) wants them to learn chess. A game that he learned as a kid to beat those "city folk" and really stick it to them. Phiona follows her brother to a meeting spot for this, instantly falls in love with the game and begins to play as well.
And she is super interested in chess. She makes a makeshift chess board out of bottle caps with her brother so they can play at home. And soon, SOON, she is the best player in Katwe of the kids who can't afford school.
But that isn't her end goal. No, she needs to go to bigger tournaments. In Uganda, in Africa, hell, in other continents around the world. Her drive and desire is pushing her forward and it might what can really save her family from poverty in their small village.
Also featuring Ronald Ssemaganda and Esther Tebandeke.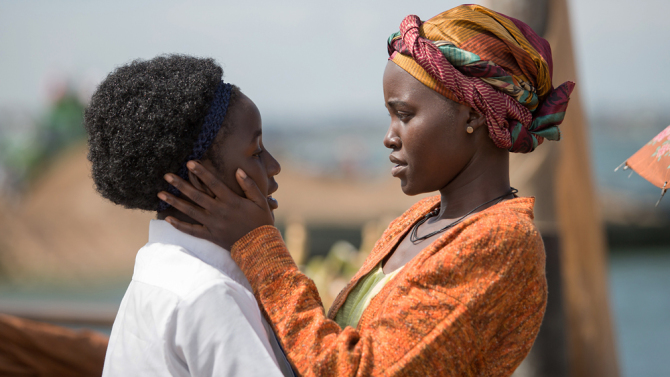 You might have your mothers features but you lack her sense of style.
For a movie that lacked a lot of advertisement, it sure does tell a good story.
This isn't the greatest film by any means. It is average on the acting front, pretty normal camera work and scenes to keep you entertained. It won't win any awards. But when it comes to telling an interesting and inspirational tale, it does a wonderful job.
Our big three leads do a good job of carrying the emotional/spiritual side of the story, Nyong'o, Oyelowo, and Nalwanga. You will like all the characters, through their faults and triumphs. We even get to see cute baby scenes, yay cute baby scenes! (And one scary one that almost freaked me the fuck out).
For her first ever film (and she had only seen one movie before in her life while filming this one, Jurassic World) Nalwanga plays her part with ease. Despite the bigger names, it is very clearly her film and a story about this chess prodigy and not the coach who found the diamond in the rough or anything like that.
And on that note, there aren't a lot of movies really about chess. Sure we had Pawn Sacrifice a year or two ago, but that was about the most famous chess player of all time and nothing to special. Maybe it appealed to me more given that I am becoming a chess club coach in a week and excited at the timing of this film. It is a nice film about picking hard to reach goals and doing whatever it takes to achieve them.
3 out of 4.