This is not a Tyler Perry Movie!
It is Tyler Perry Presents. That means he didn't do anything but provide funding or distribution. Just like how The Man With The Iron Fists was "Quentin Tarantino Presents…" and not his own movie.
I think I called it a Tyler Perry movie in my review of Temptation, but that was my bad. His name is still associated with it though. So my rant there still holds!
Before I make a fool out of myself further, lets look at Peeples, aka, the black Meet The Parents.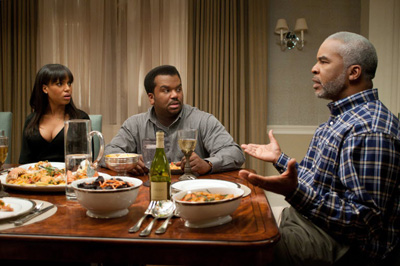 Two me, two things pop out making this clearly not Meet The Parents.
Meeting parents can be tough. Especially if you are Wade Walker (
Craig Robinson
) and you make your living by singing to small groups of children. He has been in a relationship with Grace (
Kerry Washington
) for over a year now, and wants to propose, but he hasn't even met her family. Not for lack of trying, she just won't let him.
But when she goes home for a weekend, he decides to crash the party thanks to the advice of his brother (Malcolm Barrett), to meet the family and propose on the spot. It couldn't go wrong!
Even if her dad was federal court judge (David Alan Grier) and her mom a famous diva (S. Epatha Merkerson).
Obviously, her dad doesn't approve of him, so he will have to spend the entire weekend working on gaining their approval, while also finding out that her family has many secrets of their own. Also featuring Tyler James Williams (From Go On) as her younger brother, Kali Hawk as her sister, and Kimrie Lewis-Davis as her sister's "Friend".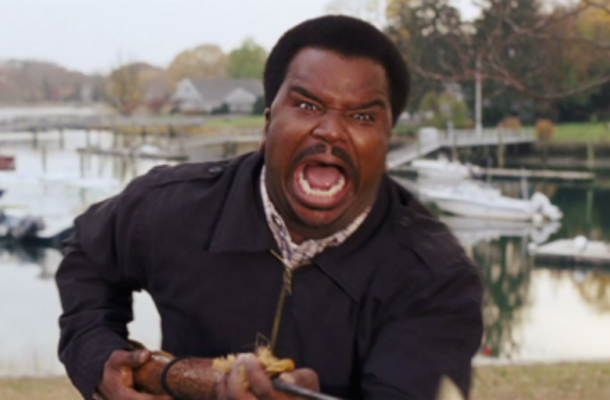 This is the general reaction to black people over lesbians, I hear.
Wouldn't you know it, this movie wasn't a complete piece of shit. Hooray!
In fact, performances by most of the cast were excellent. David Alan Grier hasn't been in a leading role like this in awhile, and not only has he aged well, but he also hasn't lost his touch. S. Epatha Merkerson gave a great impression as someone always on pharmaceuticals. Kerry Washington is normally very serious, but was great in a role having to go back and forth between childish and"normal."
Craig Robinson, on the other hand, was exactly like he normally is. Which is fine! Just saying, don't expect a spectacularly acted performance by Craig, but his normal funny self.
For those wondering, the title Peeples comes from the families last name, "The Peeples", so you will get to hear that word over and over again.
Although it is predictable, I would say Peeples has a lot of heart in it, and some genuine moments. There are at least three song and dance scenes as well, including a very cute number to end the movie with.
2 out of 4.