September 16, 2020
Palm Springs
When Palm Springs hit Hulu, I will admit, I hadn't heard of it. I knew nothing going into it either, outside of a few key members of the cast.
I'd like to say that the cast was enough to get me to watch it, but that isn't true. I literally only watched it because I heard good tidings from others about the story and the acting behind it.
This looked like a very skippable movie. Some sort of Rom Com? Let's just say that I think going in totally blind is definitely a worthwhile endeavor for this one. I do describe what the movie is about and why it is unique in the plot description below, so feel free to ignore that if you'd rather just run in. This is a good time to just check my rating and decide on those merits alone!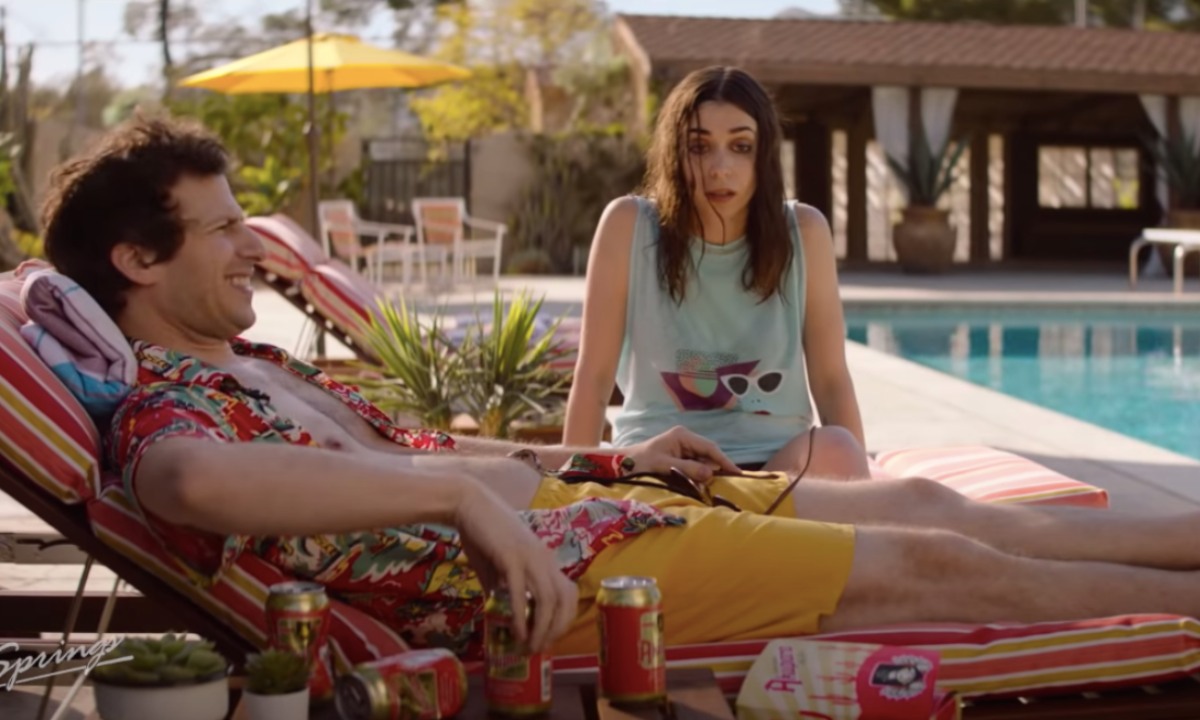 Trust? In swim trunks like these?
Nyles (Andy Samberg) is at a wedding in Palm Springs, California. His life is aloof, he seems weird, he is wearing non fancy clothes to the wedding His girlfriend (Meredith Hagner) is freaking out about his strange behavior, but he doesn't care. Nyles has his eyes on on Sarah (Cristin Milioti), the maid of honor. And before he can seal the deal, he gets shot with an arrow by Roy (J.K. Simmons) and that is pretty damn annoying.
After the arrow incident, Nyles crawls towards a mysterious glowing cave with Sarah following, despite his best attempt to get her to leave, and then the next morning, Nyles wakes up to relive the day over again. But this time, so does Sarah.
You see, Nyles has been living this time loop of this wedding he barely cares about for a very, very, long time. Every death, every sleep, no matter what, he goes back to waking up the same bed with his same girlfriend. But now, Sarah is stuck in the loop with him (and so is Roy, which is why he is pissed at Nyles). Well, now at least there are two of them to try and figure out how to get out. Two people who can make the day feel less meaningless. And maybe they can figure out a way out eventually.
Also starring Jena Friedman, Jacqueline Obradors, Dale Dickey, Tongayi Chirisa, June Squibb, Chris Pang, Tyler Hoechlin, Camila Mendes, and Peter Gallagher.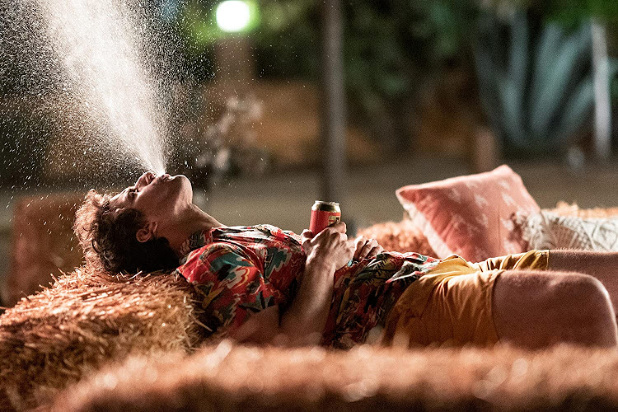 It took them 400 days of shooting to get the beer spray lined up so perfectly.
So given the genre and type of film it is, why is this one worth the 4 out of 4?
Well, despite it being a famous type of a movie with a really famous and cherished example of the plot line in movie history, it isn't that overdone yet. I bet you can't think of more than five examples of that plot line being used (although there are more than five, but not too much more). People just feel it had peaked early. Well, by having two characters go through this plot, it allows a lot more room for growth and potential, because we have more people who are in on the secret.
It is a brilliant idea, and one that I am surprised (as far as I know) not been done before. It lets us get to know our leads as co-stars and not just one person surrounded by the supporting actors. Samberg is his usual self, but maybe a bit more darker with his tone, because he has been at this for awhile and has practically given up. Milioti was a delight, and watching her journey at the beginning all the way through the end, as a strong independent person, to get things fixed, was great. And it featured a cameo from a professor at Rice University who I know, so that was cool too.
Palm Springs is a unique concept on an old plot, and a refreshing take on it all. Add in two fantastic leads and a great moment from Simmons, this is a top tier film for 2020 (given how awkward this year is) and one that should be experienced.
4 out of 4.