Against all odds, My Spy is finally out today, in the US, legally, August 26, 2020. It is available on Amazon Prime.
So how did it get here? Well, it was supposed to come out in August of 2019 (and likely would have been the best result in retrospect) but got moved back a month before that. It was pushed to a January release of 2020, then pushed again to a mid march release in 2020. You know what happened then. So about a week before coming out, it got pushed back to mid-April, to see what was going on in the world then.
And of course, before that happened, they cut their losses, sold it to Amazon and no theatrical release anymore. Well, it did come out in theaters in the UK in March. And in Australia in January, but hey, whatever, not like pirates exist.
My Spy annoys me because it is the last screening I saw in theaters before everything went down. The last actual movie I saw in theaters was Birds of Prey, the next morning, but that was already out for a month so no one cares about that.
And with it out today, finally, I can tell you why it sucks.
Here is a frame. It combined with all the rest made a poor film.
JJ (
Dave Bautista
) is a big strong man, who used to be in special forces, and is now in the CIA. He likes to punch things and blow things up and isn't used to being subtle. And because of that he is being punished. Yuck. He is being sent to Chicago (ew), with a tech support spy (
Kristen Schaal
) with the only purpose of spying on a family.
Why? Well, silly plot reasons. It involves nuclear weapons surprisingly. But a bad guy stole some weapon blueprints, brother of bad guy stole them from him to be a hero and not let them get out, brother dies. No one knows where the plans are, but maybe they are with the brother of the bad guy's wife (Parisa Fitz-Henley) and daughter (Chloe Coleman), who have moved from France to Chicago after the death. Very sad times.
Unfortunately for JJ, because everyone is a noob, they almost immediately get found out in their safe house by the daughter character, who thinks she has found spies (accurate) but not sure why. Thanks to hilarious blackmail and set up, she uses JJ as a way to find acceptance in life. She gets "spy" training, and a friend in her lonely world, while JJ gets forced into her life as a neighbor, and starts to fall in love with a widow.
Typical spy stuff. Things go wrong. Bad guys. Ahhh-xplosions.
Also starring Greg Bryk, Ken Jeong, Devere Rogers, Noah Dalton Danby, and Nicola Correia-Damude.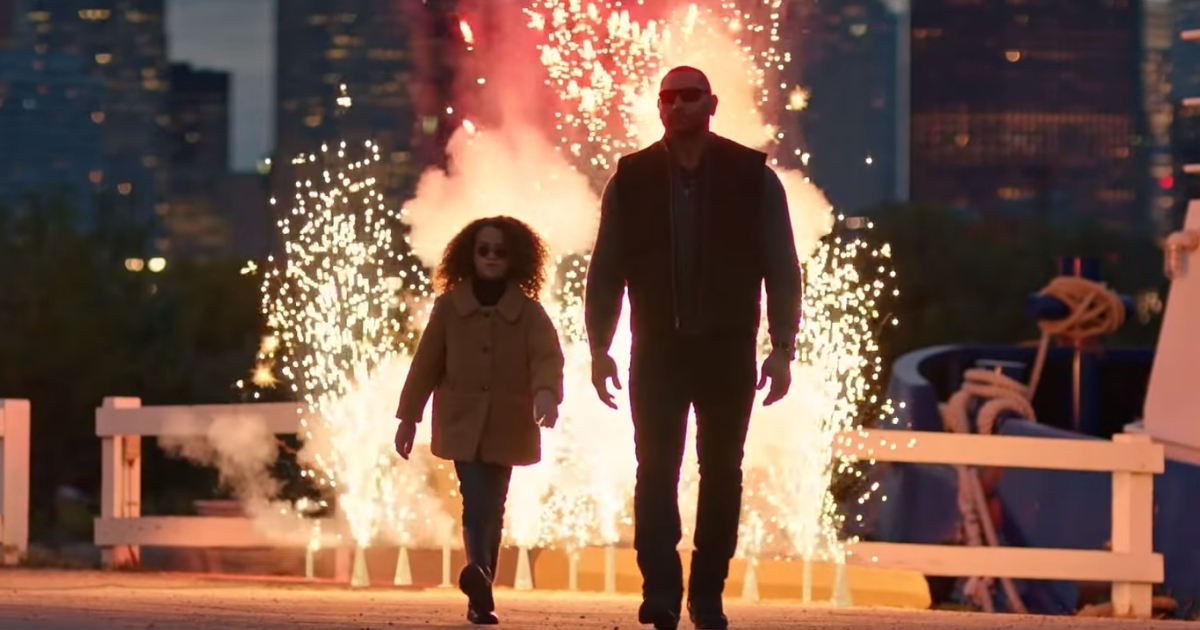 Ah yes, tropes. 
My Spy picked a bad year to finally come out. Because of how many movies aren't coming out this year, it is almost certainly going to make a lot of worst of the year lists. It might have made them last year too, but it probably would have been decent box office numbers, given its probably lower budget.
There is nothing excitingly new about this movie. It is your typical big strong man must become more loving or family man. Like almost wrestling turned actor film. I thought we wouldn't get one of these any time soon since we were stuck with Playing With Fire last year. But this isn't the genre's fault, it is the wrestler turned actor fault.
Since we currently have John Cena and Dave Bautista doing that, they are both likely to have have one of these, and they happened to be very close to each other. It is our burden to bare.
This film offers nothing new, isn't funny, and is rather stupid. It should have come out in January or August, because it would fit perfectly there in the movies people want to ignore. Now I suggest we all ignore it on Amazon Prime, like most of you planned on doing that anyways.
0 out of 4.