November 7, 2014
Interstellar
The Interstellar hype train is so hot right now, you could light a candle off of its ass. That might not make a lot of sense, but it sounds like something Matthew McConaughey could say really sweet in his voice, so I ran with it.
But seriously. Christopher Nolan is one of the more well liked directors today. The movie has had wonderful trailers. It has the capability of being as beautiful as last years Gravity, especially in an IMAX 3D setting.
But wait. Controversy! It turns out Nolan doesn't like the fancy IMAX digital camera nonsense. No, that man likes himself good old fashioned film and filmed a lot of movie that way. Most filmmakers prefer digital cameras, as they are actually cheaper and easier to get 3D/CGI stuff with them. But a few others think that digital film making makes the movie lose a certain artistic touch.
So it turns out Nolan has released his film in two ways. In an actual film reel, which a lot of theaters have gone away with, and digitally. Not only can you watch the film in 35 MM like normal, but he also has a 70 MM version meant for IMAX screens. Nolan wanted that reel touch to his movie, given some of the themes in it, so I can tell you the movie version I watched was film. Just didn't get to see the film IMAX version.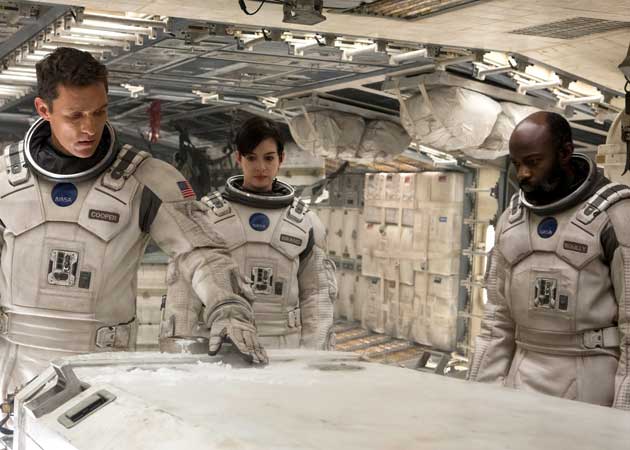 Enough talk about specifications, let's talk about space people!
This film is set in the future, where things are not looking so great. The Earth has gotten kind of pissy with the wastefulness of its citizens. Tech went too hard too fast and well, a lot of people died. Now most of their crops don't work due to diseases, all they have left is corn.
In fact, some tech people are now looked down in disdain. They don't need fighter pilots, they need farmers and mostly farmers. So NASA has been working in secret, looking for other planets to move to, because Earth kind of sucks. And it has been going poorly. But thanks to worm holes and higher tech, they have 3 planets to check out. They just need a sweet ass pilot.
Oh hey, Cooper (Matthew McConaughey). Now a good farmer, used to be a pilot and all, before the tech haters happened. And well, he is the only guy for the job. He is just going to be gone for a few years, not a high chance of survival, not a high chance of success either. Kind of intense odds. But he has to. But does he?
He does, after all, have family. A son and daughter (Mackenzie Foy, yes she is more important than brother enough to tag). Can he leave them behind? Or can he help save humanity?
Also starring a lot of people! Anne Hathaway, Wes Bentley, Jessica Chastain, Matt Damon, Michael Caine, Casey Affleck, Topher Grace, David Gyasi, and John Lithgow.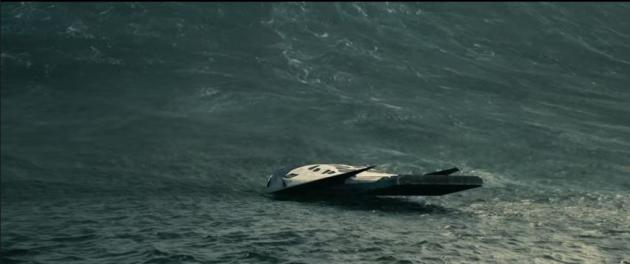 Oh sweet, and they go surfing. Every movie needs a surfing scene.
Intestellar, if anything, is definitely a visionary achievement. The scope is grand and intense with this movie. It is about 2 hours and 45 minutes long, leaving a lot of room for plot, exploration, and some hopefully good acting.
And there is some good acting! From McConaughey. And from Mackenzie Foy and Jessica Chastain. And uhh. After that it seems to get a bit muddled from what I can tell. Because unfortunately, I had some issues with Interstellar too.
Without going into big details, the last 25 or 30 percent of the movie felt rushed, despite the long run time. The ending was full of explanations, almost pounding your head in the wall to make sure you understood things instead of letting the movie tell the story naturally. Some extremely awkwardly acted moments came out of no where. One conflict scene came near the end seemingly out of nowhere on Earth. A character died in the laziest and most "wat? really?" way possible.
Just a bunch of minor things that ruined a little bit this very very excellent film.
Now, these are the type of minor things that one can probably normally ignore, but only in that I saw so many of them, it just made it a bigger issue. It is a beautiful film, and probably even prettier in IMAX. It tackles some complex subjects in the science field and has nice allusions to the Dust Bowl. It was certainly entertaining. It just wasn't perfect film for me.
3 out of 4.