March 10, 2016
He Named Me Malala
You may have heard of Malala Yousafzai. If you have not, then you live in a bubble somewhere. Or you live in a repressed country and they are actively making sure you don't hear about her.
She made a book that was titled I Am Malala, memoirs of her life up to that point. Very political. You see, she is a girl growing up in Pakistan. Her name is important, because her father, Ziauddin Yousafzai, named her after a Pakistani folk hero. He imagined she would be great! He also ran a string of private schools and taught her to read and write and love education. In that time, women's education became a hard thing to achieve, because of the Taliban occupation of Pakistan. In fact, they destroyed many all women schools and banned women from schools for a time. This is the crux of the issue. Women's rights, and a child's right to an education.
Starting around 11, she became to get involved in politics. She started as an anonymous blogger for the BBC, telling stories of Taliban occupation and how it affected her life. It eventually grew and eventually her identity was discovered. As it grew, she spoke more and more about the right of education and women around the world. Not just the middle east, but in other parts of Asia and Africa and South America, women often do not get any education training at all. This keeps them in the dark and does a disservice for their entire gender in terms of finding equality and being treated with respect!
So, in 2012, when Malala was just 15 years old, the Taliban ordered an assassination attempt on her, as she was doing harm to their public image. Which is a sad and funny sentence to write. Obviously she had received quite a few death threats up to that point, but no real bullets. Thankfully she survived, but the bullet did go into her head, neck and shoulder requiring immediate doctor attention. The left side of her face is slightly paralyzed and more, but damn it, she survived the Taliban officially.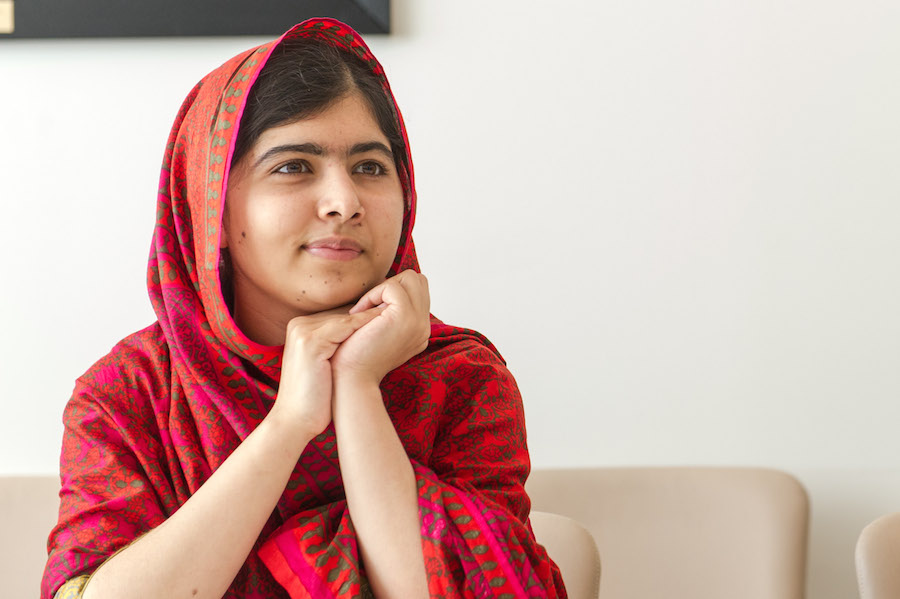 Don't stop, Can't Stop, Won't Stop.
That was a lot of introduction! But He Named Me Malala, the name of the documentary, takes place after all of this. It shows her living now in a normal house, still in school, with her two younger brothers, father, and maybe mother. I have no idea if her mother is still alive, because she wasn't mentioned or talked about in the documentary at all. It could be a privacy thing, or a fear thing because she is a woman. I don't know. Half of this documentary tells her story, of some of the activism she has done, about her life before and after the assassination attempt, and a few of her speeches.
Malala is a great girl who is very passionate and was lucky to have an education from her father at home. It allows her to speak well on all of these subjects and it is great that she is using it to help insure education for every child in the world. And she won a Nobel Peace Prize at 17! Definitely a worthy child to know about and support.
But this documentary doesn't seem to do a great job at it. It feels very subdued. Or basic. Like it was done as a small piece for a news station about a person and her life. It didn't have a journalist narrating over the film, with her and her dad doing a majority of the talking, but it didn't seem to give her the right respect. They didn't go into huge amounts of detail about the atrocities of the Taliban or the assassination attempt. It was more about what she was doing now and how it can be hard to balance this while also studying for exams. It just turns her into a regular girl who sometimes gives speeches and talks to politicians around the world. It is good to humanize her, but at the same time, by doing so it just seems to lessen her achievements.
Overall, this documentary was probably made too early. Hell, they barely talked about the fact that she won the Nobel Peace Prize, as it was only featured in a small segment in the credits. Like they did the whole documentary already and then it happened so they had to find a place to put it. She will do great things in her life and already has, so it is just too early. We don't need her in a documentary every few years.
The same situation happened with the concert documentary Justin Bieber: Never Say Never. It came out when he was just 18, as if he had already peaked and was on a decline. So now we also already have Justin Bieber: Always Believing and Justin Bieber's Believer because they did it too early. Hell there are probably more out there and there will be more again. We don't need Malala to be given the Bieber treatment. Please no more documentaries for at least ten years, when you can make it serious and important and not feel like a "fluff" piece.
2 out of 4.