July 29, 2014
Guardians of the Galaxy
Good news! The Marvel Cinematic Universe is finally taking bigger risks with its movies! No longer now is each film headlined by a big and famous cartoon character.
Sure, I thought their first risk would actually be Ant-Man, but who knows if that will ever happen now.
With Guardians of the Galaxy, we are given a franchise that will make a lot of casual comic fans go "Huh?" They are definitely not the biggest or baddest property Marvel still has, which is why it is surprising they are making this movie.
Unfortunately, that risk has come at a terrible price. Backed by Disney, they had a lot of money to throw around. All of this money went into advertisements. Since before Captain America: The Winter Soldier came out (of which I only saw two trailers for), I think I have seen a GotG trailer at least once a week for new releases. They advertised the fuck out of this movie. I kind of got sick of it.
It wasn't just trailers though. TV spots, giveaways, extended looks. They even had one of the biggest bullshit things I had ever heard, showing 17 minutes of the movie, and advertising it like a special pre-screening. Who the fuck wants to watch 17 minutes of a movie?
They are over saturating the market to help ensure their risky gamble doesn't fail. Which just pisses me off more. I am still excited for the movie, but honestly I also feel like I am more excited to stop seeing advertisements for it soon.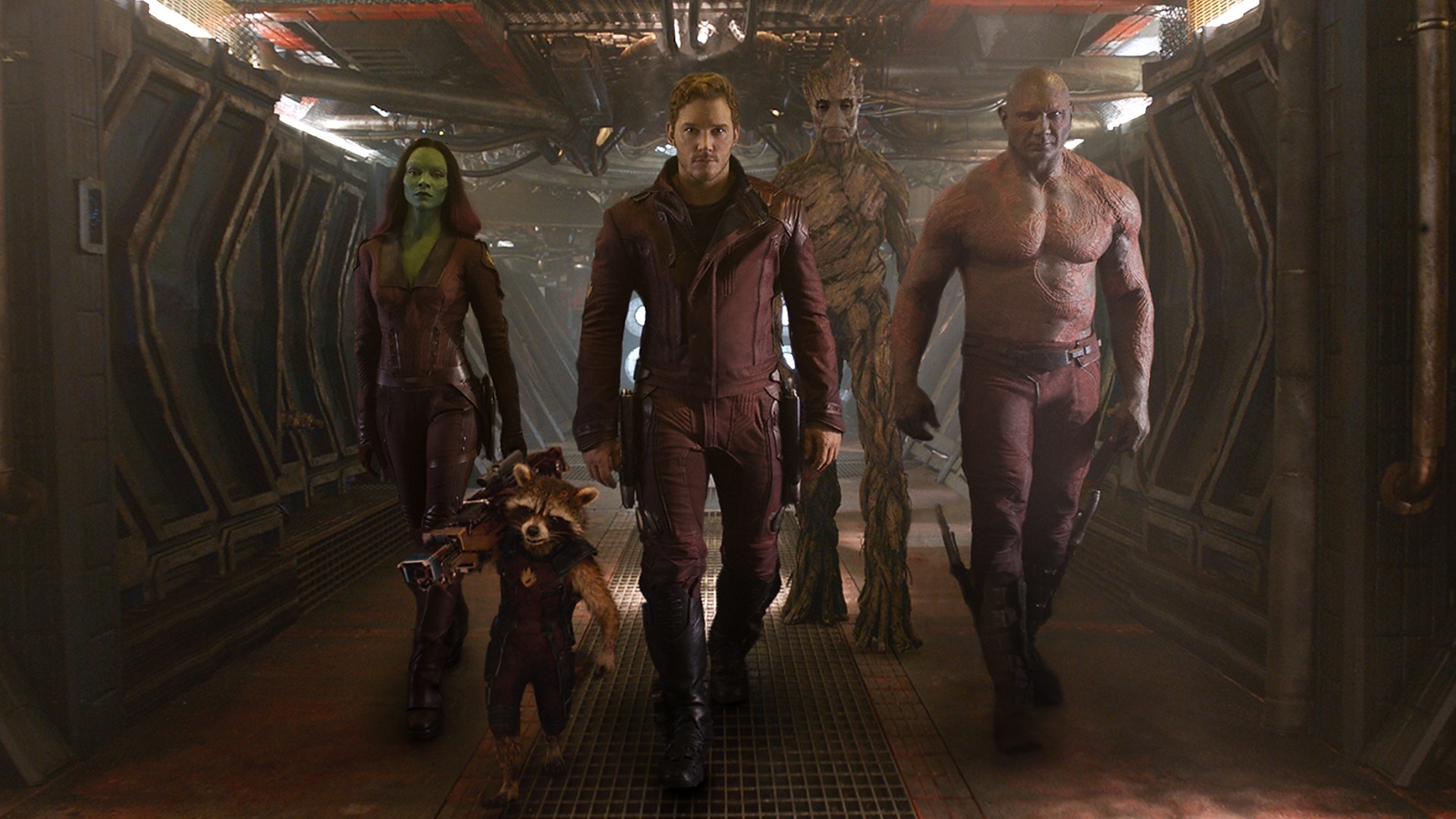 Except for the poster of this scene. It is hanging above my toilet.
Space. Like, Seriously deep space. Like far from Earth so don't even pretend that we are dealing with any space shit you are aware of.
Peter Quill (Chris Pratt), aka Starlord, aka an Earthling thought is totally far away from Earth. He was picked up from the planet when he was just a boy, just randomly. And now he is a space pirate! Well, just a junk yard ravager more like it, but also pseudo outlaw-ish. But after going after a mysterious space ball, Peter has found himself in quite a stick situation. A lot of people want this ball and he is hiding it hard to sell.
For instance, Ronan (Lee Pace), the Kree warrior madman wants the ball for some reason, probably to destroy a planet he has some serious ancient beefs with. Gamora (Zoe Saldana), adopted daughter of Thanos is sent to retrieve the ball. Because Peter decided to abandon his ravager crew, the leader Yondu (Michael Rooker) puts a 40,000 bounty on his head. This causes Rocket (Bradley Cooper), totally not a raccoon but a raccoon, and his tree companion Groot (Vin Diesel) to seek him down for that sweet money.
Well, these four get caught up in shenanigans, and they are eventually introduced to Drax the Destroyer (Dave Bautista), who would like to kill Ronan for killing his wife and daughter.
Oh swell! A group of rag tag anti-heroes who, through eventually working together, might have to do the right things.
Also featuring Karen Gillan as Nebula, another Thanos daughter, Djimon Hounsou, a high ranking general for Ronan, Benicio Del Toro as The Collector, Glenn Close as the head of NovaCorp and John C. Reilly as a Nova captain.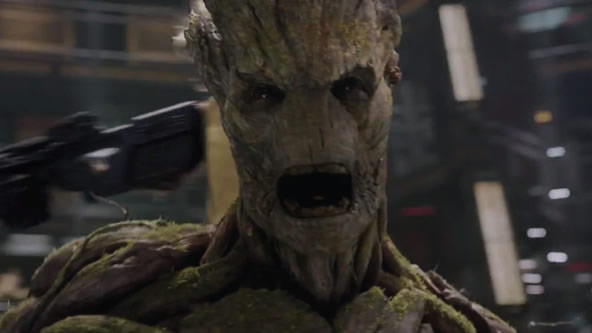 I'm a Groot, he's a Groot, she's a Groot, we're all Groots, hey!
Ahhhh, excitement!
There is a lot that really works in this movie and combined, all of the elements make this one of the funniest Marvel movies yet. Let's talk about individual characters. Starlord? Pratt knocked it out of the house. Felt like a real pseudo-leader and had some emotional moments as well. Gamora? Probably my favorite role that Zoe Saldana has done, felt a lot more believable than most of her characters. Rocket? Hell yes Rocket. Who wouldn't like Rocket? I couldn't even recognize Cooper's voice. Groot? Everyone will also love Groot. He is powerful, sweet, and awesome. And Drax? I knew the least about Drax going in, as each regular trailer didn't really do much for him outside of showing him as a big strong guy who likes to kill. But his character has a lot of depth and a lot of funnier moments, so he was the biggest surprise for me. Really loved Drax.
So all the characters are good? Great! Nice supporting people too. Unfortunately, my biggest issue with the film is the main man, Ronan, Lee Pace. He had…just no personality. He felt extremely one dimensional, and until over halfway through the movie, he was just all talk. They talked a lot about how evil and the bad stuff he had done, but they didn't do a good way of showcasing it until closer til the end. The big baddie was a disappointment.
The Collector was also a bit wasted in this film to me.
But the graphics? The laughs? The plot? The soundtrack? The synergy? All of it worked so well together. The scenes with the main guardians just talking were some of the better conversational pieces I have heard all year.
Guardians of the Galaxy is a great movie, just not the best Marvel movie that has come out of their studios. I have a hard time believing anyone could leave the theater feeling disappointed.
3 out of 4.